GREAT FALLS, Mont. — President Donald Trump launched a sustained attack Thursday on Sen. Elizabeth Warren — a leading potential 2020 rival — during a midterm campaign rally here.
Reviving his "Pocahontas" nickname for the Massachusetts Democrat, Trump asked his audience to imagine him on a debate stage challenging Warren to submit to genetic testing to prove that she has Native American ancestors.
"I will give you a million dollars to your favorite charity, paid for by Trump, if you take the test and it shows you're an Indian," he said. "I have a feeling she will say no."
Trump added, "She's based her life on being a minority."
He also said he would toss the genetic testing kit to her "gently because we're the #MeToo generation."
"I'm gonna get one of those little kits," the president said. "And in the middle of the debate, when she proclaims that she's from Indian heritage, because her mother says she has high cheekbones..That's her only evidence, that her mother said she had high cheekbones.
"We will take that little kit and say — but we have to do it gently, because we're in the #MeToo generation, so we have to be very gentle," Trump continued, making a gesture of tossing something. "And we will very gently take that kit, and we will slowly toss it, hoping it doesn't hit her and injure her arm, even though it only weighs probably two ounces."
Warren punched back at Trump on twitter shortly after the conclusion of a raucous and wide-ranging more than hour long speech primarily intended to boost Republican Matt Rosendale's hopes of unseating Sen. Jon Tester, D-Mont., in November.
"Hey, @realDonaldTrump: While you obsess over my genes, your Admin is conducting DNA tests on little kids because you ripped them from their mamas & you are too incompetent to reunite them in time to meet a court order," Warren wrote. "Maybe you should focus on fixing the lives you're destroying."
It's the second time in a week that Trump has targeted Warren, and he is attacking perceived rivals for the presidency with increasing frequency and vigor during the run-up to November's congressional elections. On Thursday, he wondered why the media would even bother to cover Warren, Vermont Sen. Bernie Sanders or former Vice President Joe Biden, whom Trump referred to as "Sleepy Joe."
Steve Bannon, who served as campaign manager to Trump during the 2016 general election, told NBC News to expect Trump to continue to make sharp contrasts between himself and possible Democratic hopefuls — including Sens. Kamala Harris, Cory Booker and Kirsten Gillibrand — while he campaigns for Republicans this fall.
This year is being treated like Trump's first re-election effort.
"No president in history will ever have campaigned for a midterm like this one," Bannon said. "The benefit for that is Kamala Harris, Booker, Gillibrand (and others) need 2019 to get their game ready for the national stage — they will now have to face Trump in open combat with all the chips in the middle."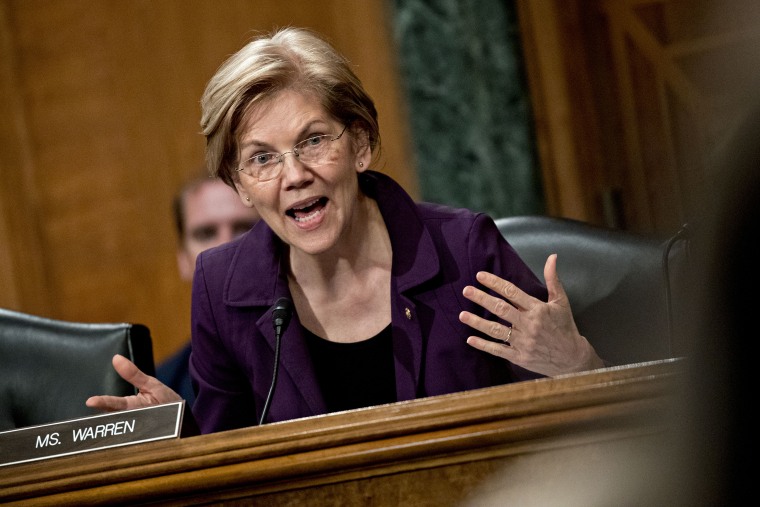 And Trump's record gives him a lot to talk about, Bannon said.
"Four percent growth, record low unemployment, China confronted and peace in Korea," Bannon said, inflating the actual U.S. economic growth numbers. "Bring 'Fauxohantas' and show me what you got."
In 2012, when the issue of her heritage was raised in her first Senate race, Warren told National Public Radio that she based the assertion on family lore.
"I am very proud of my heritage," she said. "These are my family stories. This is what my brothers and I were told by my mom and my dad, my mamaw and my papaw. This is our lives. And I'm very proud of it."
Trump has repeatedly gone after Warren's heritage over the course of the last three years, especially when he's trying to rally his political base.
He told the NRA last year that "it may be Pocahontas" who wins the Democratic nomination in 2020. "She is not big on the NRA."
Trump's speech here wasn't all about 2020.
He also went on an extended rant against Tester, for whom he has developed a particular personal distaste over Tester's successful effort to derail the nomination of Ronny Jackson to head the Department of Veterans Affairs earlier this year.
Trump hit Tester for voting against Supreme Court Justice Neil Gorsuch, the GOP tax cuts and an effort to repeal Obamacare, among other presidential priorities.
But it was Tester's treatment of Jackson that led to Trump to visit the state, he said.
"I won Montana by so many points, I don't have to come here," Trump said, claiming Tester's issues with Jackson amounted to "shameless" attacks.
Jackson withdrew his nomination because he lacked support not only from Democrats but also from key Senate Republicans after allegations of misconduct arose when the Senate's Veterans Affairs Committee began reviewing his nomination.
As the top Democrat on the Senate Veterans Affairs Committee, Tester led the charge in publicizing the allegations, which he said included drunkenness on the job and overprescribing medications.
Even as Trump took aim at Tester, he also spoke of his own record of supporting reforms at the Veterans Administration — which include laws written by Tester.
Tester took out ads in Montana papers in advance of the president's visit to highlight their areas of agreement. But no one who attended Thursday's rally would be confused about which candidate Trump supports.
And veterans who attended the rally told NBC that they plan to vote for Rosendale.
Dave Riddle, a 63-year-old Army veteran from Great Falls, said he voted for Tester in 2006 but not in 2012. Though he already planned to vote for the Republican nominee this time around, he said, he didn't appreciate Tester becoming the face of the opposition to Jackson's nomination.
"I wish Tester would have just kept his mouth shut," Riddle said.