President Donald Trump claimed Tuesday that the National Football League is "having a very hard time" filling stadiums because Americans are "fed up" with players protesting during the national anthem.
"At least 24 players kneeling this weekend at NFL stadiums that are now having a very hard time filling up," Trump tweeted. "The American public is fed up with the disrespect the NFL is paying to our Country, our Flag and our National Anthem. Weak and out of control!"
It's the latest attack on the league from the president, who has bashed players for taking a knee during the national anthem to silently protest racial inequality as well as officials for allowing the protests to continue. He suggested in September that team owners should fire protesting players, the vast majority of whom are black, and claimed NFL attendance and viewership are "way down" earlier this month.
But are the protests really hurting the league, as Trump says? Let's tackle the facts.
Did 24 players kneel this weekend?
Two-dozen of the league's 1,600 players on the field did protest during Week 12 games played last Thursday — Thanksgiving Day — to Monday.
But contrary to Trump's tweet Tuesday, they did not all kneel during the anthem. Ten remained seated, four raised a fist, nine took a knee, and one remained off the field completely, according to an ESPN log.
Is NFL attendance down?
Trump claimed Tuesday that stadiums "are now having a very hard time filling up," building on a Nov. 20 tweet that attendance was "way down."
But that's not true, according to the NFL.
The league told NBC News that attendance is down just 1 percent from last year, which NFL spokesman Brian McCarthy noted was a "stellar" year and the third highest in NFL history.
McCarthy added that 98 percent of available tickets to all NFL games have been sold, with ticket sales down 2 percent over last year, in part owing to reduced seating capacity for the Los Angeles teams. Excluding those two teams, ticket sales are down 1 percent, he said.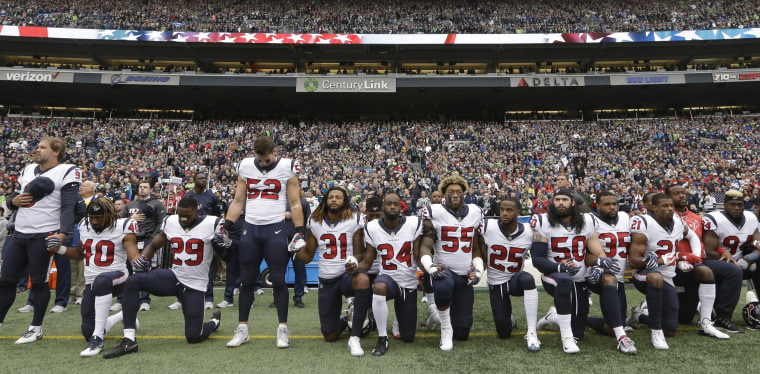 Trump also says NFL ratings are falling
The president is on firmer footing when he claims that the league's TV ratings are down. The average NFL game in the first eleven weeks of the season saw 14.85 million viewers, down 7 percent from the same period last year, according to the most recently available Nielsen viewership data.
Still, dipping viewership is not a problem unique to the NFL. NASCAR ratings were down 10 percent February through June, recovering in the second half of the season, when its ratings were down 2 percent, according to Nielsen data. Another Sunday-night king that once boasted ratings rivaling "Sunday Night Football," AMC's "The Walking Dead," hit a six-year ratings low this year, according to Deadline.
How Americans feel about the protests
"Wouldn't you love to see one of these NFL owners, when somebody disrespects our flag, to say, 'Get that son of a bitch off the field right now. Out! He's fired. He's fired!'" Trump asked an Alabama crowd in September.
According to polls, a majority of Americans wouldn't love that. A Reuters/Ipsos poll released days after the Alabama rally found that 57 percent of Americans disagreed with Trump's view that players should be fired for protesting, while 68 percent of Americans felt that Trump's comments were inappropriate, according to a survey by USA TODAY/Suffolk University.
There is some indication that the protests could tarnish the NFL's reputation in the eyes of some. Both polls indicated Americans are divided on whether or not the protests are appropriate, and in the Reuters poll, 37 percent of Americans said their view of the NFL was less favorable after the protests.
While the president is correct to note that football ratings are down, he's exaggerating those numbers, as well as the slight decline the NFL has seen in attendance. There's also little to no evidence to support his claim that the anthem protests are behind either of these declines.