WASHINGTON — The Ohio congressman President Donald Trump was counting on to help defend him from the Democratic majority come January is out of the running for the top Republican job on the powerful House Judiciary Committee.
But it wasn't fallout from the Ohio State University sex abuse scandal that torpedoed Rep. Jim Jordan's chances.
"It was made clear to him that leadership will be selecting someone else," said Jordan's spokesman Ian Fury, who confirmed to NBC News on Thursday that the congressman "will not be seeking the judiciary position."
But a Republican source with knowledge of the steering committee process told NBC News that if Jordan is looking for somebody to blame for being passed over he should look in the mirror.
This "falls squarely at Jim Jordan's feet," the source said.
Earlier this month, Jordan unsuccessfully challenged Rep. Kevin McCarthy, R-Calif, to be the next House minority leader.
Trump had then encouraged McCarthy to tap Jordan for the top GOP post on the Judiciary Committee. The president had defended Jordan after several wrestlers he used to coach at Ohio State told NBC News that he did nothing to protect them from sex abuse at the hands of now-deceased team doctor Richard Strauss.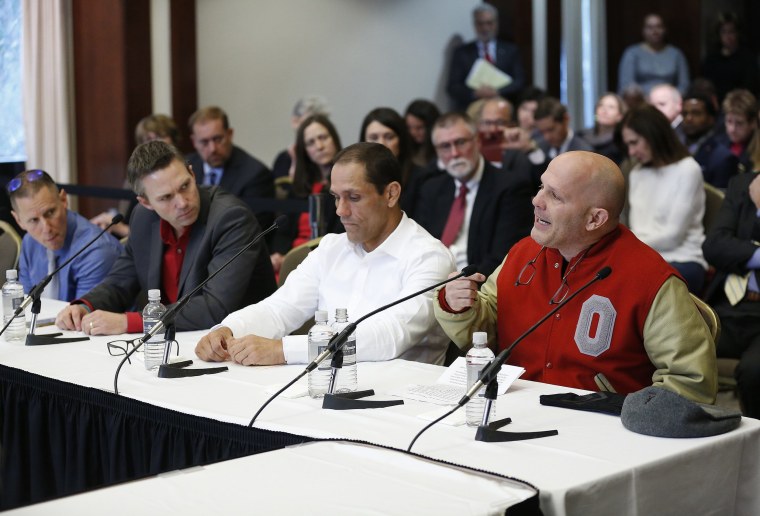 "I believe him," Trump declared after Jordan adamantly — and repeatedly — denied the allegations.
But Jordan is a hard-line conservative and co-leader of the House Freedom Caucus who has rankled other Republicans in the past, while McCarthy is closer to Reps. Steve Chabot of Ohio and Doug Collins of Georgia.
Jordan, 54, who was re-elected to a seventh term this month, was voted by his Republican colleagues on Thursday evening to be the top GOP post on the House Oversight Committee next year. He was already next in line by seniority.
He seemed to avoid a showdown with his closest ally in Congress, Rep. Mark Meadows of North Carolina, a Trump friend who was also seeking the lead GOP post on the Oversight Committee.
"I'm looking forward to working with the committee," Jordan said about being selected as ranking member of Oversight.
The next Chairman of House Oversight Committee, Rep Elijah Cummings, D-Maryland, offered no reaction to Jordan being selected as ranking member other than to say, "I just want to make sure we reclaim civility."
Meadows offered kudos to Jordan, saying, "It's one of the few times where you can rejoice in somebody else's success and I rejoice in Jim Jordan's willingness to serve on oversight. And quite frankly I think it's a unifying day for our conference."
Jordan's chief defender against the Ohio State allegations has been Diana Banister, president of the Virginia-based public affairs firm Shirley & Banister. When asked what doomed Jordan's bid for the Judiciary Committee post, Banister simply emailed over the link to a Politico story about him and Meadows and declined further comment.
Jordan was an assistant wrestling coach at Ohio State from 1986 to 1994, during which time Strauss was the team doctor. Six former Ohio State wrestlers interviewed by NBC News said they believed Jordan had to have known about Strauss. One said he told Jordan directly when Strauss tried to take down his pants and his account was corroborated by another wrestler.
Ohio State announced in April that it was investigating accusations that Strauss, who died of suicide in 2005, abused wrestlers and other athletes from the mid-1970s to late 1990s.
Alex Moe reported form Washington, and Corky Siemaszko reported from New York.