President Donald Trump defended throwing paper towels into a crowd of Puerto Ricans at a relief center in the hurricane-ravaged territory earlier this week and lauded federal relief efforts.
"They had these beautiful, soft towels. Very good towels," Trump told Mike Huckabee during an interview Saturday with Christian network Trinity Broadcasting.
Trump's White House Press Secretary, Sarah Huckabee Sanders, is Mike Huckabee's daughter.
"And I came in and there was a crowd of a lot of people. And they were screaming and they were loving everything. I was having fun, they were having fun," he added. "They said, 'Throw 'em to me! Throw 'em to me Mr. President!"
"And so, I'm doing some of this," Trump added, making a throwing motion, "So, the next day they said, 'Oh, it was so disrespectful to the people.' It was just a made-up thing. And also when I walked in the cheering was incredible."
Trump previously sad he received nothing but "thank yous" after his visit to Puerto Rico on Tuesday. But by Wednesday, some of the territory's top officials had taken issue with some of his remarks — and the throwing of the paper towels.
Trump also said he had been treated unfairly by the media over relief efforts and said his response compared to that of Hurricanes Harvey and Irma.
"We got really high marks on Florida, Louisiana, Texas and I think did at least as well in Puerto Rico, the problem is that Puerto Rico was in bad shape before the hurricanes ever got there," Trump said.
"They've got a lot of problems and on top of that they got hit with two hurricanes, not one," he added, referring to Hurricanes Irma and Maria.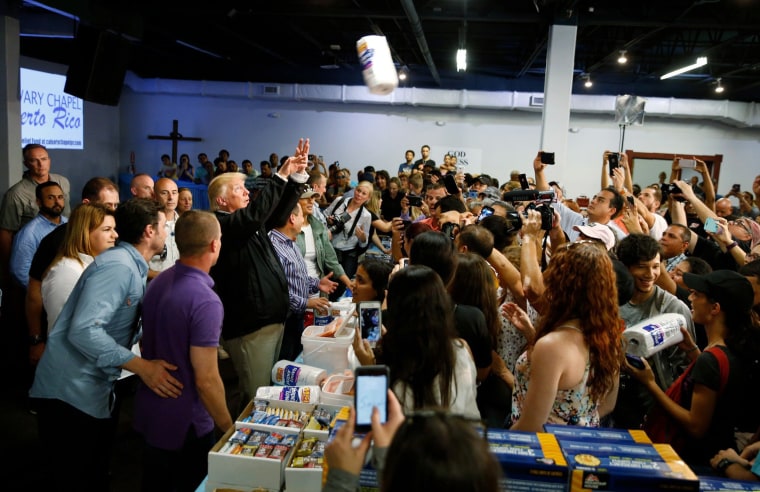 In critiquing the media's overall coverage of him, Trump also took credit for coming up with the term "fake."
"I think one of the greatest of all terms I've come up with is 'fake,'" he said.
"I guess other people have used it, perhaps, over the years, but I've never noticed it," he added.
Trump frequently uses the term "fake news" on Twitter when disputing media reports.
The president also piled on to his criticism of San Juan Mayor Carmen Yulín Cruz, who has been a vocal critic of his administration's response. Trump said Cruz "really did not do a very good job in fact did a very poor job."
The San Juan mayor made an impassioned call for increased federal aid late last month and criticized Trump's response to the hurricane.
She had also taken issue with him throwing paper towels and provisions at Puerto Ricans.
"The terrible and abominable view of him throwing paper towels and throwing provisions of people, it does not embody the spirit of the American nation," Cruz said in an MSNBC interview with Rachel Maddow last Tuesday, the day Trump visited Puerto Rico.