WASHINGTON — Donald Trump Jr. met with a Russian lawyer who he believed had damaging information about Hillary Clinton in the midst of the 2016 election — and wrote "I love it" about the prospect of getting his hands on the material, according to emails released Tuesday by the president's eldest son.
The email exchange shows an acquaintance with ties to Russia, music publicist Rob Goldstone, told the son of then-candidate Donald Trump last year that the attorney has "information that would incriminate Hillary and her dealings with Russia and would be very useful to your father."
Although it was clear that Trump Jr. was told by Goldstone he would be meeting with a "Russian government attorney" and that the information was "part of Russia and its government's support for Mr. Trump," Trump Jr. expressed no hesitation in the email chain and, in fact, appeared enthusiastic.
"If it's what you say I love it especially later in the summer," Trump Jr. responded.
The lawyer, Natalia Veselnitskaya, told NBC News in an exclusive interview Tuesday that the purpose of the meeting was to discuss U.S. sanctions against Russia and that she did not have any information about the Clinton campaign.
"I never had any damaging or sensitive information about Hillary Clinton. It was never my intention to have that," Veselnitskaya said.
The email exchange makes it clear that Trump Jr. set up the meeting thinking he would be speaking with a Russian government representative with information meant to boost his father's campaign, and it comes as the Justice Department and two congressional committees continue to investigate possible links between the Trump campaign and Moscow.
"This is obviously very high level and sensitive information but is part of Russia and its government's support for Mr. Trump," Goldstone wrote Trump Jr. in one email.
Goldstone described the lawyer as working for the Russian government, but she denied that in the NBC New interview.
In an interview Tuesday night on Fox News Channel's "Hannity," Trump Jr. said: "Someone sent me an email! I can't help what someone sends me. I read it, I responded accordingly, and if there was something interesting there, I think that's pretty common."
"It was literally just a wasted 20 minutes, which was a shame," Trump Jr. told host Sean Hannity, but he added: "In retrospect, I probably would have done things a little differently."
President Trump and his aides have repeatedly denied any collusion between the campaign and Russian officials, and Trump Jr. told Fox News that he didn't inform his father about the meeting.
"My son is a high quality person and I applaud his transparency," the president Trump said in a statement released through White House spokeswoman Sarah Huckabee Sanders. She said she was not aware of the last time the president spoke with his son, but she said he is "frustrated" that Russia continues to be a distraction from his agenda.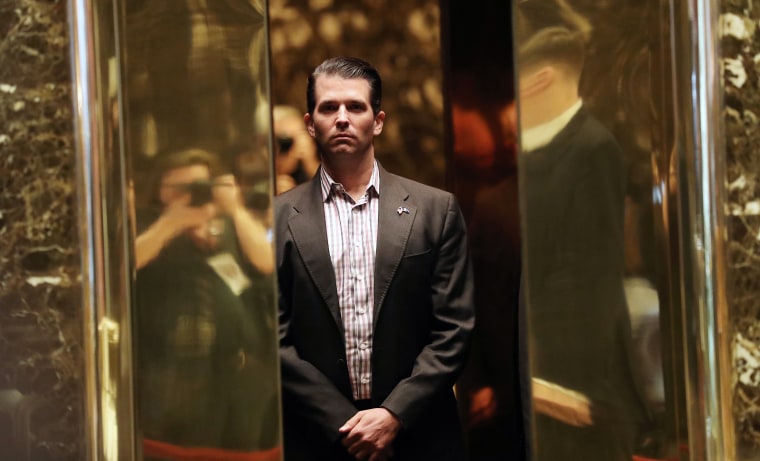 Trump Jr. said he was releasing the emails "to be totally transparent." But an editor for The New York Times said the emails were made public by Trump Jr. after he was informed the paper was publishing a story about them.
Trump Jr. has said the June 9, 2016, meeting at Trump Tower, which also included Trump son-in-law Jared Kushner and campaign manager Paul Manafort, was primarily about Russian adoptions and provided no useful information about the Clinton campaign. Donald Trump did not attend the meeting, according to his son.
"As Rob Goldstone said just today in the press, the entire meeting was 'the most inane nonsense I ever heard. And was actually agitated by it,'" Trump Jr. said in the statement.
Members on Capitol Hill were quick to react, including some Republicans who said this was another troubling sign for the Trump White House.
"As I've said many times in the past, there is another shoe that will drop, and there will be other shoes that will drop," Sen. John McCain, R-Arizona, told reporters.
"This constant drip, drip, drip to be able to get one more piece for one more story of something doesn't help the White House, doesn't help our investigation. Let's get it all," said James Lankford, R-Oklahoma, a member of the Senate Intelligence Committee.
Adam Schiff of California, the top Democrat on the House Intelligence Committee, told reporters that he'll ask to interview Trump Jr., as well as anyone else connected to the meeting with Veselnitskaya.
"I think you have direct evidence that the Russian government had damaging information, communicated that to the campaign, and all of the campaign denials ... obviously now need to be viewed in a completely different context," he said.
Clinton's running mate during the 2016 election, Sen. Tim Kaine, D-Virginia, said the emails show that the scope of the investigation has grown.
"We're now beyond obstruction of justice, in terms of what's being investigated. This is moving into perjury, false statements and even into potentially treason," Kaine said.