News analysis
WASHINGTON — President Donald Trump torched himself and may have singed his immigration plans.
That's because Trump sapped his own leverage in bipartisan negotiations over an immigration deal when he reportedly asked lawmakers why the U.S. accepts immigrants from "shithole countries" — Haiti, El Salvador and nations in Africa — but doesn't take more from Norway.
Some members of Trump's party quickly condemned the remarks as insensitive, and many Democrats simply called them "racist."
If Trump wants a big immigration deal now, he'll have to "give a lot more to both Democrats and Republicans who want a more compassionate approach," said Ali Noorani, executive director of the advocacy group National Immigration Forum. "He's going to lose leverage in this negotiation."
Here's how that would work: The backlash against the president's comments would make it harder for Democrats to vote for a deal he likes, forcing him to make concessions that could anger his own base to win majorities in the House and Senate.
"All of the reservations we have had about negotiating with him on immigration are well-founded," said Rep. Cedric Richmond, D-La., the chairman of the Congressional Black Caucus. "Unfortunately, there is no reason to believe that we can negotiate in good faith with a person who holds such vile and reprehensible beliefs."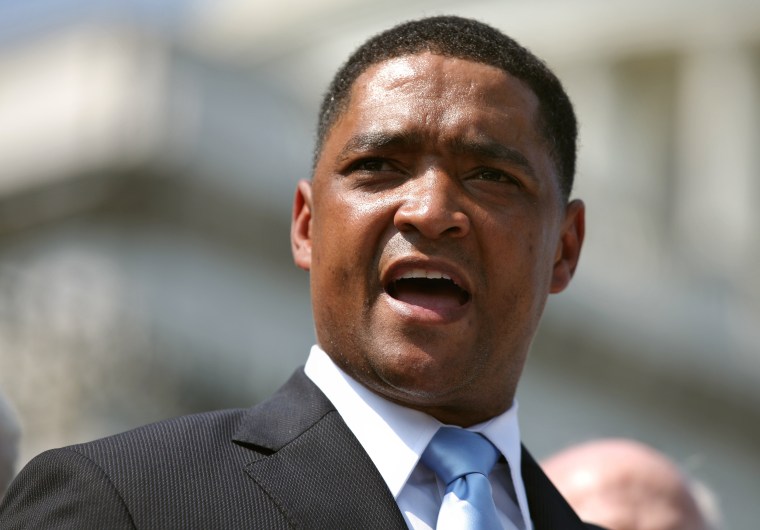 Rep. Roger Marshall, R-Kan., said on MSNBC's "All In with Chris Hayes" Thursday night that he fears Trump's remarks will upend the ongoing negotiations.
"We're so close to getting a DACA deal done," Marshall said, using an acronym for the Obama-era policy shielding immigrants brought to the U.S. as children from deportation. "I just hope this doesn't get us off track."
Related: Trump's vulgar remark on Haiti, Africa leaves immigrants baffled
Lawmakers have been trying to strike a deal that would protect them in exchange for meeting some of Trump's demands on beefing up border security, funding a wall, altering rules that allow immigrants' family members to come to the U.S. and ending the nation's diversity lottery for visas.
The stakes for a deal are even higher than that: Some Democrats don't want to vote for a bill to keep the government operating beyond next week if there isn't an agreement in place to protect the immigrants in question.
That's because they don't trust Trump, and his reported comments only reinforce their skepticism.
Rep. Luis Gutierrez, D-Ill., a longtime advocate for immigrants' rights, called the president a bigot on "All In."
"This is ignorance to speak in such vile, racist terms," Gutierrez said. "We have in the White House someone who could lead the Ku Klux Klan in the United States of America."
Photos: This is what Haiti looks like
Trump had already angered advocates for Haitian and El Salvadoran immigrants in recent weeks by announcing that the U.S. would withdraw temporary protections that allow hundreds of thousands of them to live in the country legally.
There can be little question that Democrats' constituents will be even more wary of any deal with Trump now. But the problem for Trump extends to Republican lawmakers, too.
Many Republicans who represent devoutly religious communities are much more open than the president to keeping America's doors open to refugees and other immigrants.
It's both political and personal for Rep. Mia Love, R-Utah, a daughter of Haitian immigrants who is facing a potentially tough re-election slog in a state dominated by a Mormon church that opposes mass deportation and emphasizes treating immigrants as "children of God."
Related: Haitian family 'terrified' as Trump administration moves to end protected status
"The president's comments are unkind, divisive, elitist, and fly in the face of our nation's values," Love said in a statement.
"My parents came from one of those countries but proudly took an oath of allegiance to the United States and took on the responsibilities of everything that being a citizen comes with," she added. The president must apologize to both the American people and the nations he so wantonly maligned."
Sen. James Lankford, R-Okla., was explicit in the tie between his faith and his conclusion that Trump's remarks were "disappointing."
"I would not talk about nations like this, because I believe the people of those countries are made in the image of God and have worth and human dignity," Lankford said.
Ultimately, Trump has made life more uncomfortable for Republicans than for Democrats, according to Noorani.
"Republican members of Congress are caught in the crosshairs of this," he said.
That could force the president to move away from his hard-line base or risk letting a deal slip through his hands.