WASHINGTON — Barack Obama and Bill Clinton had Martha's Vineyard, George W. Bush had his ranch in Crawford, Texas, George H.W. Bush had Kennebunkport, Maine, and Ronald Reagan had his getaway in California.
President Donald Trump, it seems, has his golf club in Bedminster, New Jersey.
The president and his family head to one of his favorite retreats Friday, Trump National Golf Club Bedminster, for what White House officials say is a 17-day "working vacation." It's just the latest in a string of visits the real estate-mogul-turned-president has made to his own properties since taking office.
Related: Tracking President Trump's Visits to Trump Properties
Presidents frequently use August to leave town while Congress is out of session and the heat in the nation's capital drags on during the dog days of summer. But Trump, more so than his recent predecessors, has shown little patience for the confines of the White House. Fifty-eight of his first 195 days in office have been spent at properties he owns, according to an NBC News count. Most of those were spent either in Bedminster or his Florida resort in Mar-a-Lago.
At his New Jersey hamlet, Trump will be able to engage in his favorite hobby: golf. He has spent 43 days at properties with golf courses and became the first president to attend a U.S. Women's Open at his Bedminster course last month. The 535-acre facility is a golfer's dream with 36 holes that routinely end up on lists of the country's best golf courses, along with extensive practice facilities.
Trump's time in the Garden State has increased after Mar-a-Lago went quiet for the summer months. And like his Florida club, Trump has his own private villa on the grounds that also houses tennis and basketball courts, a pool, gym, two large hot tubs and a helipad.
It reportedly costs up to $350,000 for an initial membership.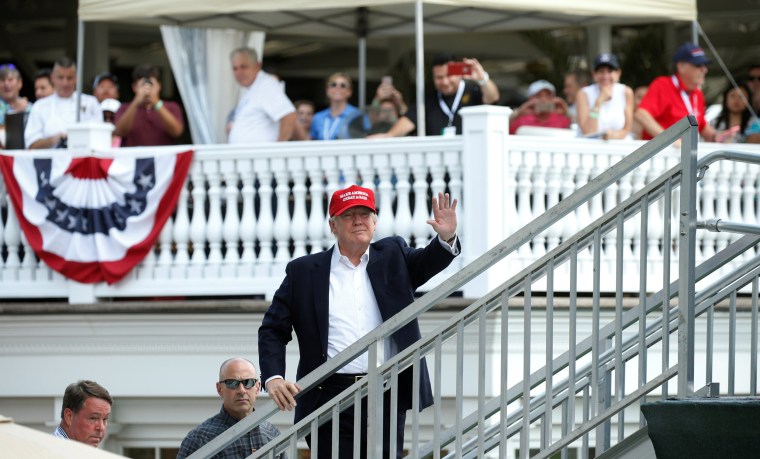 Located less than 50 miles west of Manhattan, the club's membership includes a list of New York and New Jersey bigwigs. Former New York City Mayor Rudy Giuliani, former Yankee's Manager Joe Torre and even former President Bill Clinton have all had lockers in the clubhouse, according to Golf.com. A spokesperson for the Trump Organization did not immediately respond to questions about exact numbers on membership or fees.
The resort also holds a special place for the Trumps. The president's daughter Ivanka Trump married Jared Kushner there during a lavish ceremony in 2009.
Trump's visit will turn the town of 9,000 residents in the heart of New Jersey's horse country on its head for more than two weeks. The town has just 16 members on its police force and was recently approved by the Secret Service to be eligible to be reimbursed for security costs, which are expected to run into the hundreds of thousands of dollars.
And though the area Trump will be staying skews Republican, the president will find himself in mixed company if he ventures outside the club. Trump defeated Hillary Clinton by just eight votes in Bedminster Township last November, according to official results from New Jersey's secretary of state.
Critics have knocked Trump for his frequent visits to properties he owns. "Not a vacation. This is a marketing blitz. Lobbyists & foreign govts should watch to see if HSN live broadcasts any cheap deals on influence," Walter Shaub, the former director of the U.S. Office of Government Ethics, tweeted Thursday.
The timing draws attention to an awkward situation where the president found himself defending his affection for his newest home address after a Sports Illustrated report said that he derided the White House as a "dump" to golfing friends. The president denied that and declared on Twitter Wednesday, "I love the White House, one of the most beautiful buildings (homes) I have ever seen."
Aides say Trump has an excuse for taking more than two weeks away from Washington: August recess renovations. The builder-president will get some upgrades that he did not plan.
The White House heating and cooling systems that process air for the most secure rooms of the West Wing are "27 years old and well past their typical life span," according to aides. But given the round the clock nature of HVAC for the White House, officials say the systems are showing wear and tear usage that is equivalent to 81 years of operation.
Another big project to be tackled is repair of the South Portico steps. That gracious feature is seen for events including arrival ceremonies for foreign leaders and fun celebrations like the Easter Egg Roll. Aides say these grand steps have not been repaired in 64 years, dating back to the presidencies of Harry Truman and Dwight Eisenhower.
Also on the official work order: A renovation of the "Navy Mess" kitchen, an update for the West Wing lower lobby that receives countless guests, IT improvements and other cosmetic changes.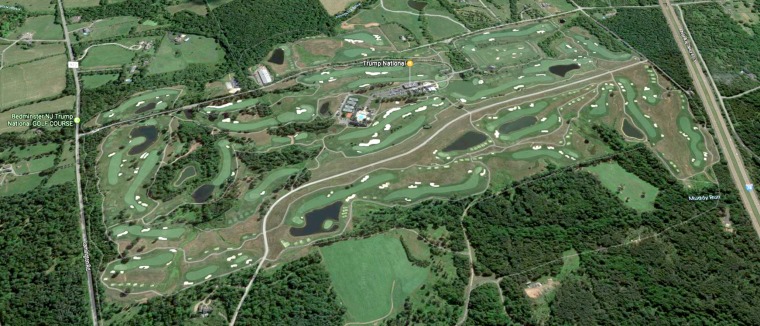 Government workers depend on the August break and extended vacations to complete needed repairs, upgrades and renovations and let the noisy work proceed without intrusion.
Some of this summer's projects have already begun on the North Lawn with workers in hard hats and reflector vests on duty.
During Trump's absence, aides say the work will include "massive renovations" approved during the Obama administration. In that time, phase one of this same project was done but additional work was planned but not completed.
Staff members are relocating to the Eisenhower Executive Office Building until the work is completed and the paint dries.