A top lawyer for President Donald Trump's transition team has accused a government agency of unlawfully turning over thousands of emails to special counsel Robert Mueller as part of his investigation into Russia's election meddling and potential collusion with the Trump campaign.
Kory Langhofer, general counsel to the transition team known as Trump for America (TFA), wrote a letter to the House Oversight Committee and the Senate Homeland Security Committee on Saturday detailing claims that Mueller's team had improperly received emails sent and received by Trump officials before the start of his administration.
"Career staff at the General Services Administration (GSA) have unlawfully produced TFA's private materials, including privileged communications, to the Special Counsel's Office," Langhofer wrote in the letter, referring to the government agency tasked with storing the transition materials.
While the attorney would not share the letter with NBC News, he pointed to Politico.com, which published the letter online. In the letter the transition team accuses Mueller of unlawfully obtaining the emails, claiming it raises potential violations of attorney-client privilege and the Fourth Amendment, which protects against unlawful search and seizure.
Amanda Gonzalez, a spokeswoman for the Oversight Committee told NBC News in a statement: "The central issues raised are fact specific legal issues which involve issues of privilege, waiver (express, implied, actual and constructive), standing to assert claims of privacy, expectations of privacy and the reasonableness thereof, third party consent, statutory constructions, and inevitable discovery among other issues.These are issues to be briefed by the parties (or others with cognizable legal claims and standing) and decided by the court — not Congress. To the extent the letter raises issues on how to improve subsequent transitions, the Committee takes the letter under advisement."
The letter has contributed to Democrats' fears that Republicans are attempting to undermine Mueller's investigation, in what analysts believe is a concerted political strategy designed to discredit any potential findings that could argue for the impeachment of the president.
Related: Republicans step up attacks on special counsel Robert Mueller
As Trump returned to the White House from a visit to Camp David on Sunday, he described the situation as "very sad."
"People were very upset about it," he told a gaggle of reporters. "I can't imagine there's anything on them frankly because, as we've said, there's no collusion. There's no collusion whatsoever. But a lot of lawyers thought that was pretty sad."
Trump added that he did not plan to fire Mueller.
"Are you surprised?" he asked the journalists gathered.
The issue first arose after Axios reported that Mueller's office had gained access to the emails and used details from them in interviews with Trump staff.
In the seven-page letter — which has been uploaded online by several media outlets and obtained by NBC News — Langhofer claims that Mueller's office knew the GSA did not own or control the records, parts of which he says are susceptible to claims of privilege.
Langhofer complains that the Trump team were not notified that their emails had been seized and that their rights and privileges had not been protected.
But Peter Carr, spokesman for the special counsel's office, dismissed Langhofer's claims that Mueller had received the documents improperly.
"When we have obtained emails in the course of our ongoing criminal investigation, we have secured either the account owner's consent or appropriate criminal process," Carr told NBC News.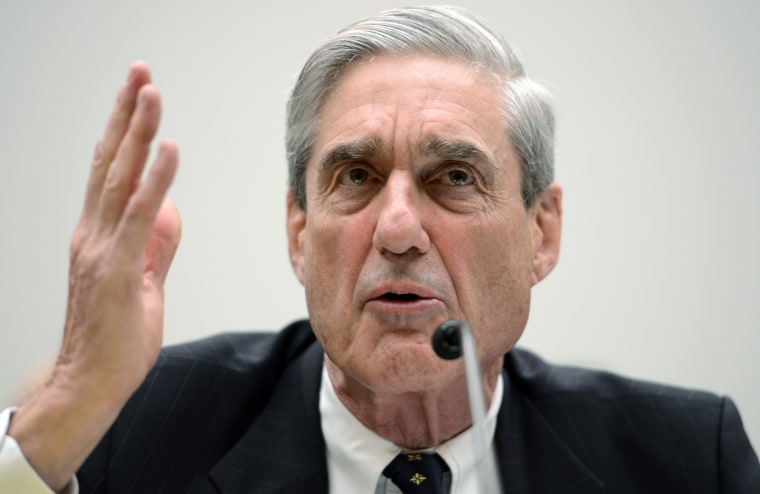 GSA deputy counsel Lenny Loewentritt disputed the claims in the letter, telling Buzzfeed News that the Trump transition team were told any material "would not be held back in any law enforcement" eventuality. "Therefore no expectation of privacy can be assumed," he said.
Langhofer proposes that statutory amendments should be passed to allow more "timely notice" to presidential transition teams when their documents are requested, and to limit federal agencies from handing over third-party documents that may be subject to privilege.
The letter comes amid accusations that Republicans are redoubling their attacks on the integrity of the special counsel investigation as it grows closer to the president's inner circle.
Rep. Eric Swalwell, D-Calif., dismissed Langhofer's letter as "baloney," adding that "this is another attempt to discredit Mueller as his #TrumpRussia probe tightens."
And Sen. Joe Manchin, D-W.V., told NBC News' Chuck Todd that he didn't believe Mueller's investigation had been compromised.
"I think he is beyond reproach," Manchin told "Meet the Press" on Sunday.
NBC News reported last week that Mueller was focused on what happened inside the White House over a critical 18-day period that began when senior officials were told that National Security Adviser Michael Flynn was susceptible to blackmail by Russia and culminated in Flynn's firing.
Those questions appear to relate to possible obstruction of justice by President Trump, said two people familiar with Mueller's investigation.
Related: Focus on Flynn, Trump timeline suggests obstruction is on Mueller's mind
Earlier this week — seizing on newly released, politically charged text messages between two FBI officials who are no longer part of the investigation — Republicans accused Mueller, a widely respected law-enforcement veteran and a Republican himself, of conducting a politically tainted inquiry.
They also charged that senior FBI officials have allowed partisan beliefs to influence the outcome of investigations.
"We are now beginning to better understand the magnitude of this insider bias on Mr. Mueller's team," the chairman of the House Judiciary Committee, Rep. Bob Goodlatte, R-Va., said during an oversight hearing on Wednesday.
On Saturday Rep. Jim Jordan, a Republican from Ohio who called last week for the Justice Department to disband the Mueller inquiry, told Fox News that Goodlatte has said he will subpoena FBI and Justice Department officials as part of a broader investigation into claims of bias against Trump.
Texas Sen. John Cornyn, a Republican, also tweeted Saturday that "Mueller needs to clean house of partisans."
On Friday Rep. Adam Schiff of California, the leading Democrat on the House Intelligence Committee, said he was concerned that Republicans were maneuvering to put a stop to the various probes into Russian election interference.
"I'm increasingly worried Republicans will shut down the House intelligence committee investigation at the end of the month," he said, accusing Republicans of not scheduling witnesses past Dec. 22 and refusing to contact outstanding witnesses or chase certain documents.
Schiff said Republicans' reluctance to pursue certain avenues in the case, as well as attacks on Mueller, the FBI and Department of Justice "make it clear they plan to go after Mueller's investigation. Aggressively and soon."
Rep. Jackie Speier, D-Calif., told San Francisco's KQED public television on Friday that rumors were circulating on Capitol Hill that Trump might fire Mueller before Christmas.
But Marc Short, White House director of legislative affairs, told "Meet the Press" on Sunday that there has been no discussion of removing Mueller as special counsel.
"There's no conversation about that whatsoever in the White House," Short said. "You guys keep bringing that up. We've continued to cooperate at every single possible way with that investigation."
White House special counsel Ty Cobb later reiterated in a statement to NBC News, "As the White House has repeatedly and emphatically said for months, there is no consideration about replacing the Special Counsel with whom the White House has fully cooperated in order to permit a thorough and prompt conclusion."
Last week, Deputy Attorney General Rod Rosenstein said he sees no good cause fire Mueller, adding that he has seen no improprieties by anyone associated with the investigation.
CORRECTION (Dec. 17, 12:2 p.m. ET): An earlier version of this article misidentified Rep. Jim Jordan's state. He represents Ohio, not Virginia.