President Donald Trump on Monday may roll out a long-expected initiative to direct an investigation into China's trade practices, with a particular emphasis on alleged intellectual property theft, two administration sources told NBC News.
Alleged intellectual property theft by China has been an issue of particular concern to Silicon Valley.
If Trump announces the investigation, it would come at a time as Trump and members of his administration has called on China to do more to rein in North Korea amid recent intercontinental ballistic missile tests.
Plans could change for Monday — it's not definite that Trump will announce an investigation, but the two administration sources said it is a possibility and a third described it as likely. Trump on Friday said that he will spend Monday in Washington, D.C., in a trip during his "working vacation" in Bedminster, New Jersey.
One expert on China and the region said that China could feel betrayed if Trump does announce the investigation.
China, an ally and trading partner of North Korea, voted for a United Nations Security Council resolution that passed 15-0 on Saturday imposing tough new sanctions on North Korea over the missile tests.
"I firmly believe that we need to impose costs on China," Gordon Chang, who has written extensively about China, told NBC News. "But on the other hand, I think the Chinese would justly feel double-crossed" if the investigation was announced so soon after the U.N. vote., and if U.S. officials had made prior assurances to China about the trade action.
Related: Trump Says N. Korea Leader 'Will Not Get Away With What He's Doing'
Trump on the campaign trail railed against what he called China's unfair trade practices. Trump recently has accused China of doing little to help curtail North Korea's missile tests.
A 2013 report by the Commission on the Theft of American Intellectual Property that was updated in February says that China is the world's principal intellectual property infringer.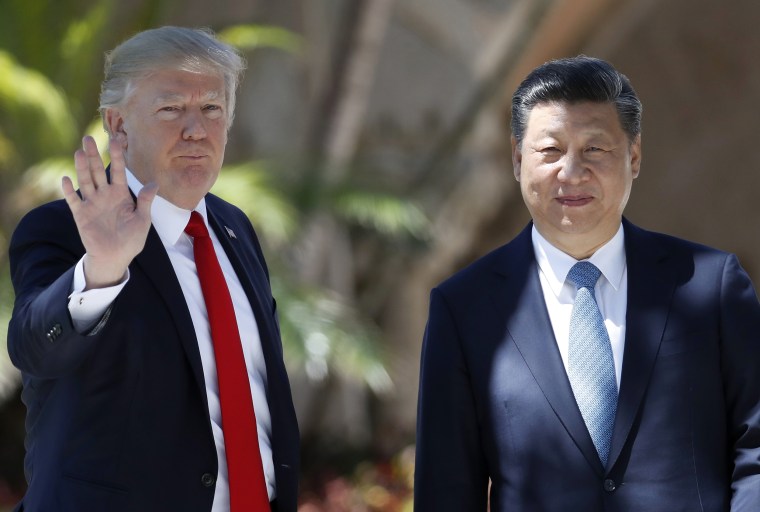 The updated report estimated the overall annual loss to the U.S. economy from counterfeit goods, pirated software, and theft of trade secrets at more than $255 billion.
Trump spoke to China's President Xi Jinping on Friday, but the two leaders focused on unity in the face of escalating tensions on the Korean peninsula, according to statements issued by both governments.
Trump and Xi "agreed North Korea must stop it provocative and escalatory behavior," the White House statement read.
The "relationship between the two presidents is an extremely close one, and will hopefully lead to a peaceful resolution of the North Korea problem," it added.
Chinese state television reported that Xi told Trump during the conversation that it was in the joint interests of both China and the U.S. to achieve the denuclearization of the Korean peninsula and protect peace and stability there.
"The relevant parties should maintain restraint and avoid words and deeds that exacerbate the tension on the Korean Peninsula," the report paraphrased Xi as saying.