President Donald Trump met with Senate Minority Leader Chuck Schumer, D-N.Y., at the White House on Friday to discuss a potential deal to avert a shutdown.
The meeting ended without an agreement, a White House official said.
Schumer and Trump met to discuss how to avoid a federal government shutdown — set to occur at midnight unless Congress passes a short-term spending measure to keep the government funded.
Also present at the meeting were White House Chief of Staff John Kelly and Schumer's chief of staff, a White House official said.
Schumer left the White House just before 2:30 p.m. and told reporters after he'd returned to Capitol Hill that he and Trump had "made some progress" but "still have a number of disagreements."
"We had a long and detailed meeting, we discussed all of the major outstanding issues, we made some progress," Schumer said.
"But we still have a good number of disagreements. The discussions will continue," he added.
Schumer's visit comes as the White House has pinned blame for the shutdown on Democrats — and on the New York senator in particular.
Just hours earlier, White House budget chief Mick Mulvaney dubbed the possible stoppage the "Schumer shutdown."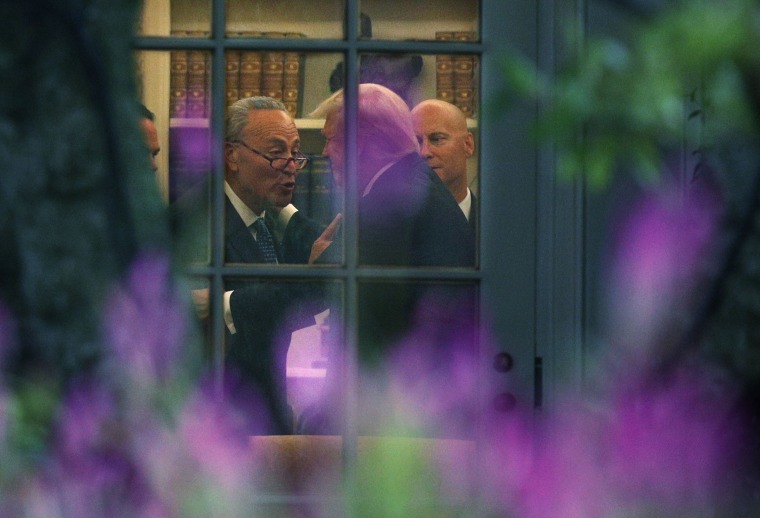 Mulvaney also told reporters that Trump — who postponed a weekend trip to Mar-a-Lago because of the funding crisis — was working the phones and was "actively working to try to get a deal."
Trump's chat with Schumer comes less than 24 hours after the House late Thursday night passed a measure to keep the government funded for another four weeks. But, the fate of the bill is uncertain in the Senate, where at least six Republican senators have come out against the measure and Democrats are confident they can block it from advancing.
Democrats have said they want a deal on the fate of so-called Dreamers — young immigrants brought to the U.S. illegally as children — whose protection from deportation expires in March, before they support another spending bill.
Schumer has proposed a shorter stop-gap measure, lasting just four or five days, to be used as a hard deadline on an agreement on government spending levels and the Deferred Action for Childhood Arrivals program known as DACA.
Trump's stepped up efforts to avoid a shutdown could be explained, in part, by the fact that he has previously revealed that the fault of any government shutdown lies with the commander in chief.
In a September 2013 interview with Fox News, Trump made clear it's the president who should get blamed for a shutdown.
"Well if you say: Who gets fired? It always has to be the top. I mean, problems start from the top. And they have to get solved from the top. And the president's the leader and he's gotta get everybody in a room and he's gotta lead," he said then. "In 25 years and 50 years and 100 years from now when the government, you know, they talk about the government shutdown, they're gonna be talking about the president of the United States. Who was the president at that time?"
"I really think the pressure is on the president," he said.