Donald Trump officially announced his plan Tuesday to nominate ExxonMobil CEO Rex Tillerson as secretary of state, a pick that could pose complications in the confirmation process due to Tillerson's ties to Russia.
Tillerson, 64, has no government or diplomatic experience but has done extensive work overseas on behalf of his petroleum company.
His business, particularly with Russian President Vladimir Putin and in the Middle East, has attracted criticism from Democrats and Republicans alike.
Related: Tillerson Confirmation Fight Could Define Trump's Early Presidency
"His close connection to Vladimir Putin and the Russian government raises serious questions at a time when our national intelligence agencies have concluded that Russia engaged in cyber espionage against the United States during the 2016 Presidential election," Hillary Clinton's running mate, Sen. Tim Kaine, said in a statement after the announcement. "Further, the documented efforts by ExxonMobil to fund organizations denying climate science during Tillerson's tenure at the company deserve critical attention."
Tillerson worked so closely with Putin that after a 2011 oil deal, he was awarded the Russian Order of Friendship — a recognition from the Russian government that has gone to a variety of global figures, including sports stars.
"He's much more than a business executive, I mean he's a world-class player"
The president-elect's announcement downplayed Tillerson's lack of government work and called him "a forceful and clear-eyed advocate for America's vital national interests."
"Rex Tillerson's career is the embodiment of the American dream. Through hard work, dedication and smart deal making, Rex rose through the ranks to become CEO of ExxonMobil, one of the world's largest and most respected companies," Trump said in a statement issued Tuesday morning. "His tenacity, broad experience and deep understanding of geopolitics make him an excellent choice for Secretary of State. He will promote regional stability and focus on the core national security interests of the United States."
He added: "I can think of no one more prepared, and no one more dedicated, to serve as Secretary of State at this critical time in our history."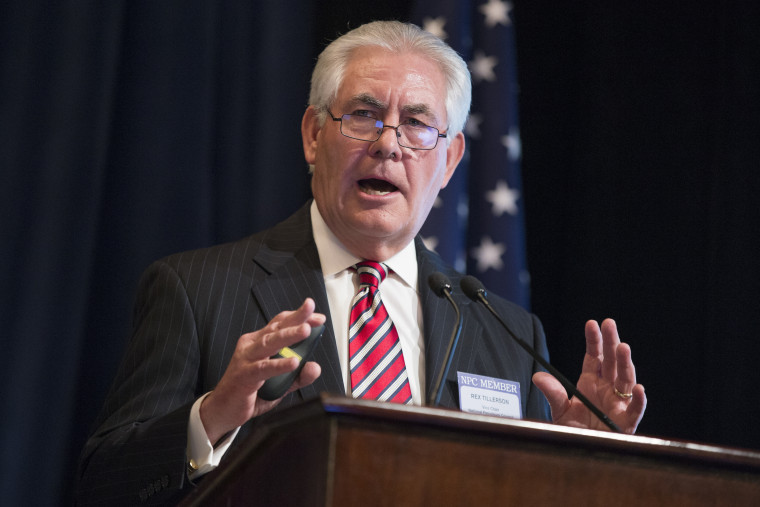 The pick was widely anticipated. Trump announced on Monday via his preferred communication medium — Twitter — that he would finally share his nomination for the top U.S. diplomat slot Tuesday morning.
After the announcement, Trump tweeted, "The thing I like best about Rex Tillerson is that he has vast experience at dealing successfully with all types of foreign governments."
Tillerson, a Texas native, started working at ExxonMobil in 1975 as a production engineer. In an interview Sunday with Fox News, Trump said a businessman such as Tillerson would be a fine fit for secretary of state.
"Well, in his case, he's much more than a business executive, I mean he's a world-class player," Trump said, acknowledging Tillerson's business dealings with Russia.
"To me, a great advantage is he knows many of the players, and he knows them well," Trump added. "He does massive deals in Russia. He does massive deals for the company — not for himself, for the company."
Related: Donald Trump's Cabinet Picks So Far
Former Secretary of Defense Robert Gates endorsed Tillerson after the announcement.
"He would bring to the position vast knowledge, experience and success in dealing with dozens of governments and leaders in every corner of the world. He is a person of great integrity whose only goal in office would be to protect and advance the interests of the United States," Gates said.
Former Secretary of State Condoleezza Rice also praised the pick.
"I know Rex as a successful business man and a patriot. He will represent the interests and the values of the United States with resolve and commitment. And he will lead the exceptional men and women of the State Department with respect and dedication," she posted on her Facebook page.
Both Gates and Rice have done work for Exxon through their international consulting firm, Rice Hadley Gates, according to Politico.
Others have raised concerns. Sen. John McCain, R-Ariz., told CBS News that Tillerson's ties to Russia needed to be thoroughly examined.
"Certainly it should be a matter of concern," McCain said. "But I am sure, in a bipartisan way, he will get a fair hearing."
Meanwhile, Sen. Marco Rubio, R-Fla., expressed "serious concerns" in a statement Tuesday.
"The next secretary of state must be someone who views the world with moral clarity, is free of potential conflicts of interest, has a clear sense of America's interests, and will be a forceful advocate for America's foreign policy goals to the president, within the administration, and on the world stage. I look forward to learning more about his record and his views," he said.
Tillerson beat out other candidates with much lengthier public service records. Last week, Trump's transition team confirmed that former New York City Mayor Rudy Giuliani was out of the running for a position in the new administration, ending weeks of speculation that he could be selected for secretary of state.
"I am honored by President-elect Trump's nomination and share his vision for restoring the credibility of the United States' foreign relations and advancing our country's national security," Tillerson said in a statement. "We must focus on strengthening our alliances, pursuing shared national interests and enhancing the strength, security and sovereignty of the United States."
According to NBC News political analyst Nicolle Wallace, Tillerson fits in with the "two frames that Donald Trump, a branding guru in his own view, is trying put around his administration."
"He values really, really rich guys so far who are willing to give up personal fortunes to serve this country. in his mind, that defines a real commitment to the country. And two, he values change. He ran on change and i think he looked at the entire list of other very qualified candidates and thought they all represented some sort of continuation of normal stuff," she said.