President Donald Trump on Friday pardoned I. Lewis "Scooter" Libby, a former chief of staff to Vice President Dick Cheney who was convicted in 2007 of lying to the FBI and obstructing justice, the White House announced.
"I don't know Mr. Libby," Trump said in a statement, "but for years I have heard that he has been treated unfairly. Hopefully, this full pardon will help rectify a very sad portion of his life."
Libby said in a statement: "My family and I are immensely grateful to President Trump for his gracious decision to grant a pardon. For over a dozen years we have suffered under the weight of a terrible injustice. To his great credit, President Trump recognized this wrong and would not let it persist."
Libby was sentenced to 30 months in prison but had his sentence commuted by President George W. Bush. The conviction remained on his record.
"President Bush is pleased for Scooter and his family," Bush's office said in a statement. Cheney issued a statement praising Trump.
"We commend President Trump for addressing a gross injustice and granting the pardon," said a statement from the law firm of diGenova & Toensing, which represented Libby in the pardon matter. Trump had weighed adding Joe diGenova and Victoria Toensing to his legal team but decided not to due to unspecified conflicts.
The lawyers' statement cited what it said was "the injustice inflicted on him and his family by Special Counsel Patrick Fitzgerald and then-Deputy Attorney General James Comey."
Libby's conviction came after a nearly four-year investigation by Fitzgerald into how the name of a CIA official, Valerie Plame, was leaked to reporters in 2003. Fitzgerald was appointed by Comey, then-deputy attorney general who Trump fired as FBI director last year.
Plame excoriated Trump's decision to pardon Libby in an interview Friday on MSNBC's "Morning Joe," saying the president "decided to go where George W. Bush did not."
"My personal sense is that I didn't think my contempt for Donald Trump could go lower, but he surprises me each and every day," she said.
Plame said that in choosing to pardon Libby, Trump may be sending a message to those who are thinking about cooperating with special counsel Robert Mueller's probe into Russia's 2016 election meddling and possible collusion with the Trump campaign.
"It's very clear that this is a message he is sending, that you can commit crimes against national security and you will be pardoned," she said.
House Minority Leader Nancy Pelosi, D-Calif., had a similar message.
"This pardon sends a troubling signal to the president's allies that obstructing justice will be rewarded," Pelosi said. "The suggestion that those who lie under oath may be rewarded with pardons poses a threat to the integrity of the special counsel investigation, and to our democracy."
Libby was convicted of one count of obstruction, two counts of perjury and one count of lying to the FBI about how he learned Plame's identity and whom he told. Prosecutors said he learned about Plame from Cheney and others, discussed her name with reporters and, fearing prosecution, made up a story to make those discussions seem innocuous.
His trial revealed that top members of the Bush administration were eager to discredit Plame's husband, former Ambassador Joseph Wilson, who had accused the administration of doctoring prewar intelligence on Iraq.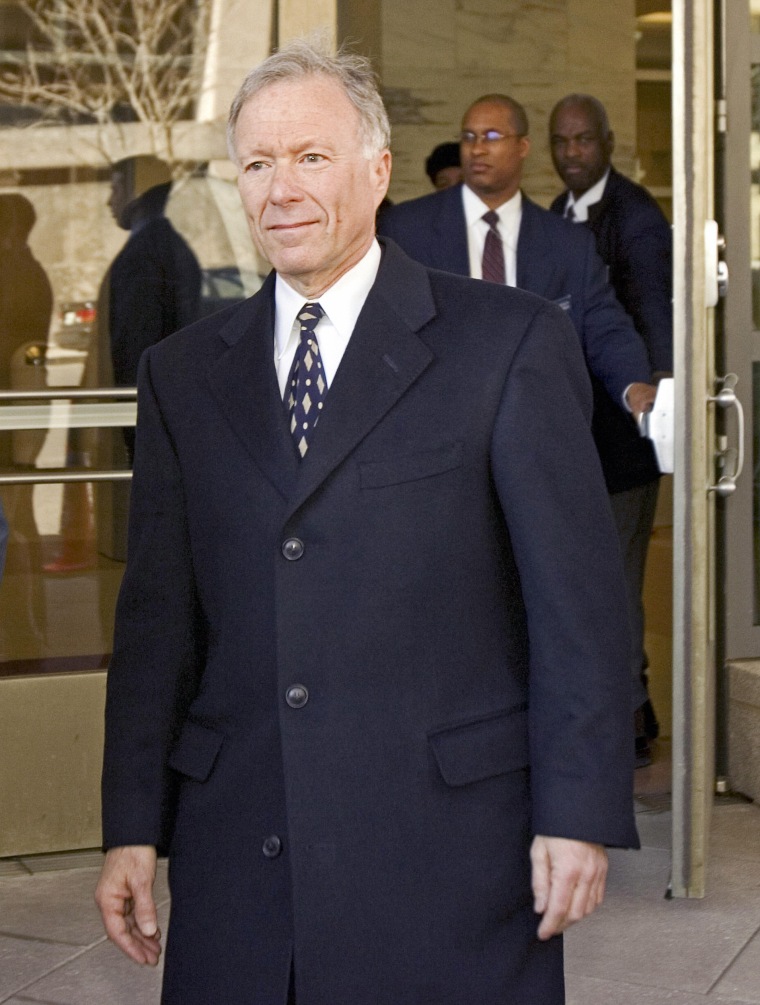 Libby said at the time that he had told investigators his honest recollections and blamed any misstatements on a faulty memory. He was acquitted of one count of lying to the FBI about his conversation with Time magazine reporter Matthew Cooper.
"The results are actually sad," Fitzgerald said on the courthouse steps after the verdict. "It's sad that we had a situation where a high-level official person who worked in the office of the vice president obstructed justice and lied under oath. We wish that it had not happened, but it did."
When Bush commuted Libby's 2 ½-year prison sentence, he noted in a statement that "neither Mr. Libby nor anyone else has been charged with violating the Intelligence Identities Protection Act or the Espionage Act, which were the original subjects of the investigation."
Bush said at the time that the district court rejected advice from the probation office which recommended a lighter sentence, and said in a statement: "I respect the jury's verdict. But I have concluded that the prison sentence given to Mr. Libby is excessive."
Bush said then that the commutation "leaves in place a harsh punishment for Mr. Libby," that "the reputation he gained through his years of public service and professional work in the legal community is forever damaged," and that "the consequences of his felony conviction on his former life as a lawyer, public servant and private citizen will be long-lasting."
Trump in August pardoned former Arizona sheriff Joe Arpaio, who was convicted of criminal contempt for ignoring a judge's order not to detain suspected undocumented immigrants.
In March, Trump pardoned Kristian Saucier, a Navy submariner sentenced in August 2016 to 12 months in prison after taking photos inside the engine room on the USS Alexandria, a nuclear attack submarine. The pictures taken of the vessel's propulsion system were classified "confidential," the lowest level of classification.