President Donald Trump announced a new campaign manager for his 2020 re-election effort Wednesday, less than four months before voters head to the polls, in an effort to reset a campaign that has already been through multiple failed reboots. The announcement comes as he lags further behind his Democratic rival, former Vice President Joe Biden.
Trump said in Facebook post, and later on Twitter after the cyberattack on the platform, that he is removing his top campaign manager, Brad Parscale, and tapping deputy campaign manager Bill Stepien, a veteran Republican operative, to take over.
Stepien was campaign manager for both of former New Jersey Gov. Chris Christie's gubernatorial runs and served as his deputy chief of staff, but he was fired in 2014 in the Bridgegate scandal that plagued Christie.
"Both were heavily involved in our historic 2016 win, and I look forward to having a big and very important second win together," Trump said. "This one should be a lot easier as our poll numbers are rising fast, the economy is getting better, vaccines and therapeutics will soon be on the way, and Americans want safe streets and communities!"
The idea to promote Stepien to take the reins only four months before the general election has been "flirted with" for months, said a Republican official, but some top campaign aides were caught off guard by the announcement Wednesday night. Several told NBC News that they were not aware that the move was being formalized in recent hours.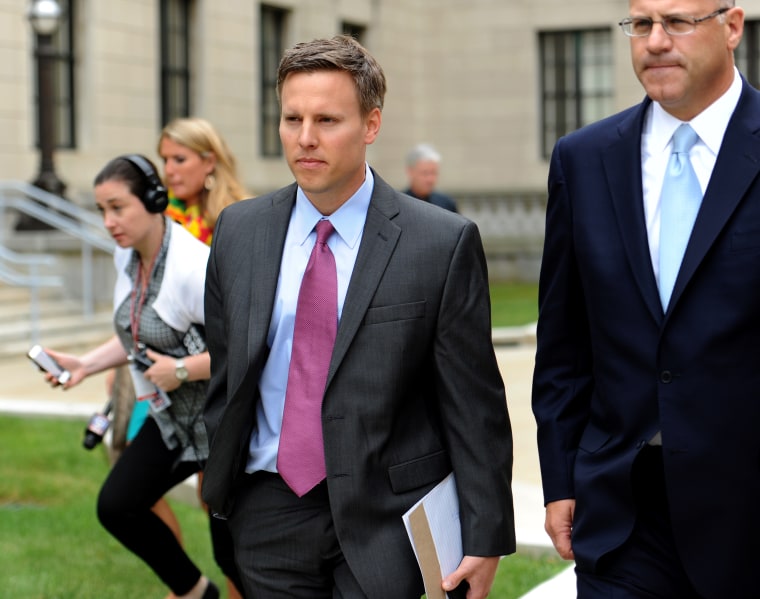 Stepien was named deputy campaign manager in May in an effort to layer Parscale, who had been campaign manager for more than two years but had come under fire in the last few months for lagging poll numbers. He will keep his digital and data strategy duties, the campaign said.
The shakeup was not discussed in the political meeting at the White House on Monday, according to the GOP official.
Parscale had boasted that millions of tickets were sold for Trump's campaign rally in Tulsa, Oklahoma, last month, which brought lower-than-expected turnout and left the president fuming. His demotion comes as polls show Biden holding a double-digit lead nationally over Trump, with 7 in 10 voters saying the country is on the wrong track.
Polls indicate that Americans disapprove of the president's handling of the coronavirus, which has killed about 140,000 Americans, as well as race relations amid anti-racism protests over police brutality.
Trump has struggled to articulate a vision for a second term beyond more of the same, and a source familiar with the campaign said there is a growing perception that "he's not trying" and that it seems like "his heart is not in it."
Parscale's role had already diminished greatly in recent weeks, with Stepien handling strategy, Jason Miller taking over messaging and Jeff DeWit brought in to manage finances, said a person close to the campaign. Some aides had assumed that Parscale would keep the top title in an honorary fashion or that he would be moved into a chairman role, rather than be given such a clear demotion.
Trump's campaign has struggled to land on a message since the coronavirus forced it to abandon its playbook, which was centered on touting Trump's handling of the economy and blanketing the country with massive rallies central to the campaign's fundraising and data operations.
Before Parscale took on the job of designing the website for Trump's exploratory campaign in 2015, he had no political experience, and he was focused mostly on the digital side of the operation during the 2016 election. During that campaign, he managed social media advertising and online fundraising — elements that were crucial to Trump's victory but that were outside the traditional campaign manager's roles in polling, messaging and managing staff.
With a degree in finance, international business and economics from Trinity University in San Antonio, Parscale started a digital marketing business in 2004 in Texas and expanded it in 2011 when he partnered with a designer to focus on high-end web design, digital marketing and branding.
Parscale started working for the Trump Organization in 2011, managing websites for Trump International Realty. He got the job after a client he had worked for in the past was hired by Trump.
Download the NBC News app for breaking news and politics
Parscale's level of celebrity in Trump's world has been noted by those close to the campaign, who say Parscale had at times gotten too big a head in a universe where there can be only one star — Trump.
He was a regular warmup act at Trump rallies, throwing hats into the crowd, signing autographs, posing for selfies and taking the stage to pump up the faithful. He featured images of himself in campaign ads and ran ads throughout his personal Facebook page, and he would often send out campaign fundraising emails under his own name, rather than Trump's.
In Stepien, the campaign gets a much more analytical, traditional political operative. Before going over to the campaign, he served as the White House's political director through the 2018 election cycle, during which he was responsible for having a granular, county-by-county understanding of the political landscape, helping the White House determine which candidates to send Trump to campaign for and where to hold Trump rallies and official events.
"Almost 140,000 Americans have lost their lives and millions more have lost their jobs because of Donald Trump's failed leadership," Biden campaign spokesman Andrew Bates said in a statement. "The Trump Campaign's game of musical chairs won't fix this. We need a new president for that."