President Donald Trump signed an executive order Monday aimed at slashing federal regulations to help businesses, the latest in a string of presidential directives he has unveiled in his first 10 days in office.
The "one in, two out" plan requires federal agencies requesting new regulations to cut two existing regulations. Trump said the order will reduce regulatory burdens on the private sector, particularly small businesses.
"If you have a regulation you want, number one, we're not going to approve it because it's already been approved probably in 17 different forms," Trump said while signing the order surrounded by small business leaders.
"But if we do, the only way you have a chance is we have to knock out two regulations for every new regulation," he said. "So if there's a new regulation, they have to knock out two."
Related: With Executive Order on Deregulation, Small Businesses Mainly Optimistic
Government agencies must self-identify the regulations to cut, although the White House will ultimately decide what to nix.
A temporary regulatory freeze issued by White House Chief of Staff Reince Priebus is already in place, but Monday's directive sets a budget for new regulations. It doesn't apply to the military or to national security regulations, and there is also an exception to allow flexibility during emergencies.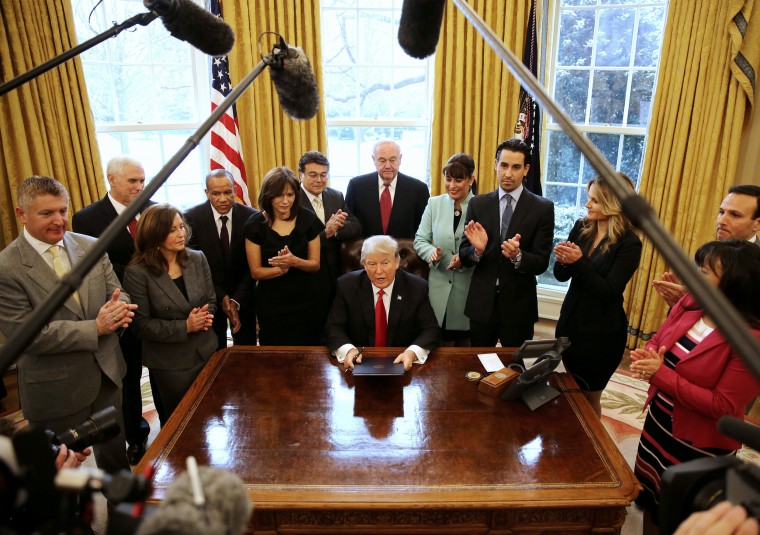 Before signing the order, Trump held a listening session with the business leaders at the White House where he pledged to create a climate that will allow businesses to thrive.
"We're going to create an environment for small business like we haven't had in many, many decades," Trump said. "This isn't a knock on President Obama. This is a knock on many presidents preceding me. It's a knock on everybody."
The businessman-turned-politician campaigned heavily against overbearing government rules that he said stifle entrepreneurship. Trump has pledged to repeal the Dodd-Frank Act aimed at regulating Wall Street, which he claims made the big banks bigger, and to replace it with "new policies to encourage economic growth and job creation."
Wall Street has embraced Trump's presidency so far, with the Dow Jones Industrial Average hitting 20,000 points for the first time last week. Stocks dipped, however, on Monday as uncertainty swirled around Trump's order to close the United States to people from certain predominantly Muslim countries.
Trump has relied heavily on executive orders since his inauguration Jan. 20 to begin addressing his biggest campaign promises. He has declared that the United States will build a wall on the southern border with Mexico, advanced the construction of the Keystone XL pipeline and weakened the Affordable Care Act.