Donald Trump is demanding an apology from the cast of "Hamilton" after Vice President-elect Mike Pence attended a performance of the Broadway show Friday night — and was greeted with a chorus of boos from the audience.
"The Theater must always be a safe and special place," Trump tweeted Saturday morning, after videos of the jeering emerged on social media. "The cast of Hamilton was very rude last night to a very good man, Mike Pence. Apologize!"
He also tweeted that Pence was "harassed" by the cast as theatergoers had their "cameras blazing."
The theater erupted with clapping and booing when Pence, surrounded by Secret Service, went to his seat near the front of the stage before the show started. The commotion quickly spread on social media as audience members captured the awkward moment.
The president-elect's tweets later turned into an all-out duel with members of the "Hamilton" cast.
Actor Brandon Victor Dixon, who plays Aaron Burr in the show, shot back at Trump's tweet, arguing that "conversation is not harassment sir."
"Hamilton" creator Lin-Manuel Miranda, who left the show in July and was nominated for a Tony Award for playing Alexander Hamilton, tweeted that he was "proud" of Dixon for speaking up.
Miranda got backup from former co-star Christopher Jackson, who originated the role of George Washington and tweeted that it's Trump who should apologize following a divisive presidential election.
Some on social media said Pence was widely panned by the audience, while others said he received a mixed reaction when he walked in.
"There was definitely more of a mixed reaction, but boos did drown out the clapping," a theatergoer who was in the audience told NBC News. "But there was no doubt his presence was felt throughout the show."
Pence's presence also didn't go unnoticed by the cast, and Dixon used the opportunity in a rare move after the show to address the Indiana governor directly during curtain call, reading from a statement that appeared to have been prepped backstage.
"Vice President-elect Pence, I see you're walking out, but I hope you will hear just a few more minutes," Dixon said.
Pence stopped to listen.
"We are the diverse America who are alarmed and anxious that your new administration will not protect us, our friends, our children, our parents, or defend us and uphold our inalienable rights," Dixon said, reading off a piece of paper. "But we truly hope that this show has inspired you to uphold our American values and to work on behalf of all of us."
"We truly thank you for sharing this show, this wonderful American story told by a diverse group of men, women of different colors, creeds and orientation," Dixon said.
"We don't have to agree, but we have to live here," the actor concluded to cheers from the crowd before Pence abruptly left. He was seen waving to people outside.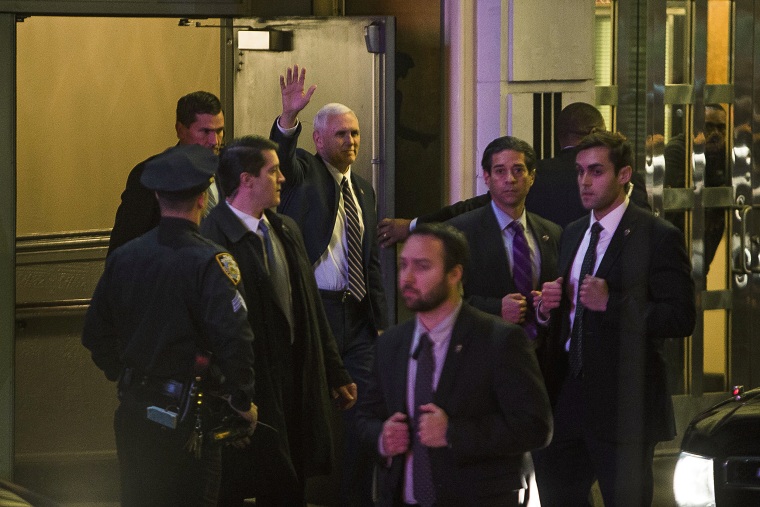 "Hamilton," the red-hot hip-hop musical that tells the reimagined story of founding father Hamilton and the historic duel he had in 1804 with Vice President Burr, has a diverse cast — and has taken pride in having actors who are part of the LGBTQ community or come from immigrant families.
Some on social media pointed out the irony that Pence — who has been called "notoriously anti-LGBTQ" and has suggested that HIV funding would be better spent on anti-LGBTQ conversion therapy — enjoyed a show starring an openly gay and HIV-positive man in the title role.
Related: LGBTQ Community Fears Backlash After Trump Victory
Seth Stewart, who plays the Marquis de Lafayette and Thomas Jefferson, said the cast didn't encourage the booing.
"Why? Because you cannot change hate with hate, or fight darkness with itself. Only love can change that!" he tweeted.
"I thought it was a very positive message from the cast and they actually told the crowd not to boo," an audience member at the performance told NBC News. "The cast didn't harass him, they were asking the crowd to stop."
But Trump supporters lashed out at the uproar prompted by Pence's attendance. The president-elect's senior adviser, Kellyanne Conway, tweeted that he "deserves respect and a peaceful night out with his nephew and daughter."
The hashtag #boycotthamilton was fueling the feud on social media, with some people saying people shouldn't watch the musical, which is going for hundreds of dollars a seat, because the cast called out Pence.
But that didn't stop the throngs of people who waited hours in long lines to get tickets to the show Saturday afternoon.
"I just think it's ludicrous that the Trump supporters want to boycott a show," said Robert Samuel, who was waiting for tickets outside the "Hamilton" box office.
"It would be disingenuous to have somebody who opposes what you believe in and you not saying anything about it," Samuel said of the cast responding to Pence. "So they had the platform, literally and figuratively, and that's what they chose to do. And I support them 100 percent."