President Donald Trump, in the earliest days of his presidency, told Australia's prime minister that he hates taking in refugees.
"I guarantee you they are bad," he said, according to a transcript of the call obtained by The Washington Post. He added, "They are not going to be wonderful people who go on to work for the local milk people."
But a new report released Monday by a Washington-based think tank suggests that Trump's dire warnings about those who seek asylum in the United States may be unfounded. In fact, the report indicates, they're helping make America great.
The nonpartisan Urban Institute crunched Census and refugee survey data and complied recent academic studies, among other sources, to show that over time refugees integrate into nearly all aspects of American life. And the longer refugees remain in the U.S., the report says, the more likely they are to embrace tenets of the traditional American dream — buying homes and starting their own businesses.
According to the report, labor force participation rates of refugees on average exceed native-born rates. That's typically because 77 percent of refugees are likely to be of working age compared to 50 percent of the native-born population. This also allows them to contribute economically, with their income rising the longer they stay in the U.S.
"There is a gap in what the current policy debate is and what the reality of refugees that are here is," Hamutal Bernstein, a senior researcher at the think tank and the report's author, said. "After a period of adjustment refugees integrate in different ways — they're working at really high rates, the longer they're here, the more they earn, the better their English gets."
In 2015, for example, refugee income nationwide totaled $77.2 billion and refugees paid $20 billion in taxes, according to the report. Meanwhile, the report notes, use of public assistance also declines over time. (Under U.S. law, refugees qualify for some federal public benefits, but must meet certain conditions.)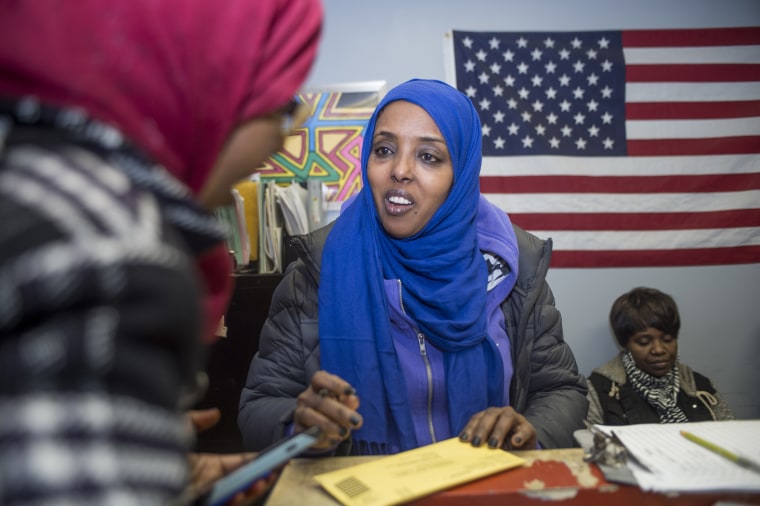 The report comes at a time when the Trump administration has slashed refugee admissions to a historic low and changes to the U.S. Refugee Resettlement Program have left some people in limbo. Meanwhile, the Supreme Court plans to hear arguments on the third iteration of Trump's travel ban later this month.
As president, Trump has worked to reduce the number of refugees the country allows in. The first two iterations of his travel ban, which were met with immediate legal challenges, included provisions such as a 120-day refugee ban, an indefinite ban on Syrian refugees and a reduction of admissions overall. A third travel ban, issued last September, placed restrictions on certain people from Chad, Iran, Libya, North Korea, Syria, Venezuela and Yemen, but did not mention refugees.
Separately, in September 2017, Trump signed an executive order effectively ending his administration's temporary ban on all refugees, but with new provisions that delayed processing certain refugees from 11 countries for 90 days. The order also lowered the admission cap for refugees to 45,000 for the fiscal year 2018. Since 2008, the cap has ranged from 70,000 to 110,000.
From the start of the 2018 federal fiscal year — Oct. 1 through March 15 — roughly 9,600 refugees have been admitted into the country, according to the report.
However, the report notes gaps that require additional study, such as how refugees from specific countries and cultures with different educational levels integrate. It also acknowledges some imprecision in Census data, and that some areas of refugee life are not able to be measured.
Bernstein said the Urban Institute hopes its findings will inject nuance into the conversation.
"I would hope there is a change when people are talking about this population and more sense about the complexity of their experience," Bernstein said.