WASHINGTON — For years, as a member of the House and as President George W. Bush's U.S. trade representative, Rob Portman argued that Democratic lawmakers weren't as pro-trade as they should have been because they were too tied to organized labor.
But now, as a Republican senator from Ohio, Portman is watching his party's president turn the GOP in a protectionist direction. On Thursday, against the sentiments of some in his administration, Trump declared that he would impose big tariffs on steel and aluminum — a move that could raise prices for consumers, might set off a trade war and already has infuriated fellow Republicans.
"I would have preferred a more targeted approach as to the product and as to the country where it's coming from," Portman said. "I come from Ohio. We're a big steel state, we want to protect our steel workers — we've lost 1,500 steelworkers in the last couple years — but want to be sure that it's not going to also hurt the automakers and the other users of steel, manufacturers."
His rebuke was mild compared to much of the instant cavalcade of Republican criticism of Trump's plan, which included a warning from South Dakota Sen. John Thune, a member of GOP leadership, that the president's trade policies could be "very harmful to the economy." Sen. Ben Sasse, R-Neb., warned that the tariffs would amount to "a massive tax increase on American families."
The hue and cry from Capitol Hill highlighted yet a major fault line running through a Republican Party that just elected a president who ran on a "nationalist populist" platform but is still stocked with business-oriented free-traders in its congressional ranks.
John C. Green, director of the Ray C. Bliss Institute of Applied Politics at the University of Akron, said Trump is keeping a campaign-trail vow that appealed to blue-collar voters, including many Democrats, even though it puts him at odds with GOP lawmakers.
"The free-trade Republicans tend to agree with Trump on reducing regulations and business tax cuts, so in the short run, the White House may come out ahead," he said. "But in the long run he may face problems holding the GOP together."
Trump's victory hinged on winning industrial Midwest states, like Portman's Ohio, where many swing voters are deeply concerned about the competitiveness of U.S. manufacturers. His electorate and donor base just aren't the same as those of the GOP senators who slammed the tariffs of 25 percent on steel and 10 percent on aluminum that Trump said he would officially implement next week.
For his part, Trump defended his decision in a tweet early Friday morning, writing that, "When a country (USA) is losing many billions of dollars on trade with virtually every country it does business with, trade wars are good, and easy to win."
"Example, when we are down $100 billion with a certain country and they get cute, don't trade anymore-we win big. It's easy!" he added.
On one level, the president's plan shouldn't have been a surprise to the old guard of the GOP: Trump campaigned hard on a promise to impose levies on imports from other countries, particularly Chinese steel. Yet Republican lawmakers felt blind-sided by the announcement, which many didn't get a heads-up about.
It was the second issue in two days that has pitted Trump against Republicans in Congress. On Wednesday, during a bipartisan session with lawmakers, he was receptive to gun-control policies that are anathema to many GOP lawmakers.
With tariffs, though, unlike with several significant gun measures, Congress has no say.
"There is absolutely no requirement in the law for Congress to be involved in that process," said Tori Whiting, a research associate at The Heritage Foundation, a conservative Washington think tank that supports free trade.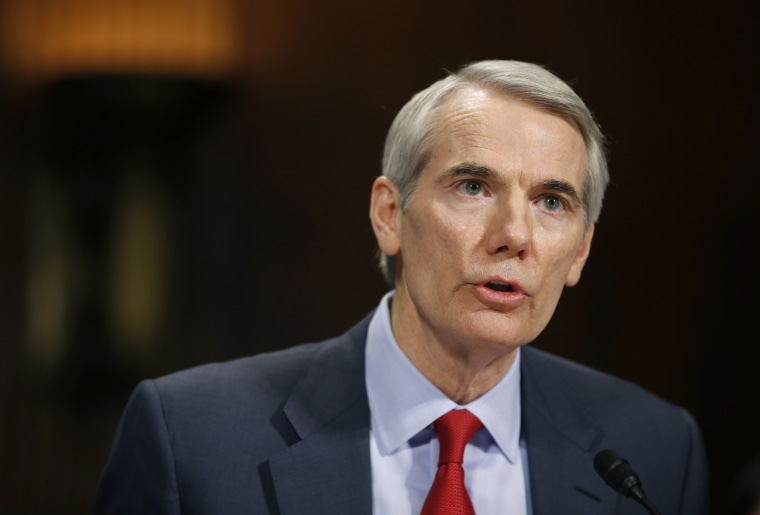 The painful irony for veteran Republican free-traders is that Trump has essentially decided that their long-held beliefs about protectionist trade policies causing job losses as opposed to saving them are misguided.
But they clearly understand the political power of Trump's argument.
When he ran for re-election in 2016, Portman aired an ad positioning himself as a champion of Ohio workers because he had advocated for keeping targeted tariffs that were in place on certain types of Chinese steel.
"China is doing things to create an unfair playing field," Burke Byer, the owner of Byer Steel, said in the ad. "The threat to American manufacturing is real and Rob Portman gets that. If he didn't help put in tariffs against China, we wouldn't be in business today."