DEARBORN, Mich. — A blue collar community with a substantial Muslim population is at odds over President Donald Trump's travel ban, which the White House has promised to retool after setbacks in court.
"It was them, man. It was their people," said Bobby Gonzales, a resident of Sterling Heights, Michigan, who supports Trump's original executive order restricting immigration from seven Muslim-majority countries. "You can't let people fly into your buildings. You can't let a bomb — the Boston Marathon — you can't let them do stuff like that."
Gonzales and his six friends, clustered together one recent evening at RJ's Bar and Grill in Macomb County, Michigan, live in the Detroit suburb crucial to Trump's November victory in a state Republican nominees had not won since George H.W. Bush.
Trump won Michigan by 10,704 votes, but flipped Macomb County by 15.5 percent, winning the county by 48,000 votes compared to Mitt Romney's 16,000-vote defeat in 2012.
The metropolitan area is also home to the highest concentration of Muslims in the United States — a fact not lost on the men, who describe themselves lifelong union Democrats.
"These people that we've got in now — the Arabic, the Muslims," Lenny Maciborski said, commit widespread "abuse" of Social Security and state-aid programs. Maciborski retired from Chrysler and said Trump was the first Republican to win his vote.
"[They have] taken such advantage of our system, and my concern is I won't be around," Maciborski added. "My children and their grandchildren will never see the America like my parents gave to me — that's all I can say. America went downhill."
Related: Appeals Court Refuses to Reinstate Trump Travel Order
The White House, like several of these men, has pointed to attacks on U.S. soil as justification for the president's original travel ban, and officials say a new executive order could come early next week. But no terrorist attack in the U.S. — including 9/11 and the Boston Marathon bombing — has occurred at the hands of individuals from any of the seven countries whose people Trump's first executive order barred. And there are no reports of widespread fraud of government aid by immigrants or refugees.
Still, Trump's rhetoric has revealed a diverse community at odds.
Immigrants and their American-born children interviewed by NBC News emphasized that Detroit is their home. They pointed to their businesses and their deep entrenchment in the area's auto industry as proof of their own blue collar, working class bonafides. But in interviews with Trump supporters, several echoed the president's skepticism of the Muslim and immigrant population in sweeping, often inaccurate terms.
The city of Sterling Heights was sued by the Department of Justice in December for rejecting the proposed construction of a mosque not too far from RJ's Bar and Grill. Several of the men objected to the idea of a mosque, and said they support the city for scuttling the plans.
"They run over here ... want us to take care of them," Frank Zajch, a retired machine repairman at a spark plug company, said of immigrants. "Why don't you stay there and fight?"
The number of foreign-born immigrants in metropolitan Detroit is more than 70,000. An average of 2,000 refugees from the Arab world have made their homes in the area each year over the last decade.
In Macomb County alone, there are 14,000 foreign-born Iraqis — a great number of whom are Chaldean Christians. But it's the nearby city of Dearborn, another Detroit suburb in Wayne County, where the majority of Muslims and Arab-Americans have settled over the last several generations. About half of Dearborn's residents, in fact, are Muslim.
"Whoa, the capital!" Maciborski quipped after this NBC News reporter said his hotel destination was in Dearborn.
In Dearborn, fear also emanates from the other side. For many Muslims, the concern goes beyond the legal battle now playing out in the courts over the actual executive order. Several residents told NBC News that they are anxious that the president has given license to his supporters to profile and speak skeptically about the Muslim population in the U.S. — and they are taking pains to show how deep their own Michigan and American roots go.
"What I'm really afraid of is not President Trump or the policy itself, it's how much it's making an effect in dividing people. Trump supporters — that's what really is bothering and scaring people," said Machhadie Assi, a Dearborn native and student at the University of Michigan's local campus.
Michael Hanna, a civil rights attorney and immigrant from Egypt, attended what local groups deemed an "emergency town hall" last week in Dearborn. More than 1,000 attended, raising personal inquires aloud about the impact of Trump's executive order on family and friends.
"When you take [the president's rhetoric] into context and you see how the common man might perceive that and what they may do and say in the workplace or out in the streets, that's what's scary," Hanna said. "It justifies people acting in ways that probably isn't best for the community as a whole."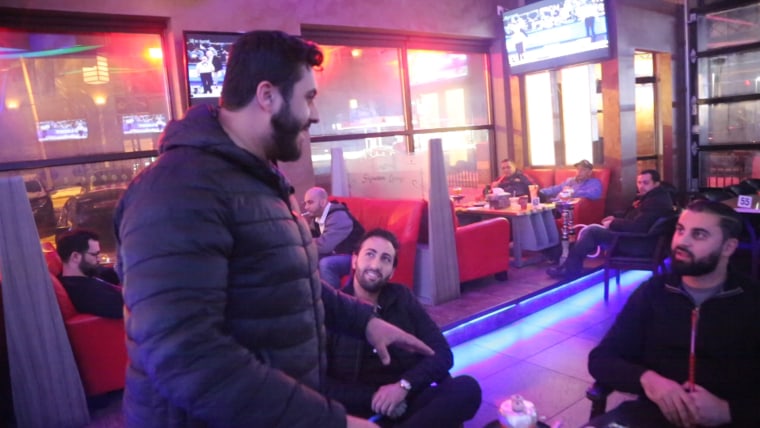 But the immigrant community from the Arab world dates back to the early days of the auto industry and the prospect of jobs at Ford Motor Company. Today, the big three automakers here continue to rely on Muslims in the workforce. Ford executives rejected the president's directive in a statement last week.
"My family is probably the most blue-collar, American, Muslim family you'll find," said Mahmoud Abdallah. "My dad came here in 1974 and worked for Ford Motor Company, and I work for General Motors."
Abdallah, 28, a repair mechanic for General Motors and Dearborn resident, expressed confusion at colleagues of his who voted for Trump and struggle to explain their support of his travel ban. "They say, 'You're okay, but these other people,'" he said. "I'm like, 'What does that mean, though? Clarify for me.' They're at a loss for words."
Abdallah was surrounded by several friends, including Hussein Dabajeh, at Signature Café, a new, sleek hookah bar. Dabajeh owns the establishment and is active in multiple advocacy organizations and volunteered for Democrat Hillary Clinton's campaign.
Dabajeh, like Abdallah, is the son of Lebanese immigrants. And like many of the other Muslim residents interviewed by NBC News, he stressed his community's contributions to the city and the deep roots they have there.
"My father owns one home — it's in Dearborn, Michigan. It's not in Lebanon. My father doesn't have a home back in Lebanon," Dabajeh said. "A lot of the people in this city are literally living the American dream."