MSNBC responded to President Donald Trump's Twitter tirade Thursday against "Morning Joe" hosts Joe Scarborough and Mika Brzezinski by saying the president is putting personal grudges over the job he was elected to do.
"It's a sad day for America when the president spends his time bullying, lying and spewing petty personal attacks instead of doing his job," MSNBC spokesperson Lorie Acio said in statement.
Trump lashed out at the hosts of MSNBC's "Morning Joe" on Twitter for speaking "badly of me." The tweets — which drew immediate criticism from lawmakers on both sides of the aisle — came toward the end of the pair's morning cable news show.
When asked whether the president's tweets were "out of line" during his weekly press conference, House Speaker Paul Ryan said, "Obviously I don't see that as an appropriate comment."
"Look, what we're trying to do around here is improve the tone, the civility of the debate, and this obviously doesn't help do that," Ryan added.
At the White House press briefing Thursday, spokeswoman Sarah Huckabee Sanders said the president was defending himself against continuing personal attacks from the "liberal media."
​"You can't expect for that amount of attack and intensity to come on a president and he can never respond," Sanders said. ​
She said voters "knew what they were getting when they elected Donald Trump" and praised the president as a "fighter" who is "smart" and "tough" in response to questions about whether the tweets were beneath the president's office, as some critics said Thursday.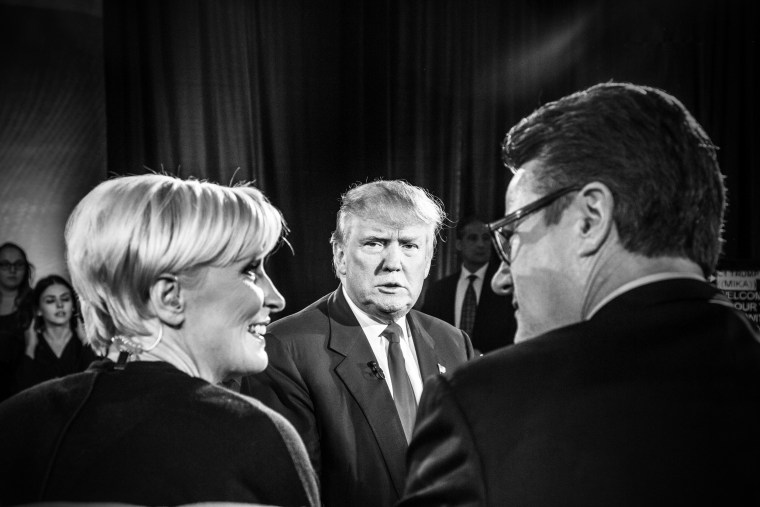 Melania Trump's press secretary, Stephanie Grisham, told NBC News: "As the First Lady has stated publicly, when her husband gets attacked, he will punch back 10 times harder."
Trump was a frequent guest on "Morning Joe" during the start of his 2016 presidential run. But his contentious relationship with the media has only grown since taking office earlier this year. He attacked CNN, The New York Times and The Washington Post on Twitter earlier this week.
The tweets aimed at the MSNBC hosts were quickly condemned by members of Trump's own party for being below the dignity of his office:
Sen. James Lankford, R-OK, bringing up the recent attack on GOP congressmen at a baseball practice in Virginia, said Trump's comments "don't help."
"I just chaired a hearing with the US Capitol Police about safety, and the June 14 shooting attack of Steve Scalise, Matt Mika and Officers Crystal Griner and David Bailey. National and local leaders, including our President, should model civility, honor and respect in our political rhetoric. The President's tweets today don't help our political or national discourse and it does not provide a positive role model for our national dialogue," Lankford said in a statement.
Republican Sen. Orrin Hatch, R-Utah, appeared to be referencing Trump's tweet as well when he sent out a link to an op-ed he recently penned on the subject of civility in politics.
And Hatch's spokesman was more direct, tweeting shortly after Trump's attack: