President-elect Donald Trump said Tuesday that he's fully mended fences with House Speaker Paul Ryan, praising him as being "like a fine wine" — in that he improves with time — after Ryan thanked him for helping states like Pennsylvania, Michigan and Wisconsin "see the light of day" and put a Republican in the White House.
"He has been, I'll tell you, he has been terrific. And you know, honestly, he's like a fine wine. Every day goes by, I get to appreciate his genius more and more," Trump said of Ryan at a rally in the suburbs of Milwaukee.
But by the smattering of boos throughout the crowd when Ryan spoke — and when Trump praised the Speaker — it was clear for many in Wisconsin the wounds of the election season haven't healed yet.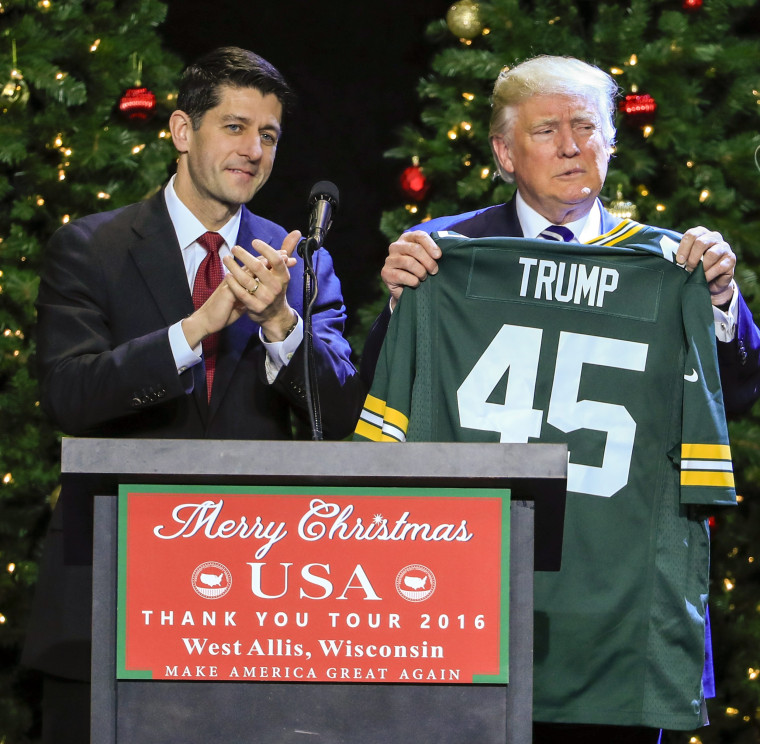 Ryan was one of the most prominent Republicans that remained reluctant to get on-board with Trump during the primary and, even after he did, Ryan was occasionally critical of Trump or refused to defend his many controversial comments.
Trump, in return, attacked Ryan on Twitter and even at one point gave a shout-out to Ryan's primary challenger.
And Ryan went so far as to effectively dis-invite Trump from a campaign event in his district after audio of Trump making lewd comments about groping women in 2005 was released publicly.
Related: Trump's Secretary of State Pick May Help Direct Shift in U.S. Foreign Policy
Shortly after, Ryan said he wouldn't defend Trump or campaign with him for the rest of the election.
But Trump's Election Day victory — which saw Republicans hold the Senate, defend the House and win a number of previously out-of-reach swing states, including Wisconsin — seems to have helped the two put their issues to bed.
Indeed, Tuesday night's event marked the first time the two appeared together at a Wisconsin rally, after their long and tortured public feud unfolded over the course of the campaign.
Trump also praised his former primary opponent, Wisconsin Gov. Scott Walker, who also thanked Trump for turning the state red in brief remarks before Trump took the stage.
The president-elect in turn called Walker "tough" and "great" but also joked that Walker would soon run again.
Related: Why the CIA Thinks Russia Wanted Trump to Win
"So now it's gonna be your turn very soon. I don't know, you and [VP-elect Mike] Pence are gonna have to fight it out," Trump quipped.
The crowd roared for Trump throughout the speech, one of a half-dozen rallies on his "Thank You" tour of America, though the substance of the speech was more a retelling of Trump's election-night experience from his eyes than it was a show of gratitude for the crowd.
He also elaborated on his pick of ExxonMobil CEO Rex Tillerson to serve as Secretary of State. Trump said he chose Tillerson for precisely the reason the move is already sparking skepticism from some within his own party — the fact that Tillerson is "friendly with many of the leaders in the world that we don't get along with."
"Rex is friendly with many of the leaders in the world that we don't get along with and some people don't like that. They don't want them to be friendly," Trump acknowledged during is Wisconsin campaign rally on Tuesday night, just hours after the pick was officially announced.
He continued: "That's why I'm doing the deal with Rex, cause I like what this is all about and we're gonna have somebody that's gonna be very special."
Related: Congressional Republicans Begin to Buck Trump on Russia
Tillerson is already drawing scrutiny over his close ties to Russian President Vladimir Putin — he's worked on major deals with the country's state-owned oil company and opposed imposing sanctions on Russia after the annexation of Crimea.
But during an appearance on Fox News Sunday this past weekend, Trump touted in particular the fact that Tillerson "does massive deals in Russia not for himself, but for the company."
Still, those ties are certain to prompt fierce questioning from members of both parties during his confirmation hearings on Capitol Hill.
A number of prominent Republicans have already expressed concern over his relationship with Putin, including Arizona Sen. John McCain, who this weekend told NBC News that "Vladimir Putin is a thug and a bully and a murderer and I believe that the relationship between Mr. Tillerson and Vladimir Putin needs to be examined."