President Donald Trump will not be adding attorneys Joseph diGenova or Victoria Toensing to his legal team, despite announcing otherwise last week.
"The President is disappointed that conflicts prevent Joe diGenova and Victoria Toensing from joining the President's Special Counsel legal team," Trump's personal attorney, Jay Sekulow, said in a statement issued Sunday. "However, those conflicts do not prevent them from assisting the President in other legal matters. The President looks forward to working with them."
The news was first reported Sunday by The New York Times.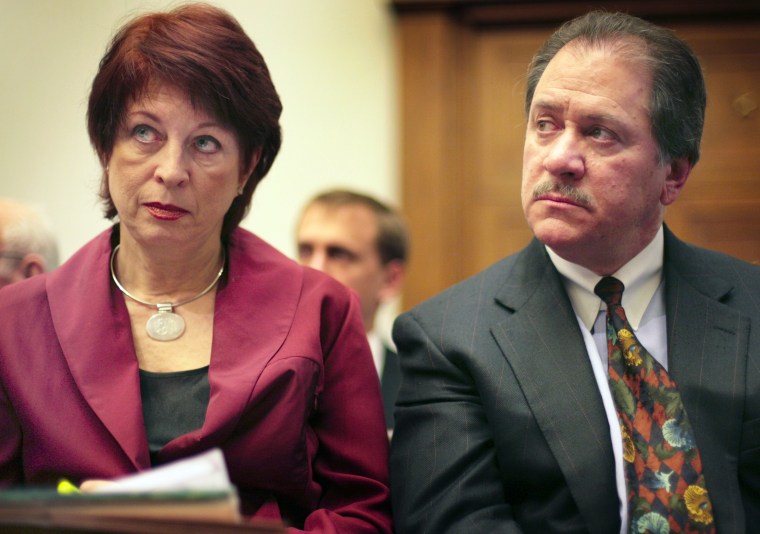 Toensing and diGenova's hiring would have helped replace John Dowd, who served as Trump's lead counsel in the Russia probe until he resigned on Thursday.
Sekulow did not state specifically what conflicts the two lawyers faced. They head the Washington law firm diGenova & Toensing and are married.
NBC News, however, confirmed with Toensing that she is representing Mark Corallo, a former spokesman for the president's legal team who met with members of special counsel Robert Mueller's team for more than two hours on Feb. 15. Toensing declined to comment on what was discussed in the meeting with the special counsel.
According to The Times, Corallo planned to tell Mueller about his concerns that Hope Hicks may have obstructed justice when she said on a conference call with the president that potentially incriminating emails about a Trump Tower meeting between campaign officials and a Kremlin-linked lawyer "will never get out."
The president also did not feel a "personal chemistry" between himself and the two lawyers when they met recently, according to The Times.
Toensing also represents Sam Clovis, who was questioned by Mueller's team and testified before the investigating grand jury late last year.
A former U.S. attorney for the District of Columbia, diGenova publicly pushed a conspiracy theory in January that the FBI and Justice Department officials were attempting to frame Trump with a "false crime" in the Russia investigation. DiGenova was working as a Fox News analyst at the time.
Sekulow confirmed diGenova's addition to the Trump's legal team last week.
"I have worked with Joe for many years and have full confidence that he will be a great asset in our representation of the president," Sekulow said in a statement at the time.
Trump did not comment on the topic, but he did claim over a pair of tweets posted Sunday that it is not "hard to find a lawyer who wants to take this on. Fame & fortune will NEVER be turned down by a lawyer, though some are conflicted."
The social media posts included a signature: "NO COLLUSION."