The U.S. is expelling 15 officials from the Cuban embassy in Washington, Secretary of State Rex Tillerson said Tuesday, signaling a growing response by the department to attacks that have left U.S. government employees in Cuba suffering symptoms like hearing damage.
Tillerson said the "decision was made due to Cuba's failure to take appropriate steps to protect our diplomats" and to "ensure equity in our respective diplomatic operations."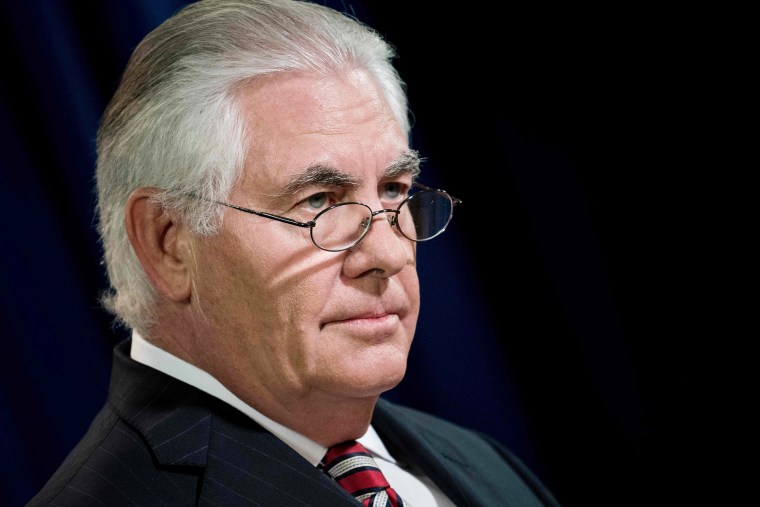 The State Department informed the Cuban government of its decision Tuesday morning and provided a list of the people who would be expelled, a department official told NBC News. Those people were given seven days to leave the United States.
The official said the expulsion, which amounts to about 60 percent of the employees at the embassy, does not signal a change in policy or a determination of responsibility for the attacks, and added that the U.S. was maintaining diplomatic relations with Havana.
The expulsion, however, will leave the Cuban embassy in Washington — which has fewer than 25 workers — with just a handful of employees and is certain to affect the mission's ability to function.
The move came just days after the department ordered the departure of nonemergency personnel assigned to the U.S. embassy in Havana, as well as their family members.
Tillerson said Tuesday that the withdrawal in Havana was meant "to minimize the number of diplomats at risk of exposure to harm" until "the government of Cuba can ensure the safety of our diplomats in Cuba."
The statement was referring to the baffling sonic attacks that had staffers at the U.S. embassy in Cuba suffering from headaches, hearing loss, memory issues and other symptoms. The State Department said Wednesday that the number of victims was now 22.
A State Department official told NBC News Tuesday that the investigation was ongoing. The Cuban government has repeatedly denied having played a role in the attacks and launched its own investigation into the incidents.
Cuba's Ministry of Foreign Affairs on Tuesday criticized the State Department for making its decision "without the conclusive results from the investigation" and ripped the move as having "an eminently political character."
"The Ministry urges the competent authorities of the U.S. government not to continue politicizing this matter, which can provoke an undesirable escalation..." the ministry added.
State Department spokeswoman Heather Nauert said later Tuesday that the move was "not a punishment" and that the U.S. had "not assigned any blame" for the attacks.
"We don't know who or what is causing it, but Cuba has a responsibility under the Vienna Convention to ensure the safety and security of our diplomats," she said.