WASHINGTON — Secretary of Defense James Mattis and his South Korean counterpart have "discussed the option" of putting nuclear weapons in the country to deter North Korea, Mattis told reporters Monday.
Mattis declined to elaborate further on his discussions with South Korean Defense Minister Song Young-moo, but the two countries have revisited previous weapons agreements amid escalating tensions with North Korea.
"There are many military options, in concert with our allies," Mattis said during a briefing with reporters at the Pentagon.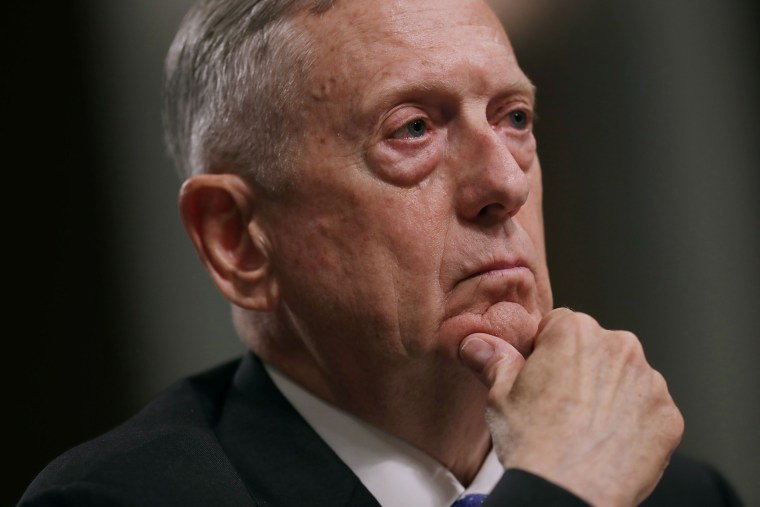 Mattis said there are alternatives that would not put the South Korean capital of Seoul at grave risk, but declined to elaborate on what those options are.
North Korea on Friday fired another ballistic missile over Japanese airspace, just weeks after a similar weapons test that was condemned by the U.S. and its allies. The U.S. did not shoot down the missiles, Mattis said, because they did not pose a threat to Japan or U.S. territories.
The United Nations Security Council unanimously adopted new sanctions on North Korea last week, a move Pyongyang said would only accelerate its weapons development.
Earlier this month North Korea conducted its sixth nuclear test.
"It's a pressurization effort to raise the cost," Mattis said of the sanctions.
Last week, South Korean Foreign Minister Kang Kyung-wha said allowing U.S. nuclear weapons in the country wasn't an option being looked at by Seoul.
The United States withdrew its nuclear weapons from South Korea in 1991 as part of its worldwide nonproliferation efforts and to try to persuade North Korea to reduce its nuclear program.
It still defends South Korea and non-nuclear Japan under a so-called nuclear umbrella, the idea that it would launch a devastating counterattack against any would-be aggressor.