A months-long investigation into a racist photo on Virginia Gov. Ralph Northam's 1984 medical school yearbook page "could not conclusively determine" whether he is one of two people in the picture, according to the findings released Wednesday.
While investigators noted that Northam has made "inconsistent public statements" about whether he participated in the photo, which features a person in blackface and another in a Ku Klux Klan robe, they were unable to find anyone who could shed light on the decades-old image on the Democratic governor's personal page in his Eastern Virginia Medical School yearbook.
"No individual that we interviewed has told us from personal knowledge that the governor is in the photograph, and no individual with knowledge has come forward to us to report that the governor is in the photograph," investigators said in their 55-page report.
The scandal broke in February when the yearbook page surfaced online on a conservative news site — leading to calls for Northam's resignation and embroiling Virginia's other top Democrats in separate scandals.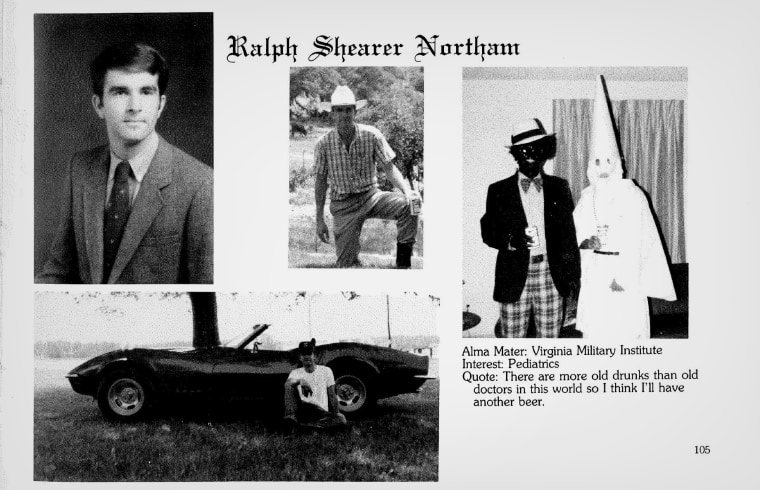 Eastern Virginia Medical School launched an independent investigation by enlisting former Virginia Attorney General Richard Cullen, of the McGuireWoods law firm, whose mandate was to examine the past culture of the school and its yearbook production processes.
In addition, investigators said, they found no information that the racist image was placed on Northam's personal page in error or for another reason not at his direction. They could also not determine the photo's origin, although investigators said "those we interviewed thought the Photograph may have occurred at a Halloween party, or perhaps a costume party with the theme of odd couples or opposites."
Cullen said at a news conference Wednesday that Northam participated in the investigation and was asked about how the various pictures got on his page.
"He remembers that the car, the cowboy hat and the other one, but he does not remember the KKK and the blackface picture," Cullen said.
When asked about the veracity of statements from classmates who were interviewed in the investigation, Cullen said investigators were "trained to be skeptical" and "it's fair to say we took their statements at fair value and had no reason not to."
Northam, a pediatric neurologist who took office in January 2018, initially said he was in the photo and apologized. But days later, in an interview with CBS News, Northam denied being in the picture after he "had a chance to step back, take a deep breath" and study it.
Northam, however, has admitted to darkening his face with shoe polish to impersonate Michael Jackson for a dance competition in 1984.
Investigators on Wednesday said they had reviewed the contents of Eastern Virginia Medical School's 1984 yearbook and others in detail, and discovered they "repeatedly contained other content that could be offensive to women, minorities, certain ethnic groups and others." Such imagery became less frequent in later years.
From 1976 to 2013, the school's yearbooks were almost entirely student-run, with little to no oversight from the administration, investigators found.
"While there was an administration liaison in certain years, we have identified no information that indicates that any faculty or administrators edited or censored student photographs or the general contents of the yearbooks," according to the report.
After refusing to leave office in the face of the brewing scandal, and largely staying out of the public eye in February and March, Northam said he would use the remainder of his term to advance issues of race and equality.
In a statement Wednesday, Northam said unequivocally that "I am not in the racist and offensive photo that appears under my name in the 1984 Eastern Virginia Medical School yearbook."
He again apologized for causing further confusion by initially saying he was in the photo before backtracking.
"I felt it was important to take accountability for the photo's presence on my page, but rather than providing clarity, I instead deepened pain and confusion," he said, adding, "I am committed to working to build a better and more equitable Virginia for all who call it home."
Meanwhile, Virginia's two other top Democrats have weathered their own political controversies: Lt. Gov. Justin Fairfax has been accused of sexual assault by two women, which he denies and said he would not resign over, and Attorney General Mark Herring has admitted to wearing blackface when he was in college in the 1980s.
A Quinnipiac University poll in late February found that a plurality of Virginia voters — including a large majority of black voters — believed that Northam should not step down.