Almost exactly two years ago during the exhilaration of "Arab Spring," there were soaring hopes both inside Egypt and abroad that with the overthrow of the autocratic Hosni Mubarak, an era of democracy and human rights might be dawning.
Today despite the change of leaders from Hosni Mubarak to Mohammed Morsi, authoritarian rule in Egypt continues -- and so too in all likelihood will U.S. aid to that country.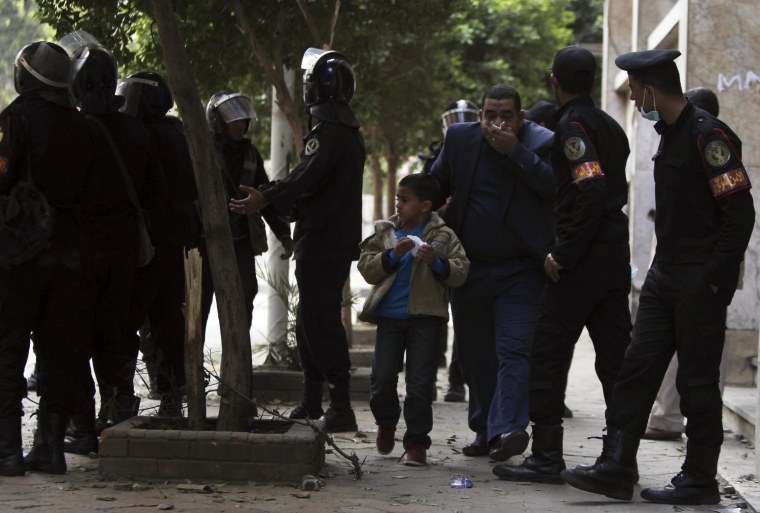 For the current fiscal year, President Obama is requesting $1.55 billion in aid to Egypt, about 80 percent of it in the form of military assistance.
At this point, there appears to be no serious threat that Congress might block or cancel funds for Egypt, even given the arbitrary action Morsi has taken in recent months – such as his declaration that his decisions are immune from judicial review until a new constitution is adopted. On Sunday, Morsi imposed a state of emergency in three Egyptian cities torn by riots and protests. Gen. Abdel Fattah al-Sisi, the head of the Egyptian military, warned Tuesday that the "collapse of the state" would occur if the warring factions in the country did not come to terms.
Sen. John McCain, R- Ariz., who recently got back from a trip to the Middle East with other senators that included an interview with Morsi, told reporters Tuesday American aid should not be delayed while the U.S. waits for events to settle down in Egypt.
A delay might "contribute to the chaos that may ensue because of their collapsing economy," McCain warned. "Their biggest problem is a collapsing economy. The Israelis are in favor of continuing the aid to Egypt. I think that's important. We listen a lot to the Israelis."
Illustrating a foreign policy divide in Republican ranks, Sen. Rand Paul, R- Ky., challenged secretary of state nominee Sen. John Kerry, D- Mass., at his confirmation hearing last week on why the United States should pay to send F-16 fighters to Morsi's regime.
Recommended: Two pressure points to watch on immigration
Last September, in the aftermath of attacks on American diplomats in Libya and Egypt, Paul declared in a Senate speech, "Not one penny more for Libya or Egypt or Pakistan until they act as our allies. Some say we have to keep sending it. Fine, let's send it when they act as our allies. Let's send it when they start behaving as civilized nations and come to their senses."
"The American people are tired of this," Paul said. "Our Treasury is bare. There is a multitude of reasons why we should not continue to send good money after bad."
According to a recent Congressional Research Service report, "Between 1948 and 2011, the United States provided Egypt with $71.6 billion in bilateral foreign aid, including $1.3 billion a year in military aid from 1987 to the present. Since 1979, Egypt has been the second-largest recipient, after Israel, of U.S. bilateral foreign assistance."
But in his opposition to more U.S. taxpayer subsidies for Egypt, Paul remains very much an outlier both in his party and in the Senate as whole.
Kerry explained to his colleagues last week that Egypt is simply too important for America not to fund.
"We have critical interests with Egypt," he said. "Egypt has thus far supported and lived by the peace agreement with Israel. And has taken steps to begin to deal with the problem of security in the Sinai. Those are vital to us and to our national interests and to the security of Israel."
And on Tuesday an array of senators agreed with Kerry and McCain that the flow of U.S. funds to Morsi must continue.
When senators are asked about funding, the term they use is "engagement." Asked whether the turmoil in Egypt should cause a pause in U.S. aid, Sen. Bob Corker, R- Tenn., the senior Republican on the Senate Foreign Relations Committee, said Tuesday, "I don't think it should affect our engagement, necessarily, with the country."
Related: Senate votes to confirm Kerry as secretary of state
Sen. Bob Casey, D- Pa., who has been serving as chairman of the Foreign Relations subcommittee on the Middle East, noted that "I have always said when we provide aid, it's never unconditional and we should always evaluate our aid in the context of what's happening at a particular time. But I don't favor these blanket aid bans that we often hear debated here (in the Senate)."
Another Democrat on the Foreign Relations Committee, Sen. Chris Coons, D- Del., who was on the recent trip to Middle East with McCain, said the senators' discussion with Morsi touched on "the importance of ongoing U.S. support for their economy, for their military," as well as "their progress toward full democracy" and Egypt's adherence to its obligations under the 1979 peace treaty with Israel.
Coons noted that there has been a hold on U.S. economic development assistance for the Cairo regime since mid-2012.
According to CRS, Rep. Ileana Ros-Lehtinen, R- Fla., then chairwoman of the House Foreign Affairs Committee and Rep. Kay Granger, R - Texas, House Foreign Operations Appropriations Subcommittee chairwoman, placed holds on $450 million in economic aid to Egypt.
"The question isn't: would we further delay it (aid) ?" Coons said, "The question is: Is there a time when we're going to begin releasing aid and providing some ongoing support to the Egyptian government?"
That hold is on economic development aid, but what about military aid, which is far larger?
Coons said the bipartisan delegation of senators had a "very positive" meeting with Egypt's defense minister during their trip two weeks ago. "I came away from that convinced that we have a strong shared commitment to regional security and peace and that we are making a responsible investment of U.S. dollars in sustaining our military-to-military relationship."
So, he added, "To the extent that they continue to make progress toward democracy, openness, and respecting their treaty obligations, I will continue to support U.S. assistance to Egypt."
But Coons added Tuesday he wanted to get a briefing on the latest round of turmoil in Egypt.