WASHINGTON — The Biden administration on Thursday slapped sanctions on state-run agencies in Russia and Iran over their roles in wrongfully detaining U.S. citizens.
The sanctions, announced by Secretary of State Antony Blinken, target Russia's Federal Security Service and Iran's Islamic Revolutionary Guard Corps Intelligence Organization.
"Russia's and Iran's continued pattern of wrongfully detaining U.S. nationals is unacceptable," Blinken said in a statement. "The United States will never stop working to secure the release of U.S. nationals who are wrongfully detained or held hostage and reunite them with their loved ones. Today's actions are one tool furthering that cause, and we will continue to use all authorities at our disposal to bring our people home."
In a coordinated move, the Treasury Department sanctioned four senior officials of the IRGC-IO, meaning any property of theirs that is in the U.S. or controlled by Americans must be blocked and reported to the Treasury Department's Office of Foreign Assets Control. The sanctions also generally prohibit anyone in the U.S. from making transactions with the designated people or entities.
"Today — and every day — our message to Russia, Iran, and the world is holding hostage or wrongfully detaining Americans is unacceptable," President Joe Biden said in a statement. "Release them immediately."
Government representatives from Russia and Iran did not immediately respond to request for comment.
The authority to impose the sanctions stems from an executive order related to the Robert Levinson Hostage Recovery and Hostage-Taking Accountability Act. It is the first time the Biden administration has used the executive order since the authority of the statute was expanded in July, senior administration officials said.
"The IRGC-IO frequently holds and interrogates detainees, including at least one wrongfully detained U.S. national, in Evin Prison," a senior administration official told reporters. "And Evin Prison has a long and sordid history of human rights abuses, including extensive reports of torture."
The U.S. has previously sanctioned FSB and IRGC officials. In 2019, the Trump administration designated the IRGC as a foreign terrorist organization.
Russia's Foreign Affairs Ministry refused the next requested consular visit on May 11 for Evan Gershkovich, the Wall Street Journal reporter who was arrested about four weeks ago in Russia on espionage charges. Gershkovich and his employer have denied the charges.
The U.S. ambassador to Russia made the first consular visit to Gershkovich on April 17 after Russia previously denied the U.S. Embassy's earlier requests for visits.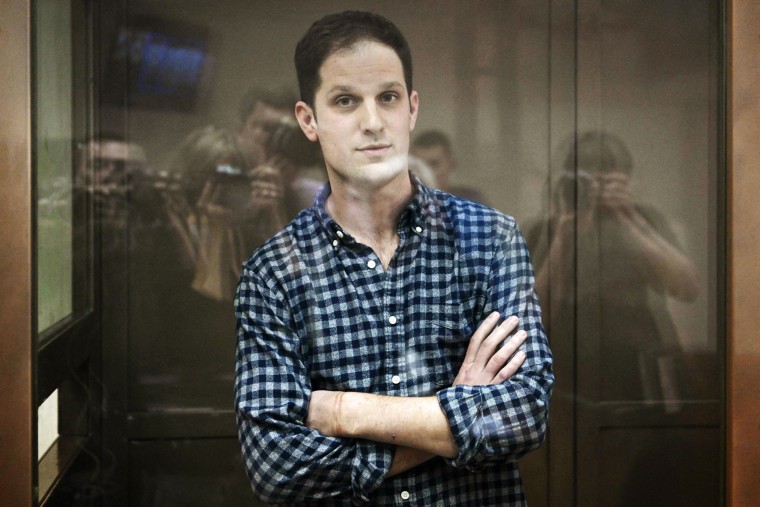 WNBA star Brittney Griner encouraged wrongfully detained people to stay strong and not lose hope at a news conference Thursday with the Phoenix Mercury.
"I would say to everyone that is wrongfully detained right now across the world: Stay strong," Griner said. "Keep fighting. Don't give up.
"We're not going to stop fighting," she added. "We're not going to stop bringing awareness to everyone that's left behind right now."
Griner was released from Russian custody in December after having been held on drug charges for over nine months.
Earlier Thursday, publishers and editors from The Wall Street Journal, The New York Times and The Washington Post released a joint letter reiterating calls for Gershkovich's release.
"Evan is a distinguished journalist whose coverage has provided an important window into one of the world's most isolated countries; his detention is a loss not just for our individual publications but for the people of Russia and society at large," they wrote. "The unjust arrest of any reporter, anywhere in the world, is simply unacceptable."
The U.S. on April 10 designated Gershkovich as wrongfully detained, a classification that gives the government additional resources to work toward his release. A Moscow court has since rejected Gershkovich's detention appeal.
In addition to Gershkovich, the U.S. also designated Paul Whelan and at least three Americans and a legal permanent U.S. resident in Iran as wrongfully detained.
"These actors in Russia and Iran have tried to use Americans for political leverage or to seek concessions from the United States," said a senior administration official discussing the sanctions. "These actions threaten the stability and integrity of the international political system."