/ Source: Associated Press
GRUNDY, Va. — Democrat Terry McAuliffe and Republican Glenn Youngkin sparred in their first gubernatorial debate on Thursday, presenting contrasting visions on a number of issues, including how to combat Covid and grow the state's economy.
It was the pair's first debate of the general election season in a race being closely watched as a possible indicator of voter sentiment heading into the 2022 national midterm elections. It was also the first debate held the day before early in-person voting begins at local voter registration offices.
McAuliffe served as Virginia's governor from 2014 to 2018. Youngkin, the former co-chief executive of The Carlyle Group, a private equity firm, is a political newcomer. In Virginia, governors are not allowed to serve consecutive terms.
Thursday's hourlong debate was hosted at the Appalachian School of Law in Grundy — a tiny town in conservative southwest Virginia. It was moderated by Susan Page, the Washington bureau chief of USA Today. Page was joined by panelists Bob Holsworth, a well-known Virginia political analyst, and Candace Burns, an anchor for CBS 6 News in Richmond.
The two candidates faced off over vaccine mandates, climate change, and abortion, among other issues.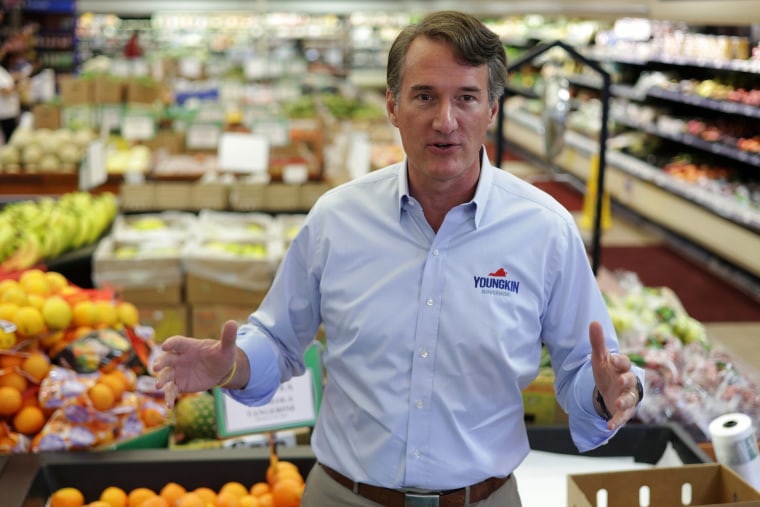 McAuliffe strongly defended his position on vaccine mandates, saying he would support requiring them in schools and for medical workers to address the Covid crisis. He said he would also encourage employers in the state to adopt mandates, calling Youngkin "anti-vax."
"He does not believe in forcing people to understand what Covid is going to do to the state and the country," McAuliffe said. "It is still raging across the country. Right here in this county, all of the ICU beds are full. I am for requiring and mandating vaccination. He is not. He likes to do PSAs. PSAs will not get you anything. I want everyone to be vaccinated."
Youngkin shot back at the Democrat, calling the anti-vaccine claim a "lie." He said he supports the vaccine but not forcing it on Virginians.
"He wants to make Virginians' life difficult now. We need to come together and work together through the pandemic," he said. "The last thing we need is a governor that will go to work to make everyone's life difficult."
The two also disagreed on how to tackle climate change, particularly in rural areas in the state that have, for instance, depended on coal or natural gas or both as an energy source.
Youngkin said he would use all energy sources to bring jobs and address climate change without "putting our entire energy grid at risk for political purposes."
"We can do this with common sense. We should embrace all energy sources," he said. "I believe we can tackle bringing down emissions in Virginia without putting forth a plan that not even executives at the utilities believe is doable."
McAuliffe, however, said he is calling for clean energy in the state by 2035.
"When I think of clean energy, I think of jobs, thousands and thousands of new jobs," he said, adding that manufacturing clean energy technology, such as wind turbines, would also make the state a production hub.
On the issue of abortion, Youngkin said he is pro-life and believes in exceptions in cases of rape, incest, and when the life of the mother is in danger, but he does support a bill that includes a "pain threshold" for the fetus. However, he said he does not agree with the recent Texas bill that bans abortion at 6 weeks.
"I would not sign the Texas bill today," he said. "The Texas bill is also unworkable and confusing."
Former President Donald Trump, who endorsed Youngkin, was a consistent topic throughout the debate, with McAuliffe continually comparing the Republican candidate's policies to Trump's.
"We cannot go in with a candidate who is too extreme," McAuliffe said. "He is a Trump wannabe."
Youngkin was pressed on Trump's unfounded claim that there has been fraud in past Virginia elections and the questions the former president raised about the integrity of the 2021 gubernatorial election without evidence.
"I do not believe there has been significant fraud in Virginia elections," he said. "But I believe this is a democracy issue we are talking about, not a Republican issue or Democrat issue."
Youngkin said he would invest in the state's election system and implement voter ID laws. And he said he disagreed with Trump's claim that Democrats would cheat in the upcoming election.
The second and final gubernatorial debate before the Nov. 2 election will be Sept. 28 at a community college in liberal-leaning northern Virginia.