Voters in Washington state on Tuesday could approve a measure that would lower one of the nation's toughest barriers to prosecuting police for use of deadly force.
Spearheaded by De-Escalate Washington, a coalition of activist groups co-chaired by Andre Taylor, whose brother was fatally shot by Seattle police in 2016, ballot initiative 940 would remove the state's unique malice requirement, which says prosecutors must prove an officer acted with "evil intent" when bringing criminal charges for killing in the line of duty.
The initiative would also create a two-part good-faith test to determine when use of deadly force is justifiable and expand de-escalation, first aid and mental health crisis training requirements for officers.
Opponents, including some Republican state lawmakers and the Coalition for a Safer Washington, which is made up of multiple law enforcement organizations, say the proposal would put officers at risk and waste taxpayer dollars. The initiative's backers, like some progressive state lawmakers and the ACLU of Washington, say the reforms would make communities safer and save lives.
"We think we're going to be the first state that sets the precedent of police accountability around the nation," Taylor told NBC News. "It's just like the first time that law enforcement has had to listen."
According to an Amnesty International analysis, Washington has the highest bar for prosecuting law enforcement officers. A statewide investigation conducted by The Seattle Times in 2015 found that fatal killings had surged over the past decade, while only one officer was charged. The ACLU of Washington, which partnered with De-Escalate to help advance the initiative, called the state's current use of force standard "out of date."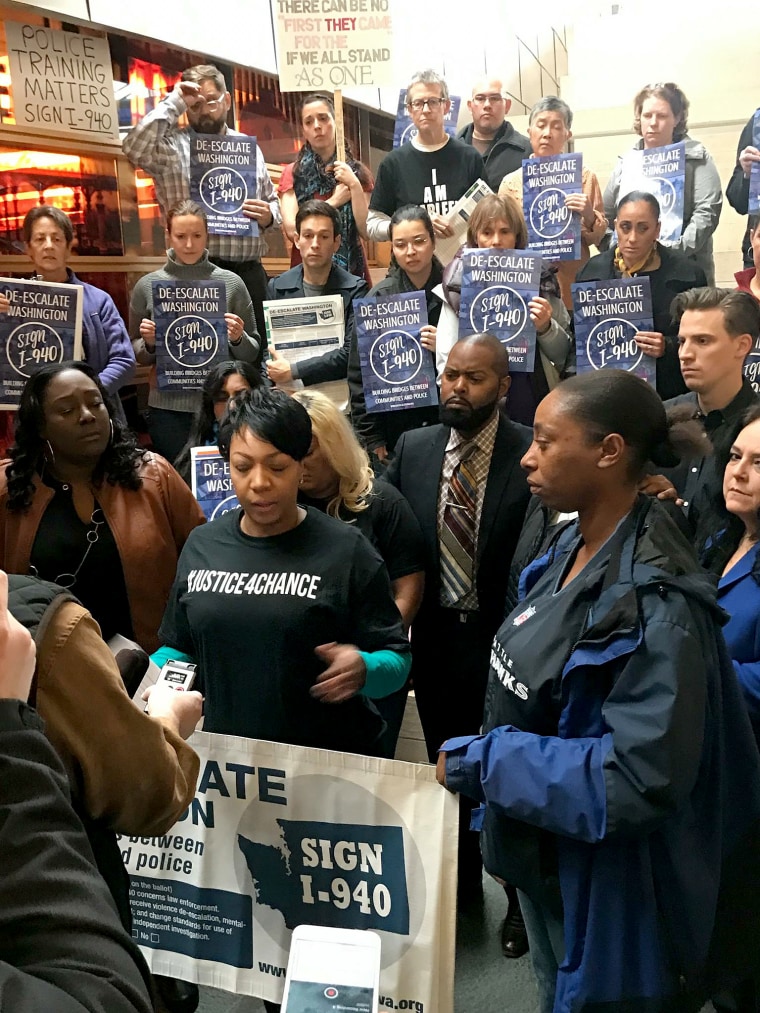 De-Escalate Washington organizers raised at least $1 million in support and collected more than 350,000 voter signatures to get the initiative on the ballot in December 2017. A poll commissioned by the group and conducted by outside research firm EMC Research in February 2018 found that a majority of likely Washington voters supported it.
In March, however, the state legislature narrowly passed a bill amending the initiative prior to allowing Washingtonians to vote on it. That bill included input from De-Escalate and was supported by law enforcement groups like the Fraternal Order of Police, an influential union, and the Washington Association of Sheriffs and Police Chiefs, according to The News Tribune. The Tacoma newspaper reported that under the bill, the malice clause would still be removed, but good faith was defined as asking whether a "reasonable" officer would have taken the same actions.
Democratic Gov. Jay Inslee signed the law, praising activists, police, and politicians in a statement at the time for their efforts at compromise. But after a challenge, the state's Supreme Court ruled that the original version of I-940 had to appear on November's ballot and that the legislature had erred in tweaking a citizen initiative before voters had a chance to approve or reject it, according to The Seattle New Times.
Teresa Taylor, executive director of the Washington Council of Police and Sheriffs, said the organization is against I-940 because she thinks it will not effect the change De-Escalate wants to bring about.
"We represent about 4,500 rank and file police officers throughout the state of Washington, and we cannot sit quietly by and not let voters know that the language in the current initiative is language that we cannot suggest they vote for," she said in an interview.
Coalition for a Safer Washington said in October that while I-940 is "camouflaged as a training initiative, its real goal is to make it easier to prosecute a police officer who takes a life while facing threats protecting his or her community."
But not all members of state law enforcement are against the ballot measure as it stands. In a Video Voters' guide, King County Sheriff Mitzi Johanknecht said she supported a "yes" vote on I-940.
"I know and love the law enforcement profession," she said in the video. "I also know how important trust is for building safe communities. And I believe 'yes' on 940 will increase trust and be a win-win for communities and police."
On Friday, Seattle Mayor Jenny Durkan offered her city's support to the ballot measure, as well, saying that she sees it as a "really important mechanism to make sure that the gains we have in Seattle can be shared statewide as quickly as possible."
Republican state Sen. Doug Ericksen told The News Tribune in March that changes to the legal standard, such as removing the malice clause, could impede the work of police officers in dangerous situations.
"We need to stand up against this and be very clear that we support people who are in law enforcement in our state," Ericksen said.
Taylor defended his group's initiative, saying, "We're not against law enforcement." He also said that regardless of the outcome in November, De-Escalate and law enforcement groups have committed to working together on compromise legislation. Some lawmakers, including Democratic state Sen. Rebecca Saldaña, have said they're committed to seeing compromise legislation become law.
"There are law enforcement officers that support what we're doing, and they wouldn't support it if they think we're against them," Taylor said. "It's just that we have a law that is impossible to hold an officer accountable, and that's called de facto immunity."