The government watchdog group Citizens for Responsibility and Ethics in Washington, which sued President Trump on Monday for alleged ethics violations, describes its mission as reducing the influence of money in politics.
That work will become a central question in its attempt to prove in federal court that Trump violated the Constitution's Emoluments Clause by failing to dissolve his business interests with foreign governments.
Before CREW can pursue its case, it must convince a judge in the Southern District of New York it has been legally harmed by Trump's alleged conduct. CREW says it has been forced to spend enormous time and resources in response to Trump's decision to maintain his business empire while president.
Related: Ethics Lawyers to Sue Trump Over Continuing Business Interests
That tact is considered a long shot, because judges tend to want to see claims from people or groups that can show more obvious, direct harm.
But the group thinks it has prior rulings on its side, and a relatively sympathetic audience in Manhattan's federal courts.
"Our mission at CREW is to make government better, and instead we've had to spend a lot of time to deal with Donald Trump's unconstitutional behavior," vice-chair Norman Eisen told MSNBC.
Eisen, who served as an ethics lawyer for former President Barack Obama, also acknowledged that, if the case is allowed to proceed, CREW could force Trump to do what he has so far resisted: release his tax returns.
"The lawsuit is being brought to enforce the Constitution. In order to establish the emoluments violations, we are going to need to see the president's tax returns," he said. "We're going to seek them in discovery, so this is a vehicle in order to enforce the Constitution to get those taxes."
Related: Why Donald Trump's Business Dealings Matter
If they get that far, their case will break new ground. The Emoluments Clause has not been tested in the modern era. And there is no comparable example of a president owning such a large business empire.
The suit alleges that Trump violated the Constitution the moment he was sworn in as president on Friday because he had not divested his interests in the Trump Organization, including leases held by foreign governments in Trump Tower, bookings by foreign governments at Trump International Hotel in Washington and payments from foreign government-owned broadcasters related to "The Apprentice." The lawsuit also cites Trump deals involving China, India, the United Arab Emirates, Indonesia, Turkey, Scotland, the Philippines, Russia, Saudi Arabia and Taiwan.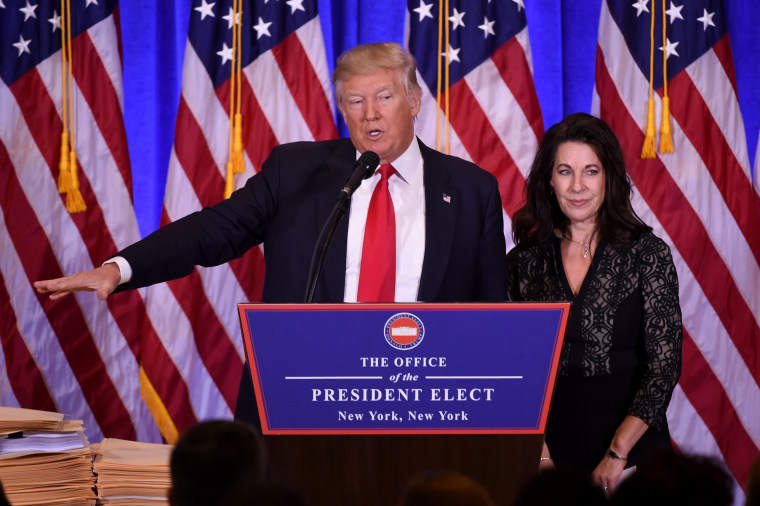 Trump has insisted his plan to avoid potential conflicts of interest prevent any violations of the Emoluments Clause, which says: "No Person holding any Office of Profit or Trust ... shall, without the Consent of the Congress, accept of any present, Emolument, Office, or Title, of any kind whatever, from any King, Prince, or foreign State."
Trump lawyer Sheri Dillon, who outlined the president's plan in a Jan. 11 press conference, said he would donate all hotel profits from foreign government payments to the U.S. Treasury. But CREW argues that it's illegal to accept the payments in the first place.