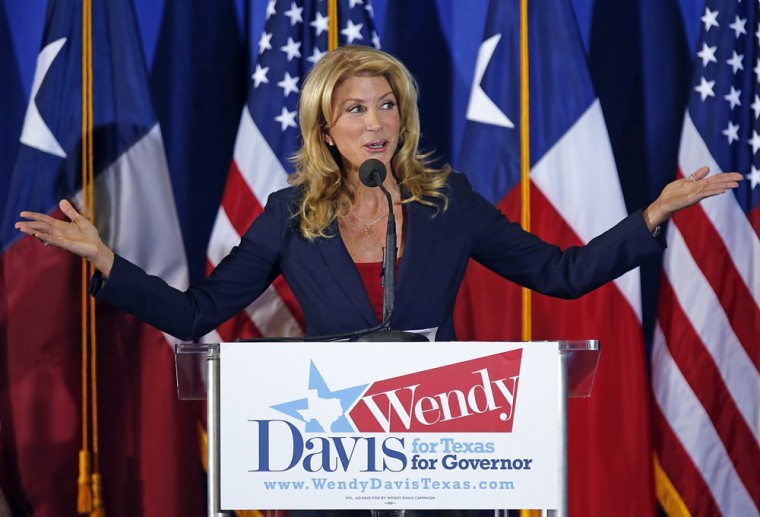 Wendy Davis burst onto the political scene in pink tennis shoes last June. But as the Democrat announced her campaign for Texas governor on Thursday, she'll need some pretty rugged hiking boots to climb the uphill political path ahead of her.
The Fort Worth state senator became a liberal folk hero with her 11-hour filibuster in June, sporting now-famous Mizunos and a back brace to rally against a controversial bill that would have banned most abortions after 20 weeks, along with imposing new restrictions and requirements on abortion clinics and doctors. She stopped the bill initially, but the law eventually passed in a subsequent special session. Its constitutionality has been challenged in court by Planned Parenthood and other pro-choice advocates.
But Davis did not mention abortion at all in remarks announcing her candidacy Thursday, focusing instead on her first filibuster earlier in her career -- on education issues. 
"Texas deserves a leader who understands that making education a priority creates good jobs for Texans and keeps Texas on top," she said.
Lamenting the rising costs of college, Davis said she would make education issues a centerpiece of her campaign in the Lone Star State. 
"I'm not sharing my story because it's unique or special. I'm sharing it precisely because it isn't. My whole life, I've seen Texans create better tomorrows for themselves and their families," she said. "But I worry that the journey I made is a lot harder and steeper for young Texans today."
Still, Davis' national fame and fundraising prowess is a product of her more controversial stance on abortion issues. After her marathon filibuster, a star was, as they say, born overnight. Suddenly Davis, a second-term state senator, was the hottest new thing for Democrats, and the immediate buzz around a potential statewide candidacy continued to swirl as fundraising dollars from across the country continued pouring in.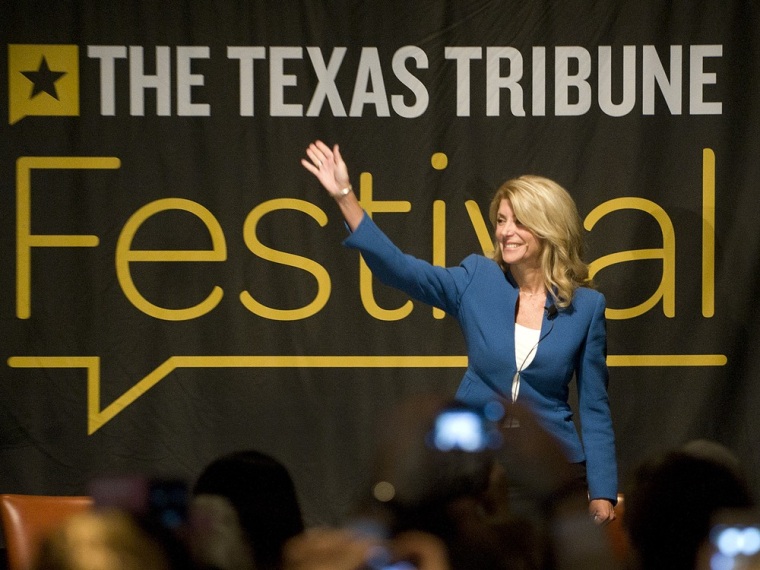 She didn't do much to discourage speculation, and Thursday afternoon she made official what was one of the worst-kept secrets of politics -- she's throwing her hat in the ring to succeed retiring Republican Gov. Rick Perry and setting up a clash next year with likely GOP nominee and sitting Attorney General Greg Abbott. 
Observers, including Democrats, still say she faces a steep hill in the solidly red Lone Star State? It's been nearly two decades since Texas last elected a Democratic governor, and it's a state that votes reliably Republican where President Barack Obama lost by 16 points. The last gubernatorial race touted to Perry as another moderate Democrat, former Houston Mayor Bill White, lost handily in 2010 by 13 points.
Those close to Davis acknowledge she begins as the underdog, but point out that's never stopped her before. She had tough fights in her two state Senate races in a district even Republicans describe as GOP-leaning. She fought against a partisan gerrymander of her district in 2011, and won re-election after she was heavily targeted by the GOP in 2012.
And moving beyond just her political biography, she has a compelling personal story. A single teen mother who grew up in a Texas trailer park, worked her way through community college and eventually Texas Christian University, went on to graduate from Harvard Law School and returned to Fort Worth to practice law.
Former Texas Democratic Rep. Martin Frost said just getting a strong Democrat on the ballot was a win for his party, but didn't downplay the challenges she faces.
"Eventually we're going to win a statewide race in Texas, and if you don't run you can't win," said Frost. "It won't be easy. I'm going to help her all I can, and lightning could strike here."
Texas Democratic strategist Matt Angle, now an adviser to Davis, said he had taken notice of her long before she rose to national prominence, back during her first campaign for the legislature when she was a Fort Worth City Councilwoman, a nonpartisan office.
"When people want to complain and start griping about each other, Wendy has a good quality of helping people find a way toward a solution," said Angle. "Just her positive demeanor is inspiring to people."
And Angle argued, her famous filibuster wasn't something she sought out, but that was thrust upon her.
"The choice issue has never been a central issue to her career," said Angle. "She's focused much more closely on education issues, job creation."
Since June, Davis hasn't shied away from the spotlight, but she's also looked to broaden her issue spectrum on the national stage too. In a speech at the National Press Club in D.C., she spoke at length about her work on education issues. And this past weekend at the Texas Tribune Festival in Austin, she talked of wanting to broaden her image beyond the stereotype of being a single issue candidate.
But if Davis rose to political fame on the abortion issue, Republicans are eager to take her down on the issue too. Texas Right to Life was already up with radio ads in both English and Spanish on Thursday, calling her an "abortion zealot." While Democrats may see a growing Hispanic electorate as their path to eventual victory in the changing state, Republicans quickly point out many of those Latinos socially conservative, religious voters who are opposed to abortion.
"Most of the people encouraging her to run probably have no idea how hard it is for a Democrat to win statewide in Texas right now. The normal metrics just don't apply in Texas," said the nonpartisan Rothenberg Political Report's Nathan Gonzales, who analyzes governor's races. "Her supporters talk about how she raised $1 million in the days after her filibuster. Well that's couch cushion money for statewide race in Texas."
It's still more than 13 months from Election Day, but even some things may be out of her hands, even if she runs a flawless race.
"In order to win, she probably needs to run a perfect campaign, have Abbott implode, and need at least one credible third-party candidate in the race to lower her threshold for victory below 50 percent," said Gonzales.
Republicans echo Gonzales' assessment, and maintain they aren't worried in a state that hasn't been a plausible target for Democrats in years.
In a briefing with NBC on Wednesday, Republican Governors Association Chairman Bobby Jindal said he wasn't "concerned about Greg Abbott's ability to win in Texas," calling his victory a "a pretty safe bet" and saying he believed they wouldn't have to spend a lot of money there.
While both candidates still remain largely unknown in the state, it's Abbott who has been on the ballot before three times, though he's never had a serious challenge.
And Republicans have one word they'll keep repeating to characterize Davis -- liberal.
"Senator Davis has a very thin record of legislative accomplishment, is a liberal demagogue in the Texas Capitol and is unlikely to shake the extremist abortion position that catapulted her to media and activist fame over the summer," said Republican strategist Ray Sullivan, a longtime Perry aide and former spokesman.
"She is an unabashed liberal in a conservative state," Sullivan continued. "She is not well-known and can be further defined."
That's just what Abbott's campaign plans to do. Armed with a $25 million war chest, they have a heavy advantage early on to paint Davis as they want, in a state where she's already at a disadvantage.
"We have the fundraising capability to shape the race on our terms," said a source close to Abbott.
But, even their campaign isn't naive that, especially in an open seat with a heralded recruit by Democrats, it will be a very real race.
"I do believe she is a strong candidate," said the same Democratic source, "I just don't know if demographics work for any Democrat in Texas."