White House staff secretary Rob Porter resigned Wednesday, a day after a British newspaper reported allegations from two ex-wives of physical and verbal abuse, the White House said.
Press Secretary Sarah Huckabee Sanders told reporters that it was "a personal decision Rob made," and that he "will stay on to ensure a smooth transition."
"As has always been our policy, we do not comment on security clearances. Rob Porter has been effective in his role as staff secretary. The president and chief of staff have full confidence in his abilities and his performance," Sanders said Wednesday.
Deputy White House Press Secretary Raj Shah said Thursday that Porter's last day was Wednesday and he came in earlier Thursday to remove some of his items.
Porter's two ex-wives, Jennifer Willoughby and Colbie Holderness, told DailyMail.com in a report published Tuesday that Porter was physically and verbally abusive to them during their marriages. Willoughby said the abuse started on their honeymoon and that she filed a restraining order against Porter in June 2010 after he punched the glass on a door to their home and refused to leave, violating a separation agreement.
Holderness and Willoughby each confirmed the accounts of their allegations to NBC News.
In a statement announcing his departure Wednesday, Porter said, "These outrageous allegations are simply false."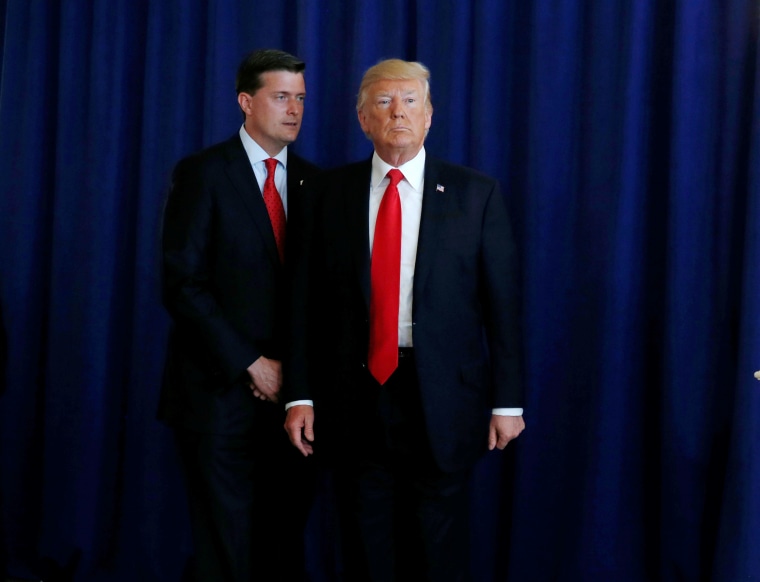 "I have been transparent and truthful about these vile claims, but I will not further engage publicly with a coordinated smear campaign," Porter said.
Porter was an influential senior aide in President Donald Trump's administration and played a key role in writing the president's State of the Union address last month. After the allegations surfaced Tuesday, the White House strongly defended him.
"Rob Porter is a man of true integrity and honor and I can't say enough good things about him. He is a friend, a confidante and a trusted professional. I am proud to serve alongside him," John Kelly, President Donald Trump's chief of staff, said.
Sanders spoke highly of him in a statement Tuesday, as well.
"I have worked directly with Rob Porter nearly every day for the last year and the person I know is someone of the highest integrity and exemplary character," she said. "Those of us who have the privilege of knowing him are better people because of it."
Later Wednesday evening, Kelly put out a statement saying: "I was shocked by the new allegations released today against Rob Porter. There is no place for domestic violence in our society. I stand by my previous comments of the Rob Porter that I have come to know since becoming Chief of Staff, and believe every individual deserves the right to defend their reputation. I accepted his resignation earlier today, and will ensure a swift and orderly transition."
Kelly sent an internal email to White House staff Thursday night condemning domestic violence and making staff aware of resources available to those seeking counseling, a White House official confirmed.
Deputy White House Press Secretary Raj Shah called the allegations "serious and disturbing" at a White House Press Briefing Thursday. He confirmed that Porter never obtained a full security clearance and only had a temporary status.
He also said that Kelly became "fully aware" of the allegations on Wednesday and was "shocked," though he would not elaborate on what information had been unknown to the chief of staff beyond the images that became public that day.
Shah said the president became aware of the allegations Tuesday night and had not been aware that Porter was using a temporary security clearance during his time in the administration.
"I think it's fair to say that we all could have done better over the last few days in dealing with this situation," he said.
Before working at the White House, Porter was the chief of staff of Sen. Orrin Hatch, R-Utah.
Hatch called the accusations of abuse against Porter a "vile attack" on Tuesday.
"Shame on any publication that would print this — and shame on the politically motivated, morally bankrupt character assassins that would attempt to sully a man's good name," he said in a statement.
On Wednesday, he offered a more reserved response, saying he was "heartbroken" by the allegations and that he does "not know the details of Rob's personal life. Domestic violence in any form is abhorrent and unacceptable."