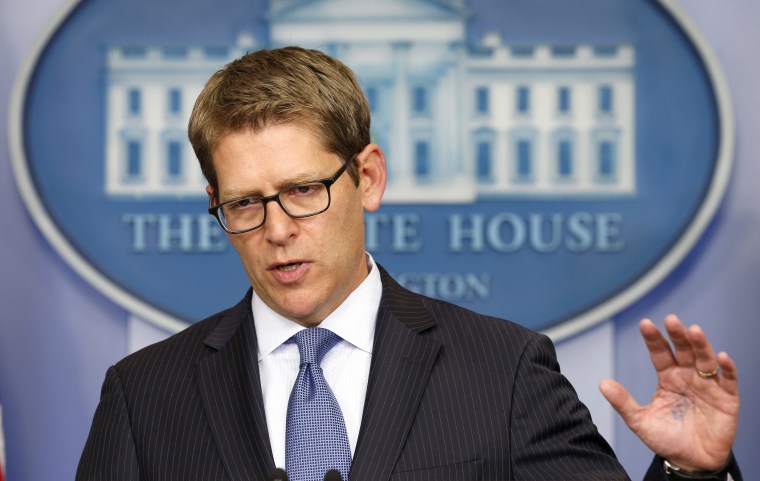 The White House argued Tuesday that President Barack Obama didn't mislead the public when he repeatedly promised Americans "If you like your health plan, you will be able to keep your health plan" under the Affordable Care Act.
Press secretary Jay Carney said the president's declaration was still technically true even as almost two million Americans across the country are getting, or are about to get, letters canceling policies purchased on the individual market.
"No, the president was clear about a basic fact," Carney said Tuesday when asked directly whether Obama had misled Americans about the impact of his signature domestic achievement. "If you had insurance that you liked on the individual market, and you wanted to keep that insurance…you could."
Carney's comments came a day after NBC News reported that the administration had been aware since the summer of 2010 of the risk that the law could cause some individuals to have their insurance policies changed or cancelled, effectively forcing them to enroll in a new insurance plan.  
This part of the law does not apply to the 80 percent of Americans who receive health insurance through their employers or through Medicare or Medicaid. Still it could impact up to five percent of Americans, or about 14 million people.  Obamacare regulations estimate that, because of normal turnover in the individual insurance market, "40 to 67 percent" of customers will not be able to keep their policy.  And experts tell NBC news that number could be as high as between 50 and 75 percent.
Carney argued that the thrust of Obama's comments remained accurate. Individuals whose policies existed prior to 2010, when the ACA was signed into law, are grandfathered into the new law and have the option to preserve that plan as long as it has not been significantly changed since the law passed.  He said the law could not anticipate insurers changing policies since then, or instances in which insurance providers canceled plans because of new requirements for minimal levels of coverage for policyholders.
Republicans have quickly seized upon the debate as further evidence in their longstanding case against "Obamacare."
"If the president knew that these letters were coming and still indicated that you could keep your health care plan if you liked it -- now, well that raises some serious questions about the sales job of Obamacare," House Majority Leader Eric Cantor, R-Va., said at a press conference on Capitol Hill.
"There is no way to fix this monstrosity," Speaker John Boehner, R-Ohio, said. He vowed that the GOP would continue to seek the law's repeal, even after a 16-day government shutdown triggered by Republican demands that Obama defund his own health care law.
"We want to repeal Obamacare and replace it with patient-centered health care," Boehner said.
"The real problem is that people weren't told the truth. You can remember they were told that they would be able to keep their policies if they like them, and now you hear hundreds of thousands of people across the country being told they couldn't," New Jersey Gov. Chris Christie, said on CBS. "So the White House needs to square that with what was told to the American people and told to the Congress beforehand."
In addition to arguing that the president's words during the health care debate were true, the White House also insisted the current debate only applied to a small sliver of Americans, since many receive their health care through employers or programs like Medicare, Medicaid or the Department of Veterans Affairs.
In addition, Carney maintained that consumers in the individual insurance market would mostly end up with better coverage as a result of the ACA's new rules and regulations. In some cases, depending on whether consumers are eligible for subsidies under the new law, Carney said the coverage might even be cheaper. 
"What we're talking about here is the 5 percent in the country who currently purchase insurance on the individual market," Carney said. "And that market has been like the Wild West. It has been under-regulated, it is the place where Americans have most keenly felt the challenges posed by the insurance system in this country."
Some Democratic allies of the White House conceded that Obama's rhetoric was perhaps imprecise or inartful in conveying the full scope of the impact of the Affordable Care Act during the debate in Congress.
"We knew that there would be some policies that would not qualify and therefore people would be required to get more extensive coverage, and of course that coverage is available on the exchange," House Minority Whip Steny Hoyer, D-Md., said on Capitol Hill. "I think preciseness would have been better."
"I don't think so at all," Rep. James Clyburn, D-S.C., said on MSNBC when asked whether the president had misled the public. "I do believe their language could've been different."
Democratic budget chief Chris Van Hollen, Md., explained on CNBC: "It is the case that as a result of the Affordable Care Act, there are some minimum standards that apply to the kinds of policies that can be offered on the individual market and others. And some of the policies that had been offered no longer qualify. And I will say, many folks who had bought those earlier policies later found out that they didn't provide any of the coverage that they thought they had."
NBC's Lisa Myers contributed to this report.