President Donald Trump said Tuesday said that the United States was in "very good shape" when it comes to preparing for the deadly coronavirus illness known as COVID-19, while the Centers for Disease Control and Prevention warned that only it's a matter of when — not if — it will spread across communities in the U.S.
"Ultimately we expect we will see community spread in this country," Dr. Nancy Messonier, director of the CDC's National Center for Immunization and Respiratory Diseases, told reporters on a conference call. While the CDC has been preparing for a possible outbreak, Messonier said hospitals and schools should be doing the same.
"These are things that people need to start thinking about now," Messonier said. "We are asking the American public to prepare for the expectation that this might be bad."
Her comments came hours after Trump spoke about the coronavirus at a news conference in India, saying it is "very well under control in our country."
"I think that whole situation will start working out. Lot of talent, a lot of brainpower is being put behind it," Trump said.
The administration's mixed messaging was also evident on Capitol Hill.
Full coverage of the coronavirus outbreak
Acting Homeland Security Secretary Chad Wolf told senators that "the threat right now remains low," and he said a vaccine was just months away. But Sen. John Kennedy, R-La., told Wolf that senators had been told in a briefing earlier in the day that a vaccine was further off.
"Your numbers aren't the same as CDC's," Kennedy said. "You don't know why you have a discrepancy?"
Wolf said he'd defer to the CDC. He told Kennedy that he wasn't sure how many Americans could be infected or how well-stocked the country was in items like masks and ventilators.
"You're supposed to keep us safe. And the American people deserve some straight answers on the coronavirus — and I'm not getting them from you," Kennedy said.
"I disagree," Wolf said.
In separate Senate testimony, Health and Human Services Secretary Alex Azar called COVID-19 an "unprecedented, potentially severe health challenge globally" and asked for an additional $2.5 billion to combat it on behalf of the Trump administration.
Republicans and Democrats alike said that might not be enough.
"If you lowball something like this, you'll deal with it later," Sen. Richard Shelby, R-Ala., told Azar.
The White House requested the money as key government accounts are running low. The Department of Health and Human Services, or HHS, had already tapped into an emergency infectious disease rapid-response fund and was seeking to transfer more than $130 million from other HHS accounts to combat the virus, but it is pressing for more.
The administration is requesting $1.25 billion in new funding and wants to transfer $535 million more from an Ebola preparedness account, which has been a top priority of Democrats. The White House anticipates shifting money from other HHS accounts and other agencies to complete the $2.5 billion response plan.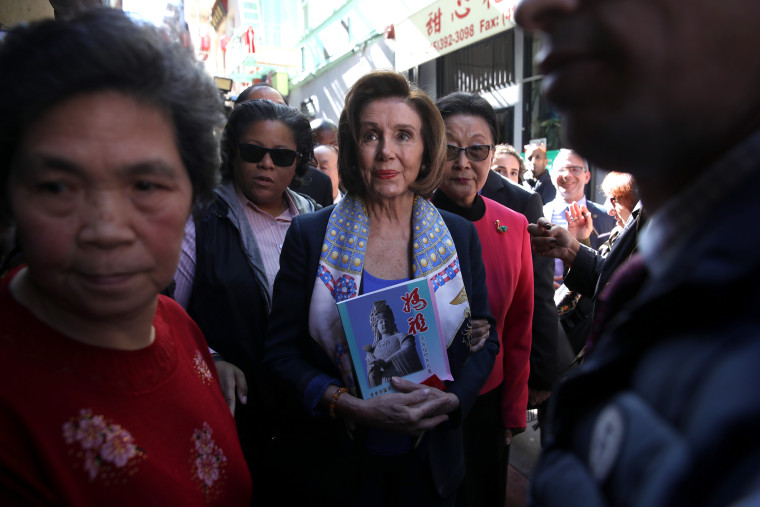 The White House request includes more than $1 billion to develop a vaccine, as well as money for therapeutics and stockpiles of protective equipment like masks.
House Speaker Nancy Pelosi, D-Calif., said in a statement that the administration's request "is long overdue and completely inadequate to the scale of this emergency."
She accused the Trump administration of having left critical positions vacant at the National Security Council and the Department of Homeland Security.
"And now, the president is compounding our vulnerabilities by seeking to ransack funds still needed to keep Ebola in check," Pelosi said.
"The president should not be raiding money that Congress has appropriated for other life-or-death public health priorities," she said, suggesting that the House would move forward with its own plan.
Sen. Roy Blunt, R-Mo., defended the administration's handling of the outbreak, calling it "an all-hands-on-deck effort." As for the White House's funding request, he said, "we'll decide the final numbers."
In a meeting with business leaders Tuesday in India, Trump noted Monday's drop in the financial markets as the virus continues to spread. The Dow Jones Industrial Average closed down more than 1,000 points Monday over coronavirus fears, and the losses continued into Tuesday.
"I think it's going to be under control," Trump said in New Delhi.
Earlier, Senate Minority Leader Chuck Schumer, D-N.Y., dismissed the White House's effort as "too little too late."
"That President Trump is trying to steal funds dedicated to fight Ebola — which is still considered an epidemic in the Democratic Republic of the Congo — is indicative of his towering incompetence and further proof that he and his administration aren't taking the coronavirus crisis as seriously as they need to be," Schumer said in a statement.
Trump tweeted Tuesday that Schumer is "complaining, for publicity purposes only, that I should be asking for more money than $2.5 Billion to prepare for Coronavirus. If I asked for more he would say it is too much."
Schumer fired back on the Senate floor, accusing the administration of "towering and dangerous incompetence" in its response to the crisis and calling for the appointment of an independent "czar" to oversee the response. Schumer also called for $3.1 billion in new funding and for the president to leave the Ebola funds where they are. Doing otherwise, he said, would be "robbing Peter to pay Paul."
As for Trump's tweet about his earlier comments, Schumer said: "I'm glad he's noticed. Maybe he'll start taking this issue more seriously."
Mitt Romney of Utah, the lone Republican senator who voted with Democrats to remove Trump from office during his impeachment trial, said he'd "like to see us investing more than we have been and probably more than we're even planning in this stage to make sure that in the event that something comes to this country or it spreads that we're able to care for our people."
There have been no deaths from the coronavirus illness in the United States, but there are confirmed cases.
The CDC says that there have been two cases of person-to-person transmission in the U.S. and that the virus can be spread via respiratory droplets when an infected person coughs or sneezes. The CDC says on its website that the virus is not currently spreading in the U.S.
Download the NBC News app for breaking news and politics
The majority of deaths linked to COVID-19 have been in mainland China, where the outbreak began. There have been 12 deaths in Iran, eight in South Korea, seven in Italy and others elsewhere, according to public health officials.
In mainland China, the National Health Commission reported a total of 2,663 deaths linked to COVID-19 Tuesday morning local time.
There have been more than 77,600 confirmed cases in mainland China, according to the commission. The center of the outbreak has been in Hubei province, where Wuhan is located.