The Florida lawmaker who criticized President Donald Trump's condolence call to a fallen soldier's wife hit back at White House Chief of Staff John Kelly on Friday, claiming that his emotional comments a day earlier featured a "lie" and a "racist" insult directed at her.
"I feel sorry for General Kelly. He has my sympathy for the loss of his son," the lawmaker, Rep. Frederica Wilson, a Democrat, told CNN. "But he can't just go on TV and lie on me."
Wilson also took exception to Kelly appearing to refer to her as an empty barrel during his remarks at a White House briefing on Thursday.
"That's a racist term ― thinking about that, we looked it up in the dictionary because I had never heard of an empty barrel and I don't like to be dragged into something like that," Wilson said Friday.
In heartfelt remarks Thursday, Kelly, a former general whose Marine son was killed in Afghanistan, described himself as "broken-hearted" and "stunned" coming to work at the White House on Wednesday as he saw Wilson on news networks disclosing the private details of Trump's call to Myeshia Johnson. She is the widow of Sgt. La David T. Johnson, who was among four soldiers killed this month in Niger.
Kelly also defended Trump, who touched off the controversy on Monday by falsely claiming President Barack Obama had not called the families of fallen soldiers.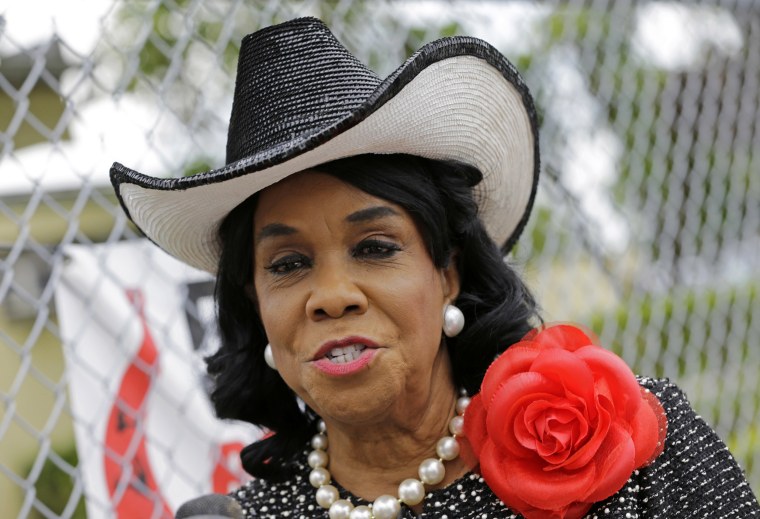 Toward the end of his 18-minute appearance on Thursday, Kelly also recalled attending a ceremony in 2015 dedicating a new FBI field office in Miami to two fallen agents, and, without identifying her, referred to a congresswoman who spoke at the event.
"A congresswoman stood up, and in the long tradition of empty barrels making the most noise, stood up there and all of that and talked about how she was instrumental in getting the funding for that building, and how she took care of her constituents because she got the money," Kelly said Thursday. "And she sat down, and we were stunned. Stunned that she had done it. Even for someone that is that empty a barrel, we were stunned."
Wilson accused Kelly of lying about the appearance, explaining to the Miami Herald Thursday night that she played no part in securing the funding for the building.
"That is crazy that I got [the money] and Mr. Obama just gave it to me," Wilson told the paper. "That building was funded long before I got to Congress. I didn't say that. I have staff, people who write the speeches. You can't say that."
Related: Defending Trump, Gen. Kelly Opens His Heart About Death of Son
Wilson, who took office in January 2011, explained that she did play a role in naming the building after the two FBI agents, sponsoring such legislation in 2015.
Money for the building was approved in September 2010, before Wilson won her congressional election, according to the Herald.
Footage of the April 10, 2015, dedication event that surfaced Friday also backed up Wilson's account.
A recording of the event, obtained by the South Florida Sun-Sentinel, shows Wilson explaining to the audience that the new facility had been built and its ribbon-cutting already scheduled, when the FBI approached her, a month before the ceremony, with a request to have the building named for two fallen agents. Such a task would have to be accomplished via legislation, which can take months.
"I said...we're gonna get this done," Wilson is shown saying on the tape, before explaining how she, with the help of then-House Speaker John Boehner, R-Ohio, and her state's two senators, Marco Rubio, a Republican, and Bill Nelson, a Democrat, maneuvered to have the legislation passed and signed into law in a matter of weeks.
In a statement to NBC News Friday, the White House defended Kelly.
"Gen. Kelly said he was 'stunned' that Rep. Wilson made comments at a building dedication honoring slain FBI agents about her own actions in Congress, including lobbying former President Obama on legislation," White House Press Secretary Sarah Huckabee Sanders told NBC News. "As Gen. Kelly pointed out, if you're able to make a sacred act like honoring American heroes about yourself, you're an empty barrel."