LEXINGTON, Ky. — Amy McGrath just can't seem to fake it right now.
The 43-year-old Democratic congressional candidate has just strapped her three grumpy, sweaty kids into the backseat of her car and sent them home with her husband — the morning's campaigning blew right through naptime. But now she looks like she'd rather be in that backseat, too, instead of posing for a portrait after leaving a picnic in the sweltering, mosquito-punctuated heat of late summer.
The spark that lights her up when she's talking about her decision to run for office is gone; she looks relieved when the camera is lowered.
While the spotlight may still feel unusual, McGrath's bid for office is less so in 2018. Much has been made about this being the "Year of the Women," propelled in large part by a backlash to President Donald Trump. But equally notable is how many of the hundreds of mostly Democratic women running are political outsiders, tossing the old playbook aside that said female candidates have to be twice as qualified, twice as polished, and twice as careful as their male counterparts to run.
They're veterans, teachers, executives, nurses and moms, and they're saying they're ready to go to Congress — now.
"I'm not a very good actress," McGrath says when discussing her bid to represent the state's 6th Congressional District, which voted for Trump by 15 points. "Believe me when I say who I am."
And who she is — a bomber jacket-wearing former Marine fighter pilot — may be just what it takes for Democrats to win in Eastern Kentucky.
McGrath already beat the mayor of the district's biggest city, Lexington, in the Democratic primary, even though he had the backing of the national party. And now handicappers give her an even shot of beating the Republican incumbent, Rep. Andy Barr, in November.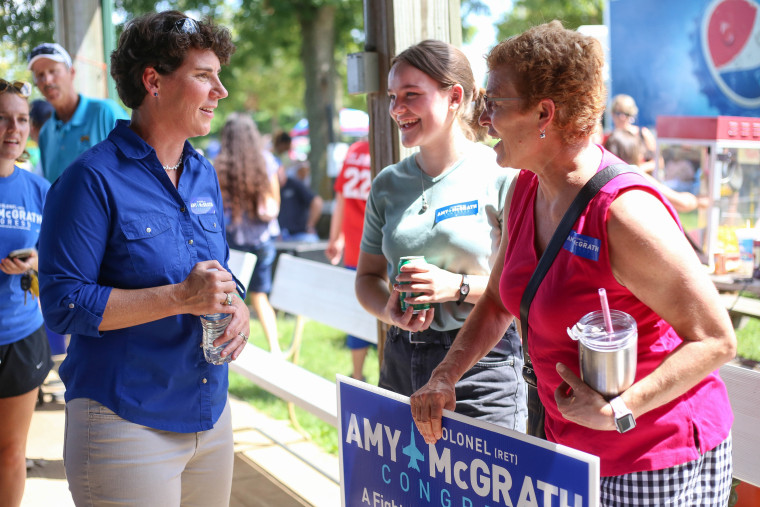 "I served as a U.S. Marine Corps officer for 24 years. I never asked anybody who served with me, 'Are you a Democrat or a Republican?' We cared about getting the mission done," she says. "And we need people in office right now who care more about getting the mission done for our country than their own political party, or themselves."
New roads to political power
This year's wave of women could, some hope, change things forever in a political world that has been dominated by men since the all-male assemblies of Athens. If women like McGrath, who got out of the Marines just two months before jumping into the race, can win her House bid, then the possibilities of who else might be able to join her in Congress expands drastically.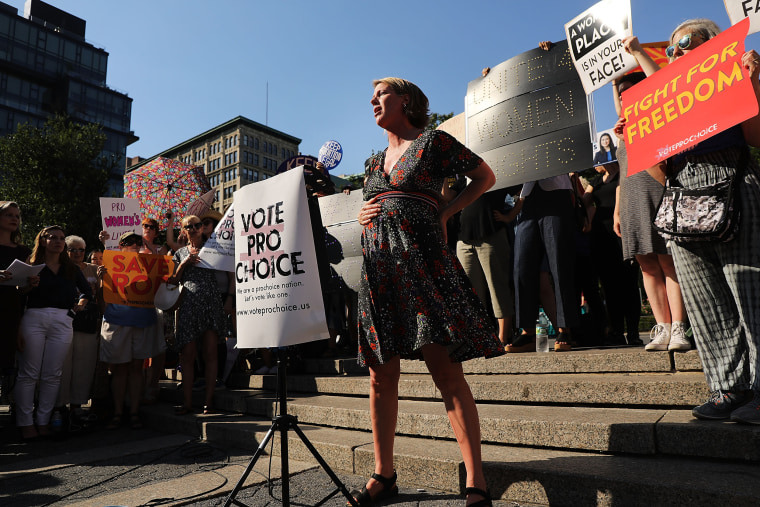 Debbie Walsh, director of the Rutgers' Center for American Women and Politics, said the majority of women who were elected during the last "Year of the Women," in 1992, had worked their way up from state legislatures. This year's surge, she noted, is being fueled by political outsiders.
"There is a diversity among the routes that women have taken to office this time," she said. "We have those women [from the traditional pipeline], but we also have women who have had no prior electoral experience, we have women who have military experience."
'Mama for Congress'
In ways big and small, women are challenging unwritten rules that have developed to help them overcome centuries of inertia and conditioning about what political leaders look like: Don't be angry. Don't appear too ambitious. Don't be vulnerable. Don't be emotional. Project strength and competency.
As Mark Penn, the top strategist on Hillary Clinton's 2008 presidential campaign, put it in a memo counseling Clinton to model herself on Britain's Margaret Thatcher, known as the "Iron Lady": "Most voters in essence see the president as the 'father' of the country. They do not want someone who would be the first mama."
2018's voters, however, have been rewarding the mamas.
Betsy Dirksen Londrigan won her crowded Illinois House primary after campaigning on health care as a rallying cry. The former fundraiser decided to run after Republicans and Trump started trying to repeal Obamacare, citing her son's battle with a life-threatening illness.
Jahana Hayes, a former teacher, opened up about her own teen pregnancy in her campaign, and beat a local politician in her Connecticut House primary. In New York, global development consultant Liuba Grechen Shirley won the Democratic primary, with motherhood central to her campaign. She successfully petitioned the Federal Election Commission to let her use campaign funds for a babysitter for her two young children, turning it into a poignant appeal for better policies for families. Now, her kids wear "Mama for Congress" T-shirts.
"People recognize me at the grocery store, and they know I'm the mom who's running for Congress," said Shirley, who is challenging Rep. Peter King, R-N.Y.
­ While women once waited until their children were grown before running for office — research from the Barbara Lee Family Foundation, a nonprofit that that seeks to advance gender equality in politics, shows that voters are uniquely concerned about a female candidate's child care demands — this year, Zephyr Teachout is campaigning for New York attorney general while pregnant (she is due in October).
Clinton was the apotheosis of those old rules — though she may have needed them at the time — but her 2016 campaign also showed their limitations when she couldn't shake the notion that she was playing a role, rather being authentically herself.
"We have no idea what beneficial qualities we might be stifling in ourselves as long as we continue to follow outdated set of behavioral rules that were designed to permit women to play a niche role in a workplace built for men," Jennifer Palmieri, who was Clinton's communication director, writes in her new book.
Instead, Palmieri adds, women need to "nod less and cry more."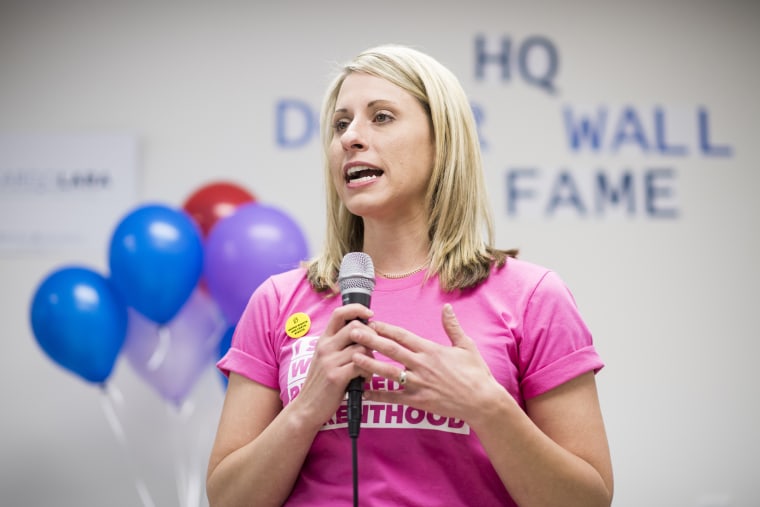 'The whole playbook is gone'
That's a conclusion Katie Hill, a 30-year-old first-time candidate, came to on her own when she launched a bid for a Southern California congressional seat in a district that includes Ronald Reagan's presidential library.
"I got a lot of advice about how to be taken seriously as a woman, especially as a young women. About what kind of clothes I should wear, how I should wear my hair," said Hill, a Democrat.
"Then I was just it like, forget it. I like the clothes that I like. I like the hair the way I want to wear it," Hill continued.
After quitting her job running a nonprofit for the homeless, she proved to be a natural. She has raised $2.4 million so far and will take on Rep. Steve Knight, R-Calif., in November.
"The whole playbook is gone," Hill said. "When Trump got elected, we knew that everything that was supposedly known or how things were supposed to be was totally off the table. So it freed me up to run the race I want to run."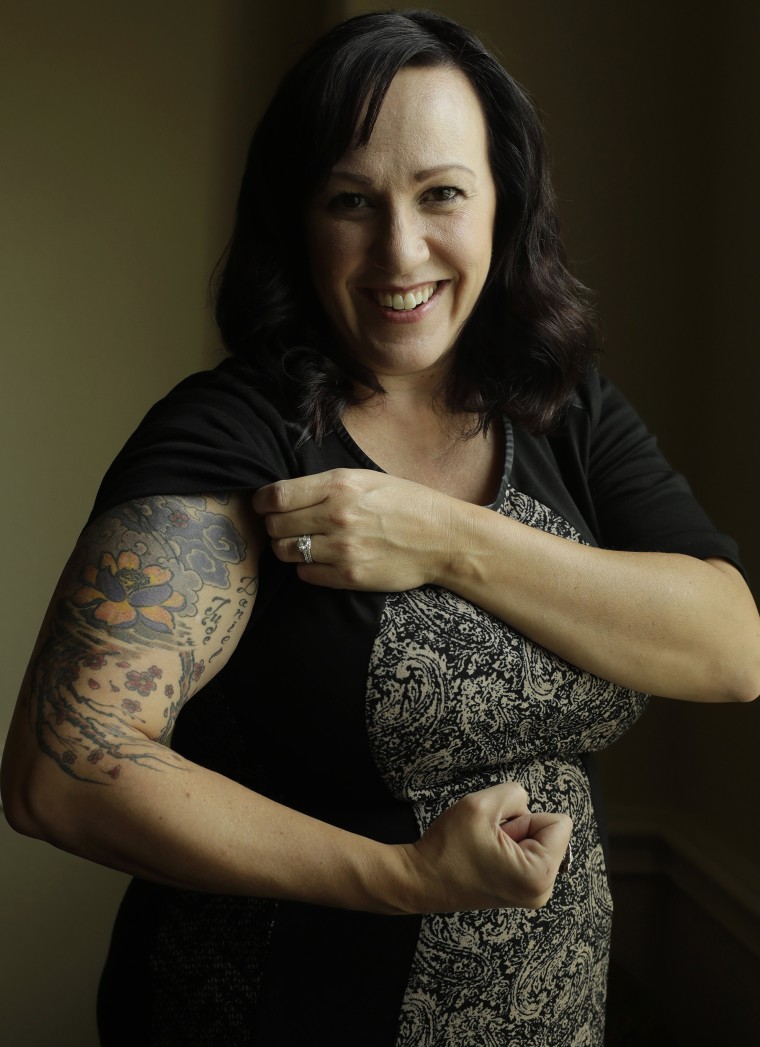 Where women running for office were once advised to hide their tattoos, MJ Hegar, a Democrat and former helicopter pilot who is challenging Republican Rep. John Carter in Texas' 31st District, cut a video showing off the one she got to embellish a combat scar.
Where women were once counseled to project strength, Kristi Noem, a Republican congresswoman running for governor of South Dakota, created a video of her teenage children ribbing her for not knowing how to swim. And where women were once urged to be conciliatory, Rep. Martha McSally, R-Ariz., who is running for the Senate, told her GOP colleagues to "grow a pair of ovaries."
Where female candidates were once advised to avoid showing vulnerability, Georgia's Democratic nominee for governor, Stacey Abrams, talks about her credit card debt, while in Iowa's 2nd District, Democratic candidate Abby Finkenauer talks about her student loans.
Where do we sign up?
The defeat of the first woman to be nominated for president by a major political party at the hands of a man accused by several women of sexual misconduct may be a turning point for women in politics, particularly outsiders.
Emily's List, a political action committee that supports women running for office who support abortion rights, fielded inquiries from 920 women interested in running for office in 2016. That was a record, and the group was thrilled by what they saw as bump in women inspired by Clinton's candidacy. But it was nothing compared to the 40,000 women who have reached out since Trump's election to express interest in running.
By comparison, there are just 1,874 women in state legislatures nationwide and 107 women in Congress, according to the Center for American Women in Politics.
Chrissy Houlahan, a former top executive at the sports apparel company AND1, called the main line at Emily's List HQ to say she wanted to run. Now the first-time candidate is the odds-on favorite to win a congressional seat in Pennsylvania. Gina Ortiz Jones, an Iraq War veteran running for Congress in a competitive Texas district, responded to an Emily's List fundraising email by attaching her resume and asking where to start.
Men, of course, have been taking the shortcut for years, jumping straight from the business world or the military to Congress — or even the presidency — and touting their lack of political experience as a plus. Still, studies and real-world experience has shown that women are held to, and often hold themselves to, a different standard in politics.
"We've repeatedly found women face a litmus test men do not," a study conducted last year by the Barbara Lee Family Foundation found. "(Women) have to do more to prove they are qualified. For men, their qualification is assumed."
"Even in this moment of opportunity for 'outsider' women candidates, women still need to prove they can get things done," the report continues.
Back at the picnic in Kentucky, McGrath had convinced at least one man that she is capable of representing his interests in Congress.
Dan Giaquinto, 71, says he registered as a Democrat after years as an independent, just so he could vote for McGrath in the primary. His 11-year-old daughter is a big fan of McGrath's, he said, and now he's a volunteer for the campaign.
"I think she's a star of the future," he said. "She is more honest than Hillary."
Jane C. Timm reported from Lexington, Kentucky, and Alex Seitz-Wald reported from Washington.