CEDAR RAPIDS, Iowa — National Democrats hoping to parlay the latest furor surrounding the Russia investigations into political victory in the Midwest may want to take a different tack.
The party has targeted Iowa's 1st Congressional District, currently represented by Republican Rod Blum, as a battleground in the 2018 house race.
But in the days leading up to former FBI Director James Comey's blockbuster testimony before the Senate Intelligence Committee, residents made it clear that while news of the scandal billowing around President Donald Trump's White House was impossible to avoid, it was far from their biggest concern.
"People are making too much of it," said Jim Wagner, a Vietnam veteran who earned a Purple Heart and founded the Veterans Freedom Center in Dubuque. "I don't think there was really anything going on. I just wish [Trump] would shut everybody up and tell them instead of playing the game. I didn't vote for him, but if he can put it to bed, he ought to."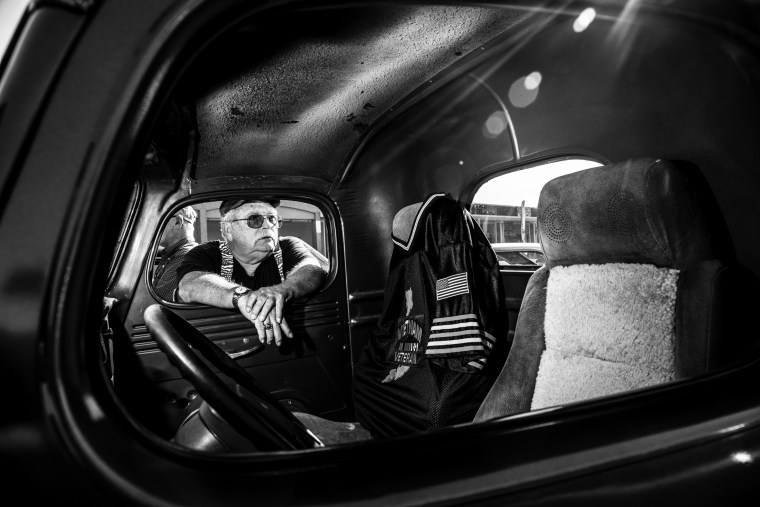 "Right now," Wagner added, "I'm more worried about the economy and that [the Trump administration] want[s] to take the VA and privatize it. That ain't gonna work."
PHOTOS: In Iowa, News of Russia Investigation Falls Flat
The district where Wagner lives runs along the eastern and northern border of the state and includes the small cities of Dubuque and Cedar Rapids as well as large swaths of farmland. The area is more than 90 percent white and increasingly elderly with a median household income slightly higher than the national average, according to the U.S. Census Bureau. Major employers include corporations and manufacturers like Rockwell Collins, Cargill, Transamerica and John Deere.
It's a region that Barack Obama easily won in 2008 and 2012 with margins of 17 and 13 percent, respectively. (Obama would also take the state both election years.) In 2016, Democratic presidential candidate Hillary Clinton stumbled and lost the district by four points and the state by 10 points to rival Donald Trump.
Most constituents interviewed by NBC News said that they need to see fire before they come to any conclusions about the Russia investigation and added that they are beginning to tune out news connected to it because of fatigue. Voters here are more concerned about issues like health care, veterans' benefits, Planned Parenthood and infrastructure.
In Cedar Rapids' Czech Village, local businesswomen and friends Jennetta Williams, 48, and Teresa Jensen, 44, chatted while seated in the trunk of a minivan. They're both increasingly concerned about the direction of the country and Trump's ability to navigate it, but they don't know what to make of the Russia investigations.
"The most recent information that came out about Russia has bothered me more," Williams said. "For a while I thought it was media hype to overshadow everything [Trump] was trying to accomplish — because I do think he's trying to accomplish some good things — but you just don't know what is true, what is real."
"Sometimes I just choose to put my head in the sand and pray that three years from now there will be a change," she added.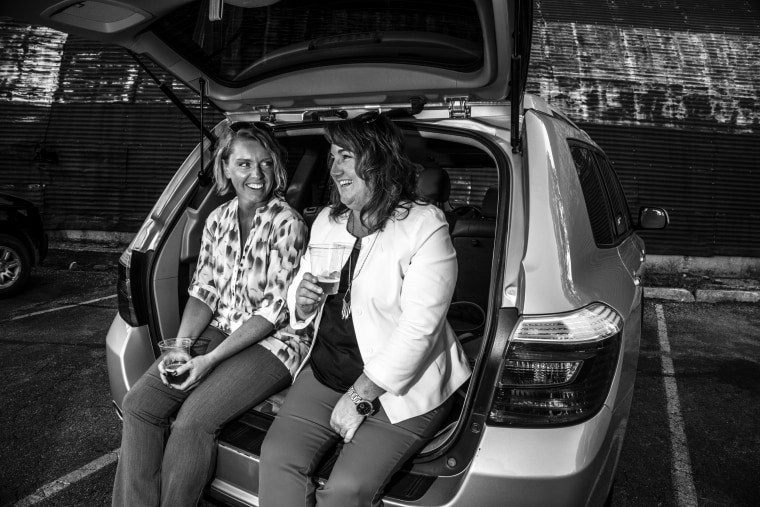 Jensen, who said she wrote in former Republican candidate Ben Carson's name in November, told NBC News that she's more concerned about the fear that is growing in the country because of Trump.
"I don't care for him," she said. "He's disturbed our country by trying to make too many changes that are too dramatic. Anything that he does that is good is completely overlooked because he has offended so many people, whether it's your race or your sex or if you're a refugee or an immigrant. He's instilled that fear in everybody, so we're all the more divided."
While watching a band play at a late-evening Cedar Rapids farmer's market with her boyfriend, recent culinary school graduate Cara Suebbel, 21, told NBC News that she also felt overwhelmed by the Russia investigation's news cycle.
"You just don't know what to believe," Suebbel said. "There's things coming up on all sides and people spin stories to fit their political agenda, so their readers will pick it up. It's weird that he's so close to Russia, but I don't know if it's my biggest concern at the moment."
"But defunding Planned Parenthood would be disastrous for the country," she quickly added.
Some Iowans, however, held firmer, more partisan opinions about the ongoing Russia investigations being conducted by the FBI as well as the Senate and House Intelligence committees.
Cody Klahn, who lives in Marion, started the 2016 election as a Ted Cruz supporter, but the 32-year-old accountant voted for Trump in November. He doesn't buy that there was collusion between the Trump campaign and Russia.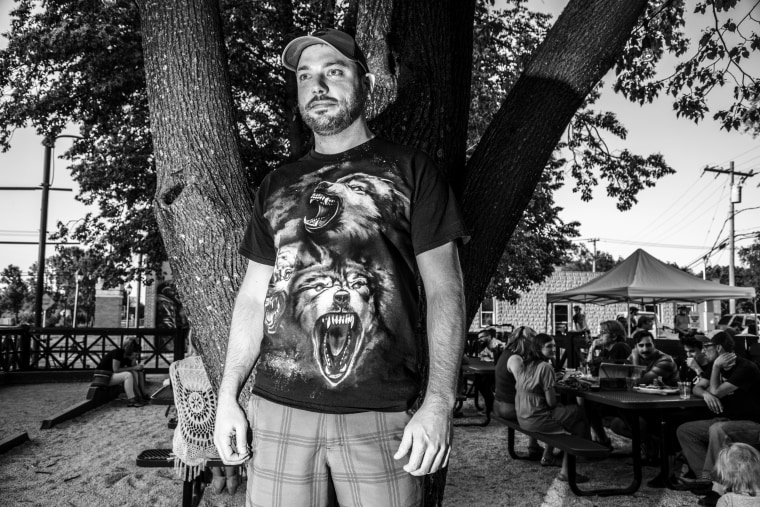 "I think it's a strategy on the Democrats' side and in the media to basically put a roadblock in front of the Trump administration, so that he can't get legislation through," Klahn said. "Because if the Republicans know that people are starting to slip on Trump, then they're less likely to support his legislation."
German-born Richard Dudeck, 82, agreed. He voted for Trump and doesn't think the president is getting a fair shake.
"I'd like to see him accomplish something, but it's all tied up in this Russian deal — that's crazy," said Dudeck, who moved to Dubuque in 1952 and served in the 11th Airborne Division. "I think it's all a bunch of baloney. I wish they would let the whole thing go and let this country move forward. I don't know why they keep going over the same damn thing over and over again."
Meanwhile, John Sieh of Clear Lake, Iowa said he couldn't be more pleased with the new administration.
"I'm tickled to death with how he's doing," he said at a gun show in Cedar Rapids. "If they would leave him alone, we would be doing even better."
Trump voter Dennis Roth, 52, emphasized that it's much too early to judge the new president, noting that the "mainstream media is crucifying him."
Roth said he wasn't worried about Washington D.C. or Russia — though he doesn't trust former FBI Director Comey. Instead, Roth is focused on gas prices, local industry and infrastructure.
"I need to be concerned about here," said Roth, who works as a sales manager in Dubuque. "And then I might have time to be concerned about overseas. There's a lot going on, but I can't control that. I'm more concerned about the people in Dubuque."
Trump had planned to speak directly to the people of the 1st congressional district in a rally in early June, but his campaign canceled the event citing a scheduling conflict. Demonstrators had stated their intent to protest the president outside the Cedar Rapids Convention Complex.
Congressman Blum has been met with similar demonstrations. First elected in 2014, he announced his reelection bid on June 1 to a constituency divided by his support of the president and his policies. During a series of town halls in early May that only residents of the district could attend, constituents welcomed Blum with a fair amount of booing and took him to task for his support of the House GOP health care plan that is estimated to raise costs and cause millions to lose coverage.
Russia meddling in the election and former FBI chief Comey, who had just been fired at the time also came up at the town halls, but Blum's opinions weren't particularly popular with his constituency who held up red pieces of paper to show their displeasure.
After Comey testified Thursday that the president had asked for his loyalty and then told "lies" to the American people about his firing, Blum called the Russia investigation "political theatrics."
Though it wasn't a main concern, some constituents shared a dim view of the president in light of the investigation and said they trust Comey.
"Comey has done some dumb stuff, but he's a good guy," said Dubuque retiree Gerald Wiederholt, 78. "He cares about the country, and I think he tells it the way it is and doesn't lie about it. I don't think he should have gotten fired."
"Trump's much too close to Putin," he added.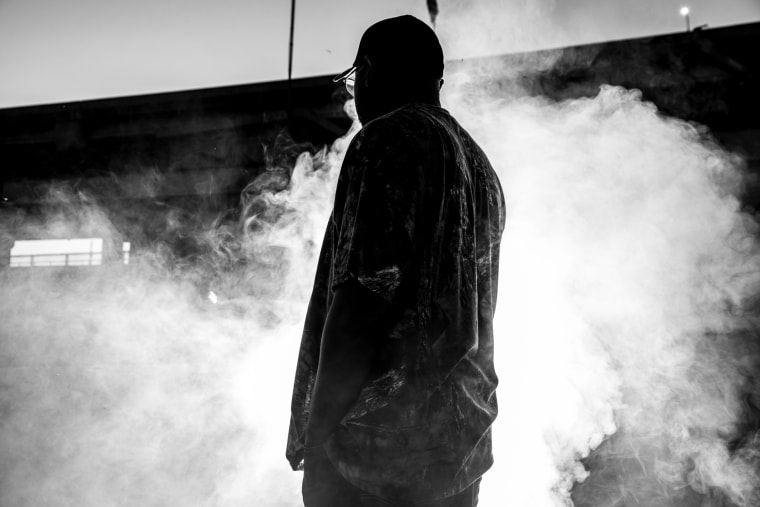 While fishing the Cedar River, Shaun Kelly, 42, told NBC News that he took down the American flag hanging outside his house when Trump won the election. Kelly said he is convinced that the president does not represent "little people who make the world go round," and colorfully referred to him as Russian President Vladimir Putin's lapdog.
"We all know he's in cahoots with them Russians," said Kelly, who works temp jobs around Cedar Rapids. "I feel like he's a traitor to the country. He's not about us — he's about money. He should never have been president."
Some Iowans said that it's not just the Russia investigation and Trump's perceived affinity for Putin that makes them feel uncomfortable.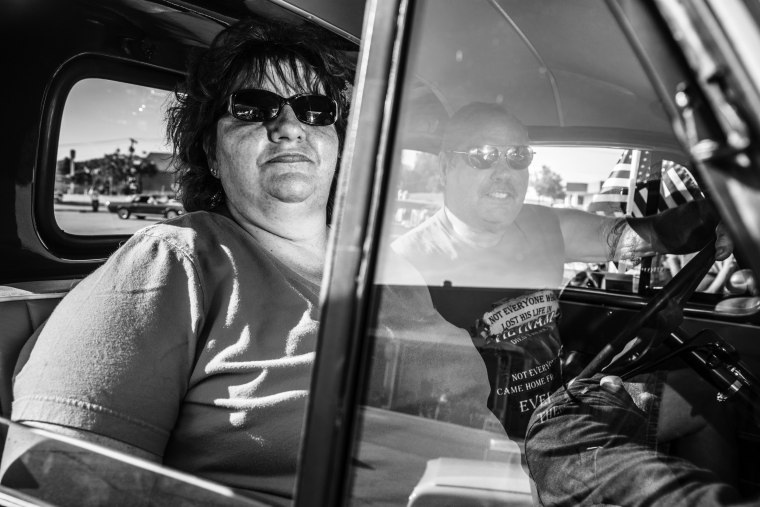 "Everything he does bothers me," said Cindy Schemmel, 63, a recent retiree. "The Trump administration is stripping away very important programs and benefits."
Schemmel noted health care, school meals and after school programs as areas that she believes have taken a particular hit since Trump entered the White House.
Nevertheless, most residents of the area said they just don't have time to worry about the Russia investigation.
"It's down on the list of importance for me," said Jeff Middleton, 27, a father of three who works as a millwright for Cargill. "The president's focus needs to be right here in America, helping the everyday working people who are out here trying to make a living. [Trump's] making that tougher."