Julie Swetnick — the third woman to come forward with allegations of sexual misconduct against Brett Kavanaugh — said that all of the accusations against President Donald Trump's Supreme Court nominee must be investigated and that he doesn't belong on the nation's high court.
"Brett Kavanaugh is going for a seat, where he is going to have that seat on the Supreme Court for the rest of his life. And if he is going to have that seat legitimately, all of these things should be investigated," Swetnick said in an interview with John Heilemann on Showtime's "The Circus." A brief clip of the interview aired on MSNBC's "Morning Joe" Thursday.
"From what I experienced firsthand, I don't think he belongs on the Supreme Court," Swetnick said. "I just want the facts to come out and I want it to be just and I want the American people to have those facts and judge for themselves."
The interview was the first time a Kavanaugh accuser had spoken on camera.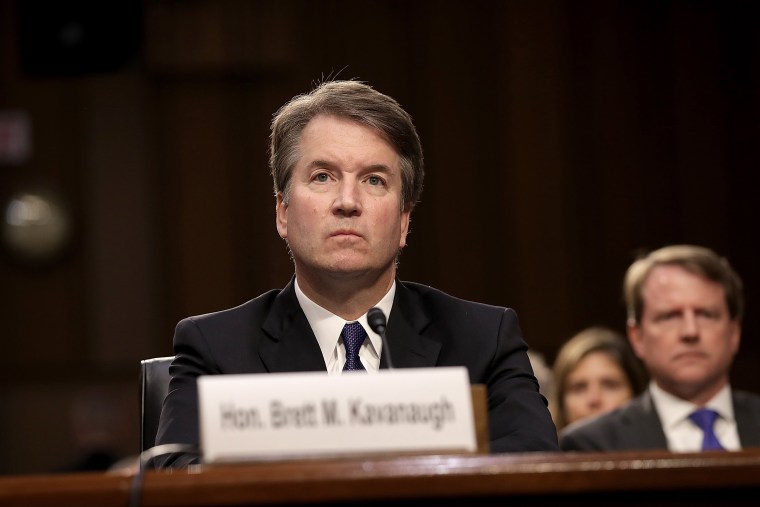 Swetnick, in a sworn state declaration released by her attorney Michael Avenatti, alleged that Kavanaugh engaged in repeated lewd behavior with women at parties in the early 1980s, saying he put drugs or alcohol in punch to cause women to become inebriated so they could be "gang raped" by a group of male partygoers.
Swetnick said that she was the victim of one of these gang rapes in approximately 1982. She did not allege that Kavanaugh participated in the rape, but said he and his friend Mark Judge were present when it occurred, adding that she was incapacitated by a drug placed in her drink without her consent and was unable to fight off her attackers. She also said she saw Kavanaugh and Judge lined up at other parties "waiting for their 'turn' with a girl inside the room."
In the interview with "The Circus," she added: "That's not the type of behavior anybody at any age should do. I don't think women should be treated that way."
NBC News has not independently verified the accusations, and they were firmly denied by Kavanaugh.
"This is ridiculous and from the twilight zone," he said in a statement. "I don't know who this is and this never happened." An attorney for Mark Judge told NBC News that "Mr. Judge vehemently denies Ms. Swetnick's allegations."
Swetnick's allegation, which had been publicly teased for several days by Avenatti, was made public on the eve of the long-awaited hearing before the Senate Judiciary Committee involving Kavanaugh and another accuser, Christine Blasey Ford, a California college professor.