Ketanji Brown Jackson was sworn in as a Supreme Court justice Thursday, making her the first Black woman on the nation's highest court.
Jackson, a former public defender and federal appeals court judge, was sworn in during a small ceremony shortly after Justice Stephen Breyer's retirement became official. Chief Justice John Roberts administered the constitutional oath and Breyer administered the judicial oath.
Jackson's husband, Dr. Patrick Jackson, their two daughters and the other justices on the Supreme Court were in attendance, as well as retired Justice Anthony Kennedy, who stepped down from the court in 2018.
After the ceremony, Jackson said in a statement, "With a full heart, I accept the solemn responsibility of supporting and defending the Constitution of the United States and administering justice without fear or favor, so help me God. I am truly grateful to be part of the promise of our great Nation. I extend my sincerest thanks to all of my new colleagues for their warm and gracious welcome."
She also singled out Breyer, who hired her as a clerk in 1999, calling him a "personal friend and mentor of mine."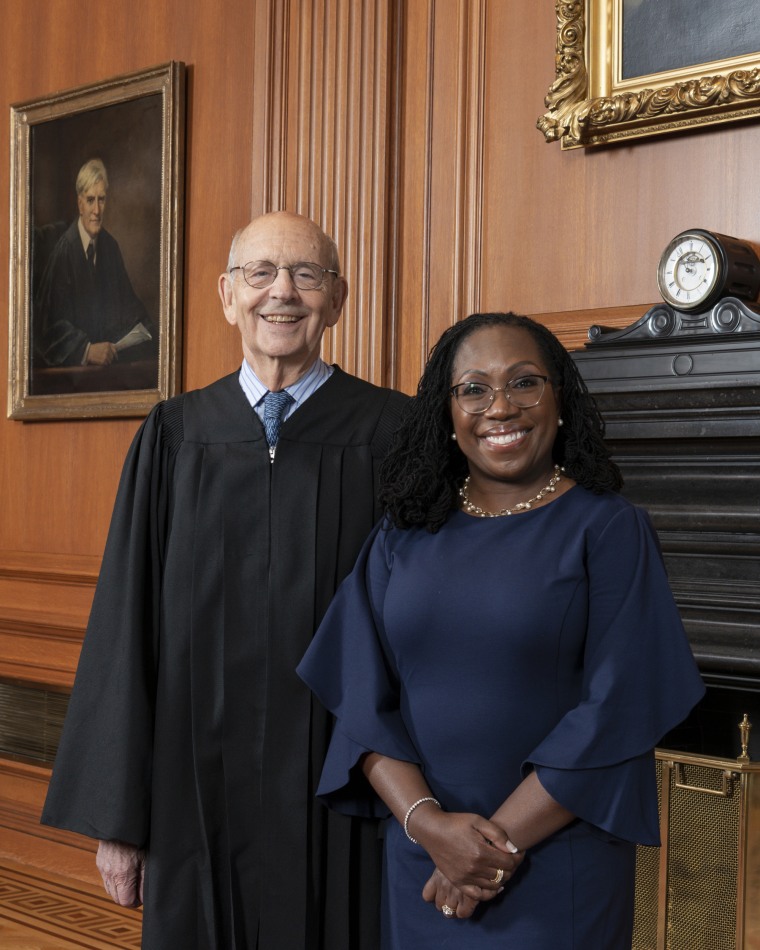 Breyer said Jackson's "hard work, integrity, and intelligence have earned her a place on this Court."
"I am glad for my fellow Justices," he added. "They gain a colleague who is empathetic, thoughtful, and collegial. I am glad for America. Ketanji will interpret the law wisely and fairly, helping that law to work better for the American people, whom it serves."
Roberts said a formal investiture ceremony will be held for Jackson in the fall, but her swearing-in Thursday enables her to get to work on the court in the meantime.
In a statement, President Joe Biden thanked Breyer for his service and congratulated his nominee on becoming "Justice Jackson."
"Her historic swearing in today represents a profound step forward for our nation, for all the young, Black girls who now see themselves reflected on our highest court, and for all of us as Americans," Biden said, adding that the Supreme Court "just gained a colleague with a world-class intellect, the dignified temperament the American people expect of a justice, and the strongest credentials imaginable."
Jackson was confirmed by the Senate in a 53-47 vote in April. Vice President Kamala Harris, the first Black American and first person of South Asian descent to be elected to her role, presided over the confirmation vote.
Jackson watched the vote in the White House alongside Biden, who selected her as Breyer's replacement in February, fulfilling a campaign promise to pick a Black woman if given the opportunity. At 51, she is young enough to hold the seat for decades.
"For too long our government, our courts, haven't looked like America," Biden said when he nominated Jackson. "I believe it's time that we have a court that reflects the full talents and greatness of our nation."
At the time, Jackson said: "If I'm fortunate enough to be confirmed as the next associate justice of the Supreme Court of the United States, I can only hope that my life and career, my love of this country and the Constitution, and my commitment to upholding the rule of law and the sacred principles upon which this great nation was founded, will inspire future generations of Americans."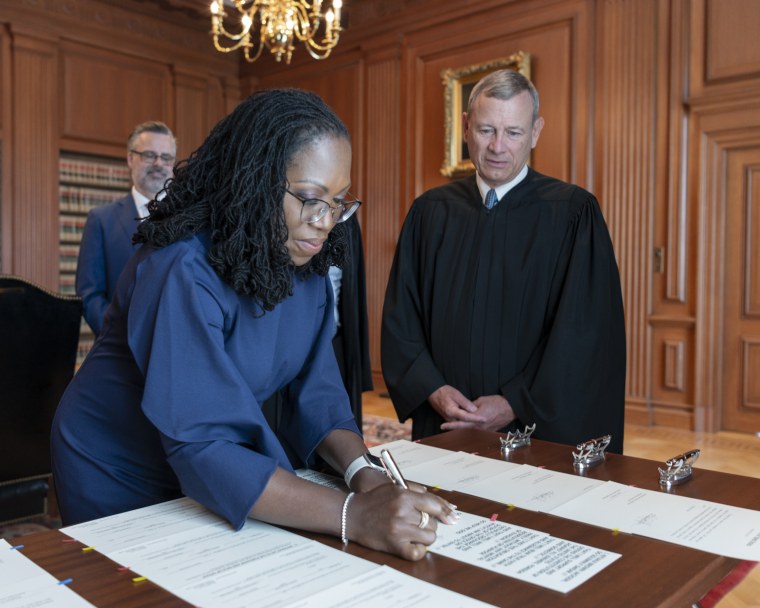 Born in Washington, D.C., Jackson grew up in Miami. Her father was a lawyer for the Miami-Dade School Board and her mother was a school administrator. She's said that her father, a former history teacher, inspired her to go into law. Jackson graduated cum laude from Harvard Law School in 1996, before she clerked for Breyer three years later.
After she spent years working for private firms, Jackson worked as an attorney at the U.S. Sentencing Commission from 2003 to 2005, according to her Supreme Court biography. She then served as an assistant federal public defender in Washington, before returning to private practice in 2007. In 2012, then-President Barack Obama nominated Jackson to the U.S. District Court in D.C., where she served from 2013 to 2021.
Her nomination to the high court was backed by progressive groups, but also by former House Speaker Paul Ryan, a Republican and a relative of Jackson's. Her husband's twin brother is married to Ryan's sister-in-law. "Our politics may differ, but my praise for Ketanji's intellect, for her character, and for her integrity, is unequivocal," Ryan tweeted after her nomination.