WASHINGTON — The Democratic-led Senate Judiciary Committee advanced legislation Thursday to require the Supreme Court to set up a code of conduct, tighten financial disclosures and bolster recusal requirements for justices.
The vote on the Supreme Court Ethics, Recusal, and Transparency Act was 11-10 along party lines, with Republicans adamantly opposed.
Championed by Judiciary Committee chair Dick Durbin, D-Ill., and Sen. Sheldon Whitehouse, D-R.I., the bill follows reports about justices that raise questions about conflicts of interest.
"This legislation will be a crucial first step in restoring confidence in the court after a steady stream of reports of justices' ethical failures have been released to the public," Durbin said in a statement, citing reports about potential ethics lapses by Justices Clarence Thomas and Sonia Sotomayor. "The public support for the Supreme Court is at an all-time low."
The bill would give the court 180 days to adopt and publish a code of conduct and allow the public to submit ethics complaints that randomly selected panels of lower court judges would review. It would establish new rules for disclosure of gifts and travel. And it would impose recusal rules pertaining to gifts, income and other potential conflicts.
The legislation would need 60 votes in the full Senate to defeat a probable Republican filibuster. And if it does pass the Senate, it would still need approval from the GOP-controlled House, where leaders have expressed no interest in considering it.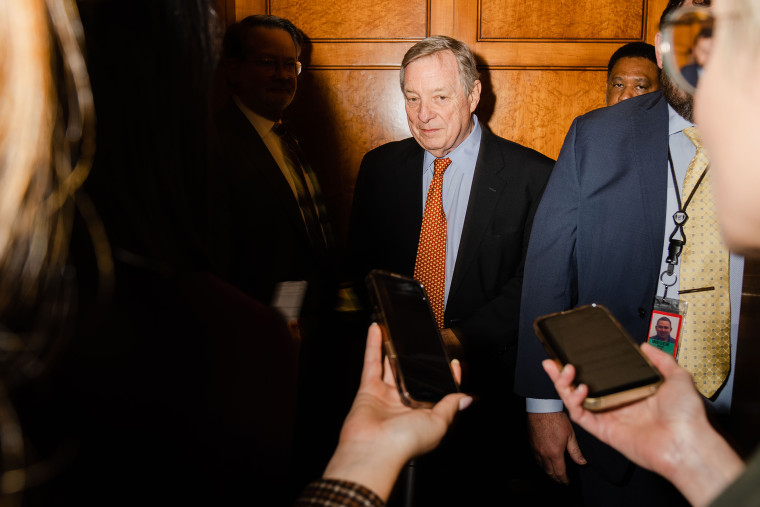 Republicans blasted the legislation as an attempt to tarnish the reputation of certain conservative justices and argued that the Supreme Court can police itself without Congress' stepping in.
"What you're trying to do is not improve the court; you're trying to destroy it as it exists. And it's been a long, ongoing effort here," said Sen. Lindsey Graham of South Carolina, the ranking Republican, who called it "a bill to destroy a conservative court" that the GOP worked hard to build. "This bill is going nowhere. All of us are going to vote no."
Durbin rejected the argument that the bill targets conservatives.
"Far from it," he said. "The reforms we're proposing would apply in equal force to all justices."
Complaints about Supreme Court ethics are nothing new. Liberal Justice Ruth Bader Ginsburg faced harsh criticism for labeling presidential candidate Donald Trump a "faker" during the 2016 election, and conservative Justice Antonin Scalia went duck hunting with Vice President Dick Cheney when Cheney was involved in a case pending before the court.
But recent reports by ProPublica about undisclosed luxury travel or gifts accepted by Thomas and Justice Samuel Alito from billionaires with interests before the court sparked a public outcry and prompted Democrats to take action. The Associated Press reported this month that court staffers working for Sotomayor encouraged institutions hosting events to purchase copies of her books.
Public trust in the Supreme Court, which has issued a raft of conservative rulings under its new majority of six Republican appointees to three Democratic appointees, is waning.
A Quinnipiac University national poll released Wednesday found that 36% of registered voters approve of how the Supreme Court is handling its job, while 56% disapprove. A majority of Republicans said they approve, while majorities of Democrats and independents said they disapprove.
The survey found that 71% of voters say Supreme Court justices "are too influenced by politics" — including majorities of Democrats, independents and even Republicans.
District and appeals court judges are bound by a judicial ethics code that requires judges to "avoid impropriety and the appearance of impropriety in all activities." Judges who breach the code can be investigated and reprimanded through a separate complaint process.
The Supreme Court, however, has no procedure for complaints to be investigated short of the substantial step of impeachment. The nine justices say they follow the spirit of the code, but they have never adopted one of their own.
Republicans claimed among other things that the legislation could make it easier for liberal interests to force members of the court to step aside from contentious cases whether or not their complaints have any merit.
In April, Chief Justice John Roberts declined an invitation to testify before the committee. At the same time, all nine justices signed a statement of ethics principles that was heavily criticized by legal experts and Democrats alike.
Speaking in May, Roberts indicated legislation was not necessary, saying he thought the court could make its own reforms and hold itself to the highest standards so it would not be necessary for a standoff with Congress.
"I want to assure people I am committed to making certain that we as a court adhere to the highest standards of conduct. We are continuing to look at things we can do to give practical effect to that commitment," he said.
Some legal experts have suggested that any efforts by Congress to legislate about ethics would unconstitutionally infringe on the Supreme Court's status as a separate branch of government, although the court in the past has followed similar measures, including the requirement that justices file financial disclosure reports.
Sen. John Kennedy, R-La., predicted the bill would not become law.
"This thing's dead as fried chicken on the Senate floor," he said. "And it's dead as fried chicken in the House."