Judge Amy Coney Barrett faced a second round of questions from the Senate Judiciary Committee on Wednesday, the third day of her confirmation hearings for the U.S. Supreme Court.
Barrett, President Donald Trump's nominee to replace the late Justice Ruth Bader Ginsburg, on Tuesday also endured a marathon day of questioning from the committee's 22 senators, including Democratic vice presidential nominee Sen. Kamala Harris.
Democrats on the committee asked her to explain her positions on the Affordable Care Act, abortion rights, the upcoming election and other contentious issues that she might need to rule on if she is confirmed.
Read the latest updates below:
Barrett doesn't say if Social Security and Medicare are constitutional
Amy Coney Barrett refrained Wednesday from saying whether she believes the Social Security and Medicare programs are constitutional.
Senate Judiciary Ranking Member Dianne Feinstein, D-Calif., asked Barrett if she agrees with originalist scholars like Mike Rappaport, a law professor at the University of San Diego, who has written to argue that those two programs are unconstitutional.
Barrett, who also describes herself as an originalist, said she hasn't seen his article and could not comment.
Asked broadly if she agrees with scholars who say Social Security and Medicare exceed the government's power under the Constitution, Barrett said she couldn't answer because she hadn't reviewed the arguments and that such a lawsuit could become before her.
"I can't answer the question in the abstract," Barrett replied.
Feinstein sounded surprised at her evasion. "It's hard for me to believe that's a real question," the senator said. "The Medicare program is really sacrosanct in this country."
Committee to take lunch break around noon
Graham announced the committee will take a break for lunch around noon, once Sens. Mike Lee, R-Utah, Sheldon Whitehouse, D-R.I., and Ted Cruz, R-Texas, finish their questions. Each senator has up to 20 minutes for this round of questions.
How SCOTUS has ruled on severability
During her Q&A with Feinstein, Barrett said the key question in this year's Obamacare case is what the lawyers call severability, which means deciding whether a part of a law that's determined to be invalid dooms the entire law, or whether the invalid part it can be severed to leave the rest of the law intact.
In a case last term about a federal statute, Justice Brett Kavanaugh wrote the majority opinion upholding the law and finding an invalid part of it severable. His opinion included a section analyzing how the court makes that kind of decision. That part of his opinion was joined by Chief Justice John Roberts and Justice Samuel Alito, who are also among the court's conservatives. 
The Supreme Court's precedents over time have reflected a decisive preference for surgical severance rather than wholesale destruction, even in the absence of a severability clause. From Marbury v. Madison to the present, apart from some isolated detours mostly in the late 1800s and early 1900s, the court's remedial preference after finding a provision of a federal law unconstitutional has been to salvage rather than destroy the rest of the law.
The presumption manifests the judiciary's respect for Congress' legislative role by keeping courts from unnecessarily disturbing a law apart from invalidating the provision that is unconstitutional.  
Barrett refuses to say whether a president can deny the right to vote based on a person's race
Sen. Dick Durbin, D-Ill., referred to a question asked by Feinstein on Tuesday about whether the president has the authority to unilaterally delay an election under any circumstances, to which Barrett had answered that she wouldn't be a "legal pundit." 
Durbin then asked Barrett what her response would be if the president had the authority to unilaterally deny the right to vote to any person based on his or her race. Barrett said the equal protection clause "prohibits discrimination on the basis of race," and the 15th Amendment "protects the right to vote against discrimination based on race."
Pressed again to answer the question, Barrett said, "I just referenced the 14th and 15th amendments, the same ones that you just repeated back to me that do prohibit discrimination on the basis of race and voting. So, as I said, I don't know how else, I can say it, the Constitution contains provisions that prohibit discrimination on the basis of race and voting."
"I really can't say anything more than I'm not going to answer hypotheticals," she added.
Can the president pardon himself?
Barrett is right to say the Supreme Court has never considered whether a president can pardon himself or herself.
Because no president has ever been charged with a crime, no president has ever tried to pardon himself, and therefore no one knows whether a president has the power of self-pardon. 
Not surprisingly, legal scholars disagree. A 1974 Justice Department memorandum concluded that the answer was no, because of "the fundamental rule that no one may be a judge in his own case."
However, that same memo also laid out the following scenario, which it said would probably be legally permissible. A president could invoke the 25th Amendment, declaring himself temporarily unable to discharge the duties of the office, allowing the vice president to become acting president and issue a pardon. The president could then resume the duties of the office, pardon intact. So a president would not have directly issued the pardon, but he'd have it anyway. 
Barrett says no man is above the law when asked if a president must follow a court order
Leahy asked Barrett if a sitting president must follow a court order and whether a ruling by the Supreme Court is final. 
Barrett said that she agrees no man is above the law — a continual Democratic refrain during their impeachment proceedings and legal challenges to Trump — but she said, "As a matter of law, the Supreme Court may have the final word but the Supreme Court lacks control over what happens after that."
Asked if a president can pardon himself, Barrett said that the question has never been litigated. 
"It's not one in which I can offer a view," she said.
'Look at that line': Leahy holds up image showing long waits at an early voting site in Georgia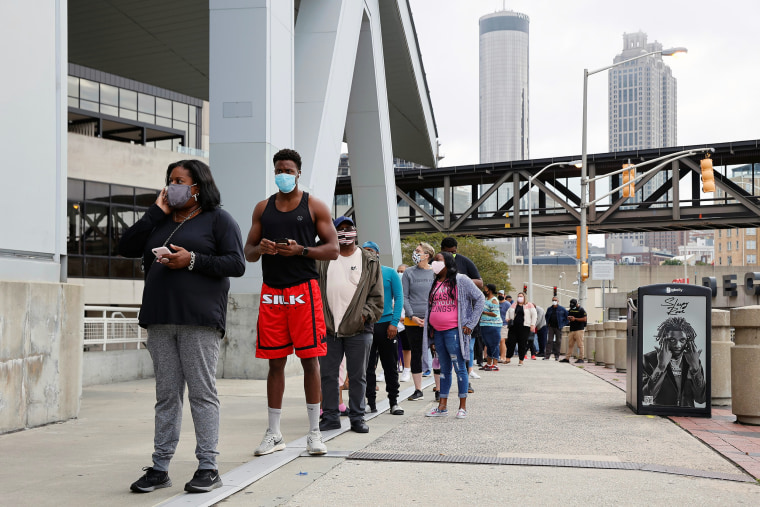 Sen. Patrick Leahy, D-Vt., held up a photo of long voting lines in DeKalb County, Georgia, during his round of questioning when discussing the Voting Rights Act. 
"Look at that line. I suspect neither you nor I have ever had to wait in line like that to vote," Leahy said to Barrett. "People talked about, well, are we giving racial entitlement? This is not entitlement for any Americans. This is turning our back on democracy. This is saying you can't vote or we're gonna make it so difficult for you to vote so that you can't."
Asked if Barrett acknowledges that communities of color disproportionately face voting restrictions and obstacles to voting, she said, "I wasn't aware of the statistics that you were citing to me. If it became relevant in any case that was litigated before me and was presented to me, I would of course have an open mind about it."
Barrett says she would keep an 'open mind' about allowing cameras in the Supreme Court
Grassley asked Barrett about the issue of allowing cameras in courtrooms, including the Supreme Court. 
"Many of us believe that allowing cameras in the courtroom would open the courts to the public and bring about a better understanding of the judiciary," said Grassley, who added that he's introduced legislation over many years to give judges the discretion for media coverage of federal court proceedings.
Asked what her position is on the issue, Barrett said, "I would certainly keep an open mind about allowing cameras in the Supreme Court."
Barrett says she can't say whether Medicare or Social Security are constitutional
Barrett refused to say during an exchange with Feinstein whether the government's Medicare program is constitutional. 
"It's hard for me to believe that's a real question. The Medicare program is really sacrosanct in this country," Feinstein said. 
Barrett also wouldn't say whether she agrees with other originalists that Medicare and Social Security are unconstitutional. 
"I can't answer the question in the abstract," she said. 
Barrett refuses to say whether she agreed with Scalia on Voting Rights Act
During an exchange with Feinstein, Barrett weighed in on the Voting Rights Act and the Shelby County 2013 Supreme Court decision that gutted it, but said she couldn't discuss the matter because there could be related cases in the future before the high court. 
"I think, Senator Feinstein, the question of how the coverage formula is calculated and the Voting Rights Act and the contours of the Voting Rights Act, and whether Shelby County was rightly decided or not, are all questions on which I can't give an answer because Shelby County has obviously been controversial," Barrett said. "It's likely to be re-litigated. It could come up before me on the court." 
Feinstein asked Barrett whether she agreed with Justice Antonin Scalia that the Voting Rights Act was a "perpetuation of racial entitlement." Barrett said that the law "was obviously a triumph in the Civil Rights movement."
Barrett offers a definition of severability and 'Obamacare'
Sen. Dianne Feinstein, D-Calif., the ranking member on the panel, asked Barrett about the severability of the Affordable Care Act and to provide a definition for it. 
"I think the doctrine of severability, as it's been described by the court, you know serves a valuable function of trying not to undo your work when you wouldn't want a court to undo your work," Barrett said. "Severability strives to look at a statute as a whole and say, would Congress have considered this provision so vital that, kind of in the Jenga game, pulling it out, Congress wouldn't want the statute anymore."
"It's designed to effectuate your intent, but you know severability is designed to say well, would Congress still want the statute to stand, even with this provision gone? Would Congress have still passed the same statute without it?"
Feinstein responded by saying she was "really impressed" by Barrett's answer.
Democrats announce witnesses for Thursday hearings
Senate Judiciary Democrats announced their outside witnesses for the last day of the hearings Thursday. Democrats and Republicans on the committee both invited witnesses. 
The Democrats' witnesses are a mix of experts and real people who will tell their stories surrounding health care and abortion rights.
According to a Democratic Judiciary Committee aide, the Democrats will focus on health care, reproductive rights and voting rights.
Barrett will not be in attendance.
FACT CHECK: Barrett says polygamy is illegal in 'many places.' It's illegal everywhere.
In answer to Lindsey Graham's questions about polygamy, Barrett said  "Polygamy, obviously, in many places is still illegal."
In fact, polygamy is illegal in every state.  
 Utah recently changed its law to downgrade the nature of the offense, but it's still illegal there.
Barrett says laws to protect integrity of the ballot box can be subject to litigation
Graham asked Barrett if it's appropriate for legislative bodies to protect the integrity of the ballot box. She said that "any specific measures that legislative bodies took to protect the integrity of the ballot box could be subject to litigation, subject to challenge." 
One of the reasons, Graham said, that Republicans have not reached an agreement with House Democrats on a Covid-19 relief package is because, he claimed, "they're mandating ballot harvesting as a national policy" — a reference to proposed measures on mail-in ballots. 
"I think it's ripe for fraud," he said. "We've seen evidence of ballots being placed in people's cars and dropped in ditches. So I think there will be an effort I hope to protect the integrity of the ballot, and also ensure easy voting."
Democrats have wanted to expand access to voting during the pandemic by expanding mail-in ballot opportunities. 
Graham says Democrats have made Barrett hearings all about 'Obamacare'
Graham said that Democrats have made the Barrett confirmation hearings about the threat to the future of "Obamacare." 
"Obamacare is on the ballot. If you want socialized, single-payer health care, that's on the ballot," Graham said. 
Democrats fear that Barrett would vote with conservative justices on the Supreme Court to strike down the health care law in an upcoming case that the court will hear Nov. 10. 
Graham launches into 2nd round of questions by criticizing Harris for questioning Barrett's candidness
Sen. Lindsey Graham, R-S.C., the chairman of the Judiciary Committee, started his 20-minute round of questioning by criticizing Sen. Kamala Harris, D-Calif., for suggesting that Barrett was not candid in her answers Tuesday. 
"I couldn't disagree more," Graham told Barrett on Wednesday as senators began the second round of questioning. 
"This hearing, to me, is an opportunity to not punch through a glass ceiling but a reinforced concrete barrier around conservative women," he said. "You're going to shatter that barrier. I have never been more proud of a nominee than I am of you. You've been candid to this body about who you are, what you believe."
Barrett pressed on past Supreme Court rulings in confirmation hearing
ANALYSIS: Barrett reveals formula for reversing landmark rulings
With the help of senators of both parties, Supreme Court nominee Amy Coney Barrett laid out a roadmap for overturning the Roe vs. Wade ruling protecting abortion rights and the Brown vs. Board of Education decision outlawing school segregation.
Barrett declined to say Tuesday how she would rule on any future cases, including those involving abortion, racial discrimination, voting rights and the Affordable Care Act.
But she did articulate clear views on the relative susceptibility of Roe and Brown to reversal. She observed that Brown is only settled so long as no one sues the government — federal, state or local — for segregating schools. And she said that Roe, because it is the subject of more controversy, is more open to being thrown out.
Just catching up? Here's what you missed
Highlights from the Senate Judiciary hearings this week:
Barrett condemns white supremacy, acknowledges 'some implicit bias' in criminal justice system
Asked by Sen. Cory Booker, D-N.J., whether she condemns white supremacy, Barrett said, "Yes."
Booker, in a clear dig at Trump, replied, "I'm sorry that question even had to be asked."
Asked whether there was "implicit racial bias" in the criminal justice system, Barrett said, "Senator, it would be hard to imagine in a criminal justice system as big as ours not having any implicit bias in it."
Asked whether that was a yes, Barrett said, "Yes, in our large criminal justice system it would inconceivable that there wasn't some implicit bias."
While Trump has acknowledged that there are some "bad apples" in police departments, he has railed against anti-discrimination training measures and directed federal agencies to prohibit them.  
Barrett also defended her ruling upholding the dismissal of a workplace discrimination case involving a Black man who said he'd been called the N-word by a supervisor. 
Barrett told Booker that he was "mischaracterizing" her ruling, noting that she was part of a unanimous three-judge panel. She said that the employee was already being fired when the word was used and that he hadn't tried to tie evidence of the slur into his discrimination claim.