This event has ended.
The Senate Judiciary Committee on Monday began the first day of confirmation hearings for Ketanji Brown Jackson, President Joe Biden's Supreme Court pick.
If confirmed, Jackson would be the first Black woman to serve on the high court.
The day is set to feature opening remarks by the chair and members of the committee, followed by remarks from Jackson.
Whitehouse hits Republicans for influence 'dark money' had on their Supreme Court nominees
The hearing has quickly become a back and forth about dark money. 
Sen. Sheldon Whitehouse, D-R.I., used his opening remarks to repeat claims that prior Republican court nominees were the result of "dark money" influence, arguing that Jackson's nomination was not.
"The present court is the court that dark money built. Anonymous donations funded the Federalist Society while it housed the selection turnstile run by the dark-money donors. Anonymous money funded the dark-money group down the same hallway as the Federalist Society that ran dark-money political campaigns for the selected Justices. And because of secrecy, Americans are denied any real understanding of the overlap of all that dark money with the political dark money funding the Republican Party," Whitehouse said.
"Judge Jackson's nomination and the process by which she was selected stands in sharp contrast. President Biden undertook a thorough and independent review of her record, and she will proceed through a thorough and fair process here in the Senate," he added.
Whitehouse used the term "dark money" — a term that refers to funds raised to influence elections by organizations that aren't required to disclose the identifies of their donors — 12 times during his statement, according to the prepared remarks. 
Graham suggests Jackson only nominated because of funding from liberal groups
Sen. Lindsey Graham, R-S.C., in opening remarks, questioned why liberal groups backed Jackson and not U.S. District Judge J. Michelle Childs. 
"So you say, Judge Jackson, you don't have any judicial philosophy, per se," said Graham. "Well, somebody on the left thinks you do or they wouldn't have spent the money they spent to have you in this chair."
Graham referred to Arabella, a liberal dark money group, working to stop Childs and get Jackson nominated instead. 
"What is it about your nomination that the most liberal people under the umbrella of Arabella threw in their money, their time, their time, their sport and threatened Joe Biden if he picked Judge Childs. I want to know more about that," said Graham. 
Chuck Grassley uses Jackson hearing to settle scores over Barrett
Sen. Chuck Grassley of Iowa, the top Republican on the Judiciary Committee, used his opening remarks at the hearing Monday to settle some scores about Justice Amy Coney Barrett's hearing in October 2020.
Specifically, he noted that Democrats made "confident predictions" that she would vote to overturn the Affordable Care Act in a case that was headed for the Supreme Court, a claim they made by citing her past remarks criticizing the justices for upholding the health care law in a separate case decided in 2012.
"They were wrong in their strong declarations how Justice Barrett would rule," Grassley said.
Barrett voted with the majority in the 7-2 ruling against the ACA challenge.
Leahy refutes GOP criticisms of Jackson, says she would be an 'asset' to the Supreme Court
Sen. Patrick Leahy, D-Vt., a former chairman of the Judiciary Committee, said in his opening statement that Jackson's background would be an "asset" to the Supreme Court.
Leahy, who's retiring from Congress at the end of the year, said Jackson's nomination brings the U.S. "one step closer to having a Supreme Court that is more reflective of our nation." He said it's "one of diversity of race and gender, background education, and experience" that will "allow all Americans to look to their court and see in its justices a reflection of the American people."
"You are writing a new page in history of America," Leahy said to Jackson. 
Leahy then refuted criticisms made by his GOP colleagues in recent days about the nominee. 
"Judge Jackson is not anti-law enforcement. She hails from a law enforcement family," he said. "And no, she's not soft on crime. Her background as a federal public defender would bring an informed perspective, our criminal justice system to the Supreme Court."
He continued, "So I would say Judge Jackson's background is not a liability to the court, it's a much needed asset to the court."
Leahy brought up the Russian invasion of Ukraine toward the end of his statement. 
"One need look no further than the chaos, the devastation and the humanity, inhumanity halfway around the world in Ukraine to know how precious our democracy is, to know how precious the legacy we have in our independent federal judiciary," he said. 
Grassley criticizes judges who impose policy preferences from the bench
Sen. Chuck Grassley, R-Iowa, the top Republican on the committee, said in his opening statement that Jackson's hearings are off to a positive start unlike the 2018 confirmation hearings for Brett Kavanaugh. 
"Unlike the start to the Kavanaugh hearings, we didn't have repeated choreographed interruptions of Chairman Durbin during his opening statements, like Democrats interrupted me for more than an hour during my opening statement" in the Kavanaugh hearings, he said.
Grassley said lawmakers will ask Jackson questions about her "judicial philosophy" and won't turn the process into a "spectacle." 
"We all know there's a difference of opinion about the role judges should play," he said. "Some of us believe the judges are supposed to interpret the law as it was understood when written, not make new law."
The GOP senator criticized the philosophy of "living constitutionalism" and said, "We depend on judges to interpret laws as we write them. If judges impose their own policy preferences from the bench, and essentially revise the laws we pass, it makes it harder for us to write good laws."
Judiciary Chair Durbin touts Jackson as an 'independent minded' judge
Senate Judiciary Chair Dick Durbin, D-Ill., opened the first day of confirmation hearings for Jackson by praising her as an "independent minded" judge and a "champion for the rule of law."
Durbin, in his opening statement, noted there were nearly 700,000 slaves when the Supreme Court first met in 1790.
"There was no equal justice under the law for the majority of people living in America," he said. 
"Your presence here today to brave this process will give inspiration to millions of Americans who see themselves in you," he continued. 
Durbin predicted anticipated criticism, including that Jackson would be a "rubber stamp" for Biden. 
"There may be some who claim, without a shred of evidence, that you'll be a rubber stamp for this president," he said. "For these would-be critics, I have four words — look at the record."
Hearing has begun
The hearing has begun. Day 1 is expected to last about five hours or so.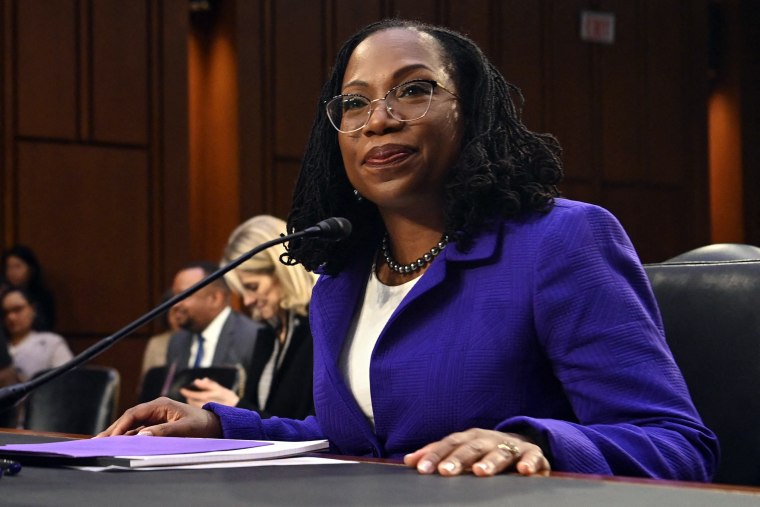 Jackson has been prepping for hearings with White House
Jackson had been preparing for her confirmation hearing for weeks, two sources close to the process told NBC News. With the guidance of the White House counsel's office, she studied core issues and rulings and participated in mock hearings. She went to Capitol Hill on Saturday for a walkthrough of the hearing room. 
Senators on the Judiciary Committee and Jackson are expected to deliver opening statements Monday. The nominee will then face questions from those lawmakers Tuesday and Wednesday.
White House officials have not said where, or how, President Joe Biden will watch her confirmation hearings, but the administration remains "confident that she will be confirmed."
The two people introducing Jackson
Jackson will be introduced before the Senate Judiciary Committee on Monday by a retired Bush-appointed federal judge and a professor who is the nominee's longtime friend from college. 
Thomas B. Griffith served as a judge on the U.S. Court of Appeals for the District of Columbia Circuit from 2005 to 2020. A conservative legal mind, Griffith was nominated to the court in 2004 by then-President George W. Bush and previously endorsed Jackson's nomination. 
Lisa M. Fairfax will also introduce Jackson. She is a presidential professor and co-director of the Institute for Law & Economics at the University of Pennsylvania Carey Law School. Fairfax was one of Jackson's roommates as undergraduate students at Harvard University and later at the Harvard Law School.
Day 1 of Jackson's confirmation hearings begins at 11 a.m. ET
The first day of confirmation hearings for Jackson begins Monday on Capitol Hill at 11 a.m. ET. 
The Senate Judiciary Committee's 22 members are expected to deliver their opening statements Monday, with Chairman Dick Durbin, D-Ill., and ranking member Chuck Grassley, R-Iowa, scheduled to go first. 
Each member is allowed 10 minutes to speak and then Jackson will go last, with 10 minutes allotted for her statement, as well.