Neil Gorsuch was sworn in as the next Supreme Court Justice on Monday morning — an ascension to the high court bench that President Donald Trump touted as one of his first major domestic successes.
"And I got it done in the first 100 days — that's even nice," he told reporters, White House aides, and guests gathered in the Rose Garden. "You think that's easy?"
Trump also acknowledged the magnitude of the moment.
"This ceremony has special meaning as Justice Gorsuch is filling the seat of one of the greatest Supreme Court judges in American history, and that's Antonin Scalia, who is a terrific — was a terrific judge and a terrific person," Trump said. "Justice Scalia was a patriot who revered our Constitution. He was beloved by many, very many, who are here today, and he is deeply missed by all of us."
Trump's first months in the White House have otherwise been plagued by legislative missteps on healthcare and legal challenges to his immigration travel ban. However, the administration and Trump's supporters see Gorsuch's confirmation as a campaign promise kept and a notch in the win column as the White House eyes the end of the critical first 100 day period.
"He will decide cases based not on personal preferences, but a fair and objective reading of the law," Trump said.
Justice Anthony Kennedy administered the judicial oath in the White House Rose Garden. It was the first time a sitting justice swore in a former clerk to join him as a colleague on the high court bench.
"I cannot tell you how honored I am to have here today my mentor, Justice Kennedy, administer the judicial oath, a beautiful oath, as he did for me 11 years ago when I became a Circuit judge," Gorsuch said, adding that he was "humbled" by the role.
"I am humbled by the trust placed in me today," Gorsuch said. "I will never forget that to whom much is given, much will be expected. And I promise you that I will do all my powers permit to be a faithful servant of the Constitution and laws of this great nation."
Gorsuch will replace the late conservative Justice Antonin Scalia, who passed away in February of 2016.
This was the second of two oaths taken by Supreme Court's newest justice on Monday. The first was administered earlier that morning by Chief Justice John Roberts with Scalia's widow and one of his sons in attendance, as well as the other eight Supreme Court justices.
Related: New Justice Neil Gorsuch to Have Immediate Impact on Supreme Court
Gorsuch's swearing in comes after a fierce confirmation battle, waged largely along party lines, that deeply divided the Senate. Democrats tried to block Gorsuch's nomination Thursday with a procedural filibuster but were met by a historic and unprecedented counter by Republicans.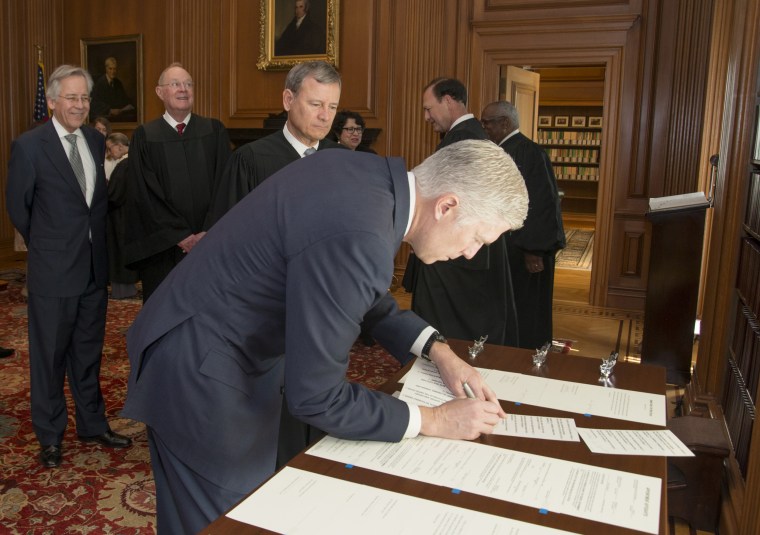 Senate Republicans invoked the "nuclear option" — allowing all future Supreme Court nominees to pass with a 51-vote simple majority instead of the previous 60-vote threshold.
Just three Democrats crossed party lines to confirm Gorsuch: Sens. Joe Donnelly of Indiana), Joe Manchin of West Virginia and Heidi Heitkamp of North Dakota.
While Republicans and the White House praised Gorsuch as a mainstream and qualified jurist, Democrats sounded the alarm over past rulings that they said reflected a preference for corporate interests.
Their opposition was also rooted in the Republican block of President Barack Obama's Supreme Court pick Merrick Garland, who was nominated last year to replace Scalia. Senate Majority Leader Mitch McConnell at the time refused to consider Garland's nomination because of the proximity to the presidential election.
Garland never saw a vote.
Gorsuch can't vote on cases argued before he was sworn-in. However, he could play a decisive role in an important freedom of religion case to be heard April 19.
The court will hear the final 13 cases of the term in April.