A throng of protesters pushed past a police line, storming up steps to pound on the doors of the U.S. Supreme Court on Saturday after the Senate confirmation of Brett Kavanaugh.
"Hey, hey! Ho, ho! Kavanaugh has got to go," the protesters chanted as they flooded the steps of the court, many with fists raised in the air, others with arms linked.
Police eventually were able to form a line between the door and the group of protesters and later shepherded them back down the steps before erecting a barricade.
The protest at the Supreme Court came shortly after Vice President Mike Pence walked down the steps of the U.S. Senate to chants of "shame" after the vote to confirm Kavanaugh.
Droves of protesters pressed up against metal barricades outside the Capitol Building to shout at Pence, who was forced to face their chants as he left.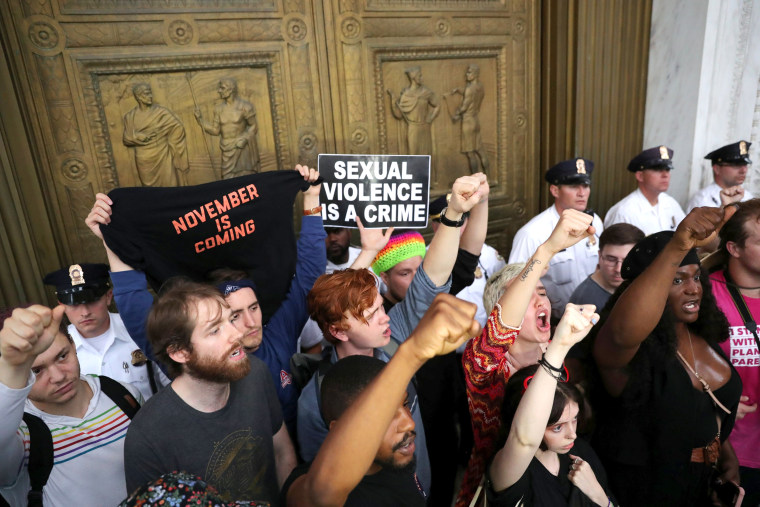 The vote itself, which ultimately confirmed the embattled judge who faced multiple accusations of sexual misconduct, was periodically interrupted with the shouts of protesters in the gallery. Pence called on the sergeant-at-arms a number of times to restore order during the vote.
Republican Sen. Jeff Flake of Arizona was called a coward by one protester. When Democratic Sen. Joe Manchin of West Virginia cast his "yes" vote, a woman's voice could be heard shouting, "We won't forget." Other protesters shouted "I do not consent" and "shame" as the votes were called.
Kavanaugh was confirmed 50-48 on the Senate floor. Republican Sen. Steve Daines of Montana was absent for the vote due to his daughter's wedding, prompting Republican Sen. Lisa Murkowski of Alaska to vote "present" as part of a practice called a "pair between senators." Murkowski opposed Kavanaugh, but withdrew her vote as part of the practice, which keeps voting margins the same, indifferent of Daines' absence.
Following Kavanaugh's confirmation, protesters began singing, "We Shall Not Be Moved," an African-American spiritual, outside the capitol.
Around 6 p.m. on Saturday, Kavanaugh was sworn in as the 114th Supreme Court justice in private ceremony.
Earlier in the day, protester Alethea Shapiro traveled from Long Island, New York, to Washington, D.C., for the second weekend in a row to protest Kavanaugh.
Hours ahead of the Senate's vote, Shapiro joined the hundreds of women and men protesting on Capitol Hill.
"I'm really very worried about women's reproductive right," Shapiro said, as chants decrying Kavanaugh echoed around her. She added before the Senate vote that Kavanaugh's impending confirmation made her sad, "but I'm really hopeful because I feel like this is a revolution. People won't understand the power and passion unless you're here."
Across the Capitol, women held signs condemning Kavanaugh, who has faced multiple allegations of sexual misconduct in the weeks leading up to the confirmation vote. Kavanaugh staunchly denied all allegations against him.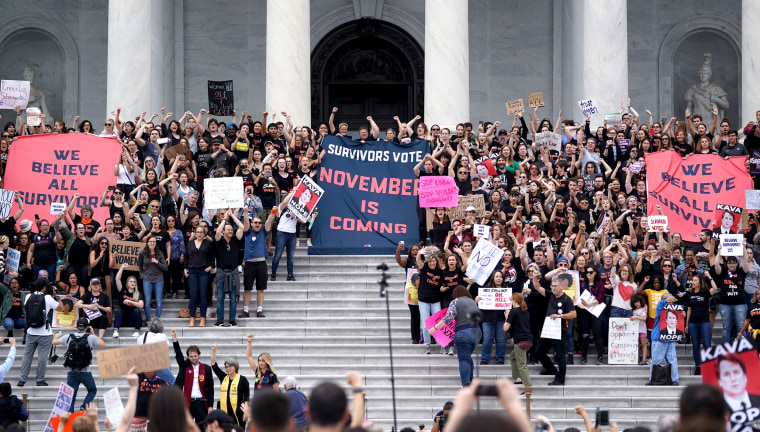 Kavanaugh secured the needed votes on Friday, when Sen. Susan Collins, R-Maine, who had been one of a handful of officially undecided senators, announced she would vote "yes" on his confirmation.
"I can't understand how a woman could turn her back on other women," Shapiro said of Collins. "She's a traitor, and we'll vote her out in November."
Just before 1 p.m. ET, hundreds of protesters crossed police lines to gather on the steps of the Senate, chanting, "November is coming."
Some held large red signs with black letters, stretched across several steps that read, "We believe all survivors." Two women kneeled in front of the steps, fists raised in the air, before hundreds more protesters who gathered in front of the steps.
Within half an hour, police began climbing the steps and detaining protesters. As they were brought off the steps, officers zip-tied protesters' hands behind their backs before leading them away from the building.
U.S. Capitol Police said a total of 164 people were arrested during the protests for "crowding, obstructing, or incommoding." Police said the people who were arrested were being processed offsite and would then be released.
Simultaneous protests took place in cities across the United States, including Denver, Atlanta, Cleveland and New York City.
In Austin, Texas, protesters blocked a bridge in a demonstration against the Kavanaugh confirmation, and police arrested protesters after they refused to move, NBC affiliate KXAN reported.
In New York City, marchers hit the streets Saturday night, some holding a banner that read "No Justice No Seat." The group made their way to Times Square, where they chanted in opposition to Kavanaugh and in support of abortion rights and other issues. In Topeka, Kansas, a crowd of demonstrators protested outside a venue before President Donald Trump was to speak at a rally.
Earlier in the day at the Capitol, as protesters gathered, some carried signs quoting Dr. Christine Blasey Ford, the psychology professor at Palo Alto University who alleged that Kavanuagh sexually assaulted her in high school.
"I am here because I believe it is my civic duty," one sign proclaimed, quoting Ford.
Other signs referenced testimony given by Kavanaugh in response to Ford's allegations.
"If only he liked women as much as he liked beer," another woman's sign read, referring to Kavanaugh's testimony before the Senate that he likes beer.
Large swaths of protesters on the Hill echoed alternating chants of, "I believe Christine Ford," and "I believe Anita Hill," the woman who accused Supreme Court Justice Clarence Thomas of sexual harassment before his confirmation hearing in 1991.
One of the women who accused Kavanaugh of sexual misconduct during his time at Yale University, Deborah Ramirez, said in a statement Saturday that the senators discussing the impending vote on the Senate floor brought her back to the moment of the alleged misconduct.
"As I watch many of the Senators speak and vote on the floor of the Senate I feel like I'm right back at Yale where half the room is laughing and looking the other way. Only this time, instead of drunk college kids, it is U.S. Senators who are deliberately ignoring his behavior," Ramirez said. "This is how victims are isolated and silenced."
Ana Maria Archila — the woman who confronted Flake in an elevator with her sexual assault account — told MSNBC's Joy Reid on Saturday that Flake and Collins had failed their constituents.
"We deserve elected officials who understand that their role is primarily to govern by listening," Archila said.
Before the vote, President Trump tweeted that there were protesters among the crowd in favor of Kavanaugh, suggesting without evidence that some protesters against Kavanaugh had been paid to be there.
"Women for Kavanaugh, and many others who support this very good man, are gathering all over Capitol Hill in preparation for a 3-5 P.M. VOTE. It is a beautiful thing to see - and they are not paid professional protesters who are handed expensive signs. Big day for America!" Trump wrote.
One woman in favor of Kavanaugh, Annabelle Rutledge, told MSNBC that her heart went out to Ford and that she believed something traumatic happened to her, but added that Kavanaugh's confirmation could not be stymied by "uncorroborated" allegations.
"She has the right to tell her story but she doesn't have the right to start a smear campaign when there's no proof," Rutledge said.