WASHINGTON — Chief Justice John Roberts' toughest call in almost two decades in the job was to order a fence to be erected around the embattled Supreme Court last year after the ruling that rolled back abortion rights was leaked, he said late Tuesday.
Speaking before the American Law Institute, a legal group, he appeared defensive about the court's reputation, amid questions about its legitimacy and calls for ethics reform.
"The hardest decision I had to make was whether to erect fences and barricades around the Supreme Court. I had no choice but to go ahead and do it," Roberts said.
The fences were put up last May as part of ramped-up security measures following the leak and angry protests about the then-pending abortion ruling. The barricades added to the sense that the court was an institution under siege.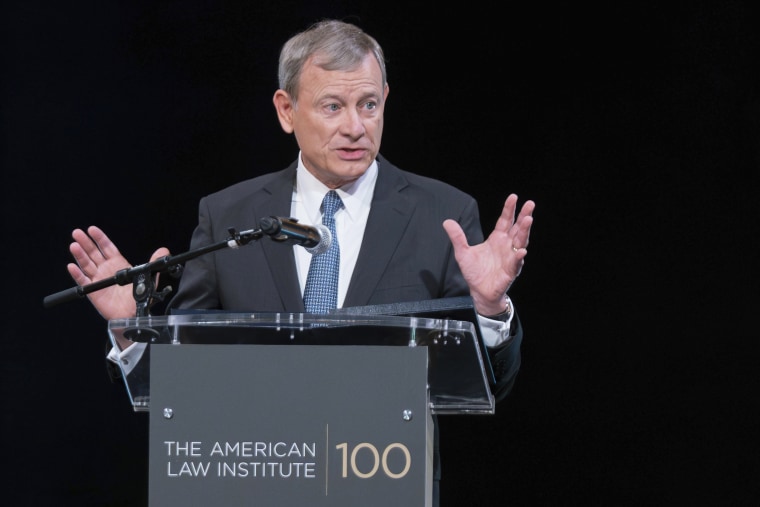 The following month, the court, which has a 6-3 conservative majority, overturned the 1973 Roe v. Wade ruling that established a constitutional right to abortion, although Roberts himself did not join the five other conservatives who voted to do so.
In his time on the court, Roberts has been a key figure in cases that have curbed voting rights, expanded gun rights and upheld the Obamacare health care law,
In his brief speech Tuesday, he bemoaned public criticism of the judiciary, including protests outside the homes of justices, and appeared to take issue with Congress legislating on ethics reform for the court in the wake of recent stories about conservative Justice Clarence Thomas.
But Roberts, indicating legislation was not necessary, also said he thought the court could make its own reforms and hold itself to the highest standards so that it would not be necessary for a standoff with Congress.
"I want to assure people I am committed to making certain that we as a court adhere to the highest standards of conduct. We are continuing to look at things we can do to give practical effect to that commitment," he said.
Lawmakers have introduced legislation that would require the justices to adhere to an ethics code similar to the one that binds other federal judges. Roberts declined an invitation to testify on the issue, with all nine justices signing a statement of ethics principles that was heavily criticized by legal experts and Democrats alike.
Some legal experts have suggested that any efforts by Congress to legislate on ethics would unconstitutionally infringe on the Supreme Court's status as a separate branch of government, although the court in the past has followed similar measures.
Roberts added that the justices remain on good terms, saying that "there has never been a voice raised in anger" in private meetings.
Liberal Justice Elena Kagan introduced Roberts at the event, during which he received an award, praising his ability to write compellingly on complex legal issues. But she added, in a references to divisions on the court, there are plenty of other issues "I tear my hair out about."
The court is about to head into the final stretch of its current term, which concludes at the end of June. Major rulings on various issues, including affirmative action in college admissions and the Biden administrations bid to forgive student loan debt, will be issued in the coming weeks.