WASHINGTON — Judge Ketanji Brown Jackson became the first Black woman to be elevated to the Supreme Court when the Democratic-controlled Senate on Thursday confirmed President Joe Biden's pick.
The final vote was 53-47, with all 50 Democratic caucus members supporting Jackson, joined by Republican Sens. Susan Collins of Maine; Lisa Murkowski of Alaska; and Mitt Romney of Utah. In a symbolic moment, Vice President Kamala Harris, the first Black woman elected to her job, presided over the vote.
Jackson and Biden watched the vote together in the White House.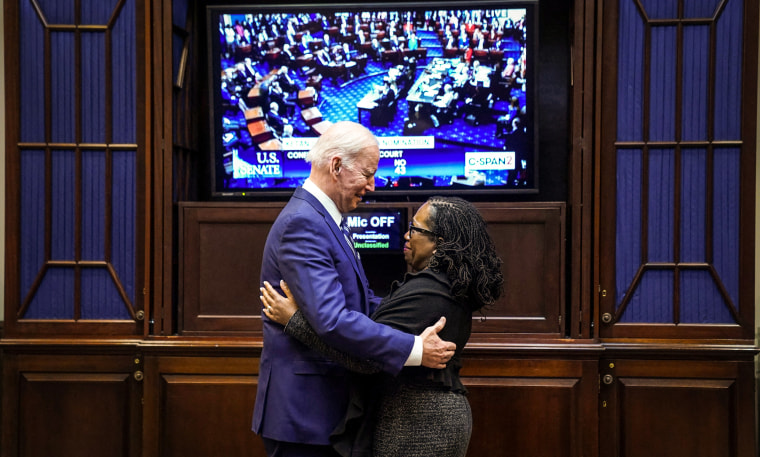 The vote means Jackson will take office at the end of the court's current term — likely in June or July — when Justice Stephen Breyer is expected to step down. Her appointment would not disrupt the current 6-3 conservative balance on the Supreme Court.
"This is a wonderful day, a joyous day, an inspiring day for the Senate, for the Supreme Court and for the United States of America," Senate Majority Leader Chuck Schumer, D-N.Y., said Thursday, calling Jackson "brilliant," "beloved," and saying she "belongs" on the Supreme Court.
"This is one of the great moments of American history," he said.
Senate Minority Leader Mitch McConnell, R-Ky., unsuccessfully fought to scuttle Jackson's nomination in recent weeks.
"These days, the Senate takes an assertive role. In particular, most senators do not merely check résumés and basic legal qualifications but also look into judicial philosophy," he said Wednesday.
McConnell and other Republicans have criticized Jackson, a judge on the U.S. Circuit Court of Appeals for Washington, D.C., for not embracing "originalism," a framework of narrow constitutional interpretation popular in conservative legal and activist circles. Some have also accused her of having issued lenient sentences in cases involving child exploitation when she was a trial judge.
Before the vote Thursday, McConnell faulted Jackson for not denouncing "the insane concept of court packing" during her confirmation hearing. (Jackson had declined to answers about court packing, saying the size of the court is a decision for Congress and not judges, echoing a similar punt by conservative Justice Amy Coney Barrett, who McConnell supported in 2020.)
Collins and Murkowski voted last year to confirm Jackson to the powerful D.C. Circuit Court. Romney, who voted no last year, said his concerns were alleviated after a long meeting with Jackson.
Romney rejected the criticisms of other Republicans, saying Jackson's judicial approach is "within the mainstream," even if he does not expect to agree with all of her rulings.
"She's also a highly qualified, intelligent, capable person," he said in an interview. "And I wish her very best."
Jackson previously served as a U.S. district court judge, appointed by President Barack Obama in 2013. Before that she served on the U.S. Sentencing Commission and as a public defender. Apart from racial diversity, the Biden White House has also sought professional diversity in judicial nominees — more public defenders and civil rights lawyers, and fewer prosecutors and corporate lawyers.
The NAACP celebrated the vote, praising Jackson for overcoming "racist attacks" during the confirmation process.
"Today's vote to confirm Judge Ketanji Brown Jackson to the Supreme Court is of enormous consequence to our nation and to history. After weeks and weeks of racist, misogynistic and stomach-churning attacks, we cannot wait to finally call her Justice Jackson," NAACP President Derrick Johnson said in a statement.
The victory for Jackson, a favorite of progressives, puts a spotlight on the Georgia Senate runoffs in January 2021, when Democrats captured two Republican-held seats and secured control of the chamber with the slimmest possible majority. During the hearings, Sen. Lindsey Graham, R-S.C. indicated that Jackson would not have gotten through a Republican-controlled chamber.
The Jackson vote was expedited after it became clear she had the votes to be confirmed, with senators eager to leave town early for a long weekend ahead of a two-week recess.
It was a much-needed political win for Biden, whose job approval ratings fell to 40 percent in a recent NBC News poll amid concerns about inflation and the cost of living. Democrats, who face fierce political headwinds going into the 2022 midterm elections, hope the vote will fire up their voters.
"Like many Americans, I feel immense pride and so much joy at this historic occasion," said Sen. Cory Booker, D-N.J. "I commend President Biden for nominating her. He has found the right person to serve as the 116th Justice of the Supreme Court, and I am overjoyed to cast my vote in favor of a brilliant jurist who will inspire generations to come."