The Senate Judiciary Committee on Monday asked the Republican megadonor who has come under scrutiny for providing lavish trips and gifts to Supreme Court Justice Clarence Thomas to identify the full extent of what he has given to him and any other justices — a move that comes as Democrats escalate their calls for ethics reforms at the court.
Judiciary Committee Chairman Dick Durbin, D-Ill., and the other Democrats on the committee issued the letter to Harlan Crow requesting that he provide an itemized list of gifts worth more than $415 that he gave to Thomas or any other justices or their family members. They also asked Crow to provide a full list of real estate transactions, transportation, lodging and admission to private clubs he might have provided.
"As part of the Senate Judiciary Committee's ongoing efforts to craft legislation strengthening the ethical rules and standards that apply to the Justices of the Supreme Court, we request that you provide the Committee with certain information by May 22, 2023," they wrote. "This information will help identify specific shortcomings in the 'Statement on Ethics Principles and Practices,' as well as current law, that legislation needs to address."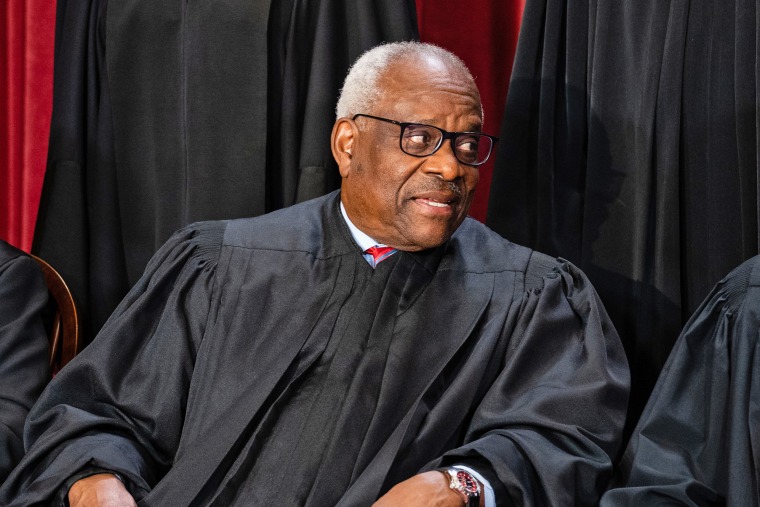 All 11 Democrats, including Sen. Diane Feinstein, D-Calif., who has been absent from the Senate due to health issues, signed the letter. None of the Republicans on the committee joined.
Republicans on the committee and the Supreme Court did not immediately respond to NBC News' requests for comment.
The Democrats' letter comes after the committee held a hearing last week on ethics rules for members of the Supreme Court, following reporting by ProPublica last month that alleged Thomas failed to properly disclose trips and gifts paid for by Crow and also didn't disclose the sale of Thomas' and his relatives' properties to Crow. Durbin invited Chief Justice John Roberts to appear at the hearing, but Roberts declined, suggesting that his participation could pose a threat to judicial independence. The chief justice included in his letter a statement of ethics principles and practices "to which all of the current Members of the Supreme Court subscribe."
Senate Finance Committee Chairman Ron Wyden, D-Ore., last month also asked Crow to provide a full account of undisclosed trips, gifts and payments he has made to Thomas over the years. Wyden asked for answers by May 8, the same day Durbin issued his latest letter to Crow. In a statement, a Wyden aide said that the chairman "received an obstructive letter" from an attorney representing Crow late Monday night, which "refused to provide answers" to Wyden's request. The Finance Committee will issue a response "shortly," the aide, Ryan Carey, said.
Thomas said that he had been advised that the trips and gifts were "personal hospitality from close personal friends" and did not have to be reported in disclosures. On the sale of properties, Thomas didn't respond to ProPublica's detailed questions, while Crow said in a statement to the outlet that he had purchased Thomas' mother's house to preserve it for a possible future museum showing where the justice grew up.
ProPublica also reported last week that Crow had paid for Thomas' grandnephew, Mark Martin, to attend two private schools in the late 2000s. NBC News has not independently verified details in the report. Crow's office released a statement in response to the report, which it did not deny, saying Crow and his wife have "long been passionate about giving back to those less fortunate, especially at-risk youth" and they have supported many young Americans through scholarships and other programs at a number of schools, including his alma mater.
Thomas' allies have defended the justice in response to the allegations, with Republicans saying the accusations are rooted in liberal opposition to his legal opinions.
Meanwhile, several Democrats have demanded that Thomas resign from the bench.
The Supreme Court in March tightened some of its rules on what judges and justices need to include in annual financial disclosure statements.