WASHINGTON — Conservative Supreme Court justices indicated Monday that they are willing to end the explicit consideration of race in college admissions as they weighed cases challenging affirmative action policies at the University of North Carolina and Harvard University.
Members of the court's conservative majority questioned the legal rationale for allowing the practice and probed to what extent colleges and universities could enact new "race neutral" admissions policies aimed at improving racial diversity. Some justices, however, indicated they would be willing to allow applicants to discuss their racial identities in some form as part of essays touching upon their experiences, such as examples of overcoming discrimination.
Liberal justices, who are in the minority, defended the use of race in admissions, citing the importance of diversity on campus and the difficulty of achieving it without any consideration of race.
Affirmative action, introduced to redress historic discrimination, has been a contentious issue for years, strongly supported by educational institutions and corporate America as being vital to fostering diversity and condemned by conservatives as being antithetical to the notion that racial equality means all races are treated the same.
The Supreme Court, which has a 6-3 conservative majority, heard back-to-back oral arguments in the UNC and Harvard cases in actions brought by a group called Students for Fair Admissions, led by the conservative activist Ed Blum. A ruling is due by the end of June.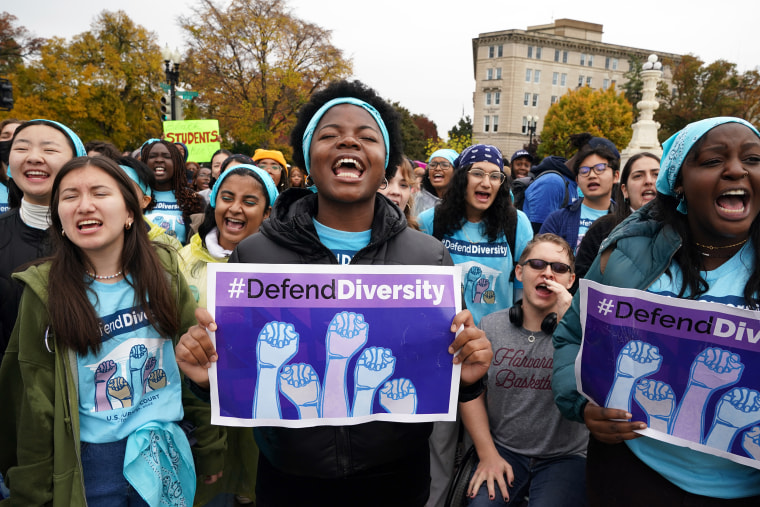 In almost five hours of oral arguments, conservative justices expressed hostility to explicit consideration of race in an application.
"What do you learn from the mere checking of the box?" Justice Samuel Alito asked UNC lawyer Ryan Park.
But some conservatives seemed more open to at least some recognition of an applicant's race as part of the process.
If box-checking is not allowed, would it be acceptable if Harvard were "allowed to take into consideration what an applicant would say in an essay about having to confront discrimination growing up and how he or she did that?" Chief Justice John Roberts asked Cameron Norris, the lawyer challenging Harvard's policy.
Norris said the university could lawfully consider such expressions of racial identity.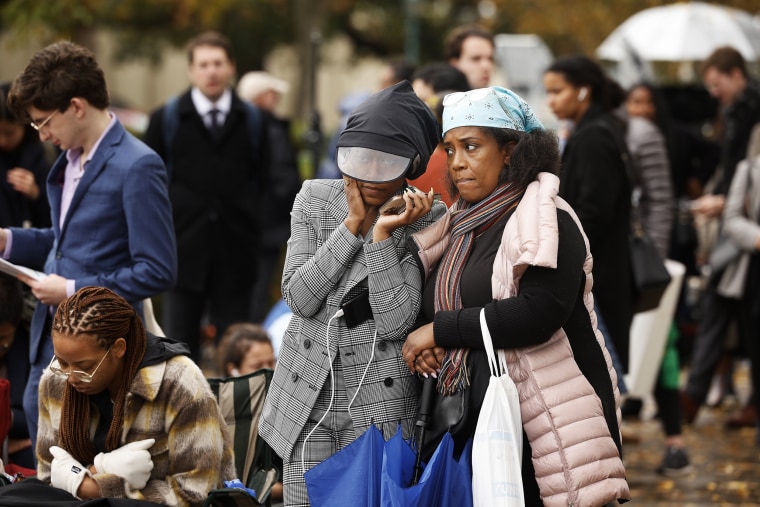 Conservative Justice Amy Coney Barrett, a former professor at Notre Dame Law School, was among those who seemed sympathetic to considering what she called a student's "experiential statement" that touched upon race, as opposed to the "box-checking" Alito referred to.
The questions asked by Roberts and Barrett — and similar comments from another conservative justice, Brett Kavanaugh — indicated they were looking toward what kind of race-neutral policies to foster diversity could be considered if the court ends explicit consideration of race.
Conservative justices appeared skeptical that colleges and universities would ever conclude that their diversity targets could be met without considering race, thereby creating a conflict with the Supreme Court's 2003 ruling that said affirmative action would no longer be needed after 25 years.
Barrett wondered whether the 2003 ruling was "grossly optimistic" in suggesting that race might no longer need to be considered after the quarter-century aspirational deadline.
"What if there's no end?" she asked.
Conservative Justice Clarence Thomas questioned whether colleges and universities have a compelling interest in diversity, while fellow conservative Neil Gorsuch expressed concern that the goal of achieving diversity was akin to having racial quotas, which the court has prohibited.
Gorsuch also noted that Harvard, as part of its explanation of what constitutes a diverse class, includes children of wealthy donors, talented athletes and those whose parents attended the university. He expressed surprise that Harvard considered it vital to its diversity goals to have a competitive squash team.
"I'm not making it up," Gorsuch said.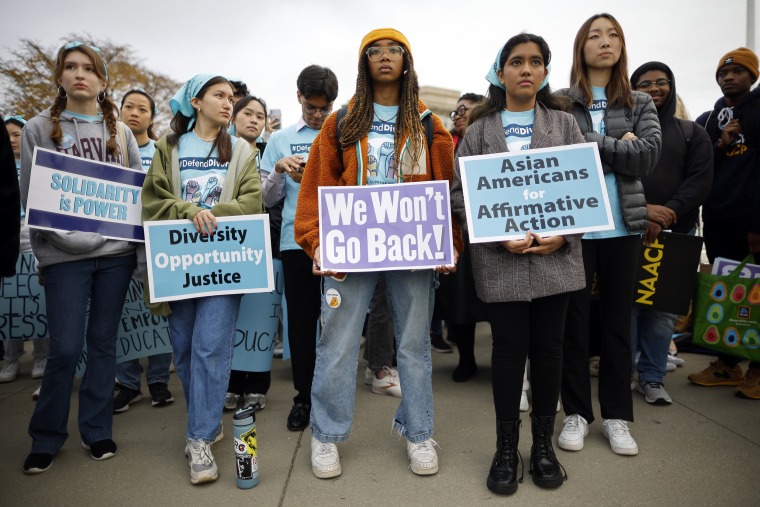 As affirmative action supporters rallied outside the courthouse, the first oral argument on UNC's policy began with liberal Justice Sonia Sotomayor questioning the challengers' lawyer, Patrick Strawbridge, about how college administrators can assess applicants from diverse socioeconomic backgrounds without considering race.
"Sometimes race does correlate to some experiences and not others," Sotomayor said. "If you are Black, you are more likely to be in an under-resourced school. You are more likely to be taught by teachers who are not as qualified as others. You are more likely to be viewed as having less academic potential."
Liberal Justice Ketanji Brown Jackson pushed back against Strawbridge's description of UNC's process, saying race is never considered alone.
"You haven't demonstrated or shown one situation in which all they look at is race and take from that stereotypes and other things. They are looking at the full person," she said.
The school is not solely considering race "just because somebody checks a box," she added.
Jackson also questioned whether ending consideration of race would create new legal issues. She wondered, for example, whether it would be discriminatory if Black students descended from slaves were not allowed to speak about their family backgrounds on their applications but white students from North Carolina were still able to discuss theirs. While a white applicant "would be able to have his family background considered and valued," a Black applicant "wouldn't be able to, because his story is in many ways bound up with his race," she said.
Liberal Justice Elena Kagan, who served as dean of Harvard Law School before the lawsuit was filed, strongly defended the value of racial diversity on campus, saying colleges are "pipelines to leadership in our society."
The group's lawyers have asked the justices to overturn the 2003 ruling, Grutter v. Bollinger, in which the court said race could be considered as a factor in the admissions process because universities had a compelling interest in maintaining diverse campuses. The legal debate was left unresolved by a fractured 1978 Supreme Court ruling in which the justices prohibited racial quotas but left the door open to some consideration of race.
In 2016, the last time the Supreme Court ruled on affirmative action, the justices narrowly upheld the admissions policy at the University of Texas at Austin on a 4-3 vote, with conservative Justice Anthony Kennedy, who has since retired, casting the deciding vote.
The court shifted to the right after former President Donald Trump appointed three conservative justices. President Joe Biden's appointment of Jackson did not change the ideological balance of the court, as she replaced fellow liberal Justice Stephen Breyer. As Jackson served on Harvard's board of overseers during the litigation, she has stepped aside from that case and will participate only in the North Carolina dispute.
Blum's group argues that any consideration of race in college admissions is unlawful under both federal law that bars discrimination in education and the equal protection clause of the 14th Amendment to the Constitution. They argue that the UNC admissions policy discriminates against white and Asian applicants and that the Harvard policy discriminates against Asians. In both cases, lower courts ruled in favor of the universities.
In defending their policies, the universities and their supporters — including the Biden administration, civil rights groups, businesses and former military leaders — argue that excluding someone based on race is completely different from seeking diversity on campus. The universities say race is just one factor that is considered as part of broad individualized analysis of each applicant.
If affirmative action is ended, those defending the practice say, race-neutral policies aimed at achieving diversity will often fail, leading to declines in Black and Hispanic enrollment. The challengers point to examples in the nine states that already ban the practice as evidence that considering race is not essential.