WASHINGTON — The Supreme Court made it easier Thursday for employees to seek religious accommodations in a case involving a lawsuit brought by an evangelical Christian mail carrier who asked not to work on Sundays.
The case involves a claim brought by a Pennsylvania man, Gerald Groff, who says the U.S. Postal Service could have granted his request that he be spared Sunday shifts based on his religious belief that it is a day of worship and rest.
"I hope this decision allows others to be able to maintain their convictions without living in fear of losing their jobs because of what they believe," Groff said in a statement Thursday.
His case will now return to lower courts for further litigation over whether he prevails under the new standard.
In a statement, Postal Service spokeswoman Felicia Lott called the ruling "fully consistent with the standard we apply when seeking to accommodate the sincerely held religious beliefs, observances and practices of our employees."
As a result, she added, the Postal Service expects to ultimately win the case.
Groff had argued that it was too difficult for employees to bring religious claims under Title VII of the Civil Rights Act, which prohibits workplace discrimination on various fronts, including religion.
The justices in a unanimous ruling written by conservative Justice Samuel Alito clarified a 1977 Supreme Court ruling called Trans World Airlines v. Hardison. The court said then that employers are not required to make accommodations if they would impose even a minimal or, using the Latin term preferred by the court, "de minimis," burden.
That ruling built on the language of Title VII, which says an accommodation can be rejected only when there is an "undue hardship" on the employer.
The court ruled Thursday that the hardship needs to be more than a minimal one.
In the future, courts "should resolve whether a hardship would be substantial in the context of an employer's business in the commonsense manner that it would use in applying any such test," Alito wrote.
Groff, a noncareer employee, worked as an auxiliary mailman in the Lancaster, Pennsylvania, area from 2012 to 2019, when he resigned. His job was to fill in when other workers were not available, including on weekends and holidays.
Initially, Groff was not asked to work on Sundays, but the situation changed starting in 2015 because of a requirement that Amazon packages be delivered on that day. Based on his request for an accommodation, his managers arranged for other postal workers to deliver packages on Sundays until July 2018. After that, Groff faced disciplinary actions if he did not report to work.
Groff resigned and sued the Postal Service for failing to accommodate his request. A federal judge said that the Postal Service had provided a reasonable accommodation and that offering anything more than that would cause undue hardship to the employer and Groff's co-workers. The Philadelphia-based 3rd U.S. Circuit Court of Appeals agreed in a ruling in May 2022.
Groups representing Christian denominations and other religious faiths filed briefs backing Groff, including the American Hindu Coalition, the American Sikh Coalition and the Council on American-Islamic Relations.
Muslim women, who often wear headscarves known as hijabs, have often suffered because of the Supreme Court precedent favoring employers, CAIR's brief said. That is in part because uniform policies do not take account of the hijab. Muslim women lose job opportunities as a result, the group said.
The American Postal Workers Union, which says it has about 200,000 members, filed a brief warning the court that a ruling in favor of Groff that creates a "religious preference" for scheduling work on the weekend would disadvantage other workers who do not share the same religious faith.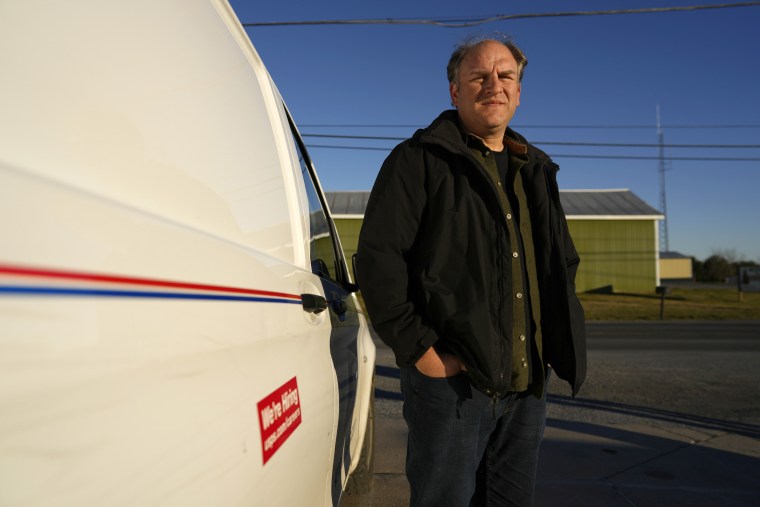 Americans United for Separation of Church and State, which advocates for keeping religion out of government and filed a court brief backing the employer, expressed relief that the ruling did not go further.
"The court's 'clarified' standard correctly allows employers to continue to consider the burdens an employee's requested accommodation could impose on co-workers," the group's president, Rachel Laser, said in a statement.
The court in 2020, when it had a 5-4 conservative majority, declined to hear a similar case involving an employee at a Walgreens call center who, as a Seventh-day Adventist, requested that he not work on Saturday, which is the Christian denomination's day of rest.
Three of the conservative justices, however, issued a statement at the time saying they were open to the idea of revisiting the 1977 ruling's definition of "undue hardship." Soon after that case was rejected, liberal Justice Ruth Bader Ginsburg died and President Donald Trump appointed Justice Amy Coney Barrett, creating a 6-3 conservative majority even more favorable to religious claims.
After Barrett joined the court, the justices in 2021 turned away several cases asking them to revisit the 1977 ruling, but the court has ruled in favor of religious claims in others, several of them in its last term, which ended in June 2022. Among them, the court ruled in favor of a public high school football coach who claimed he lost his job after he led prayers on the field after games.
CORRECTION (June 29, 2023, 4:20 p.m. ET): An earlier version of this article misstated the date of an appeals court ruling in the case. It was May 2022, not May 2023.