WASHINGTON — The Supreme Court appeared prepared Wednesday to uphold a Mississippi law that would ban almost all abortions after 15 weeks of pregnancy, which would be a dramatic break from 50 years of rulings.
The justices heard 90 minutes of oral arguments in the most direct challenge to Roe v. Wade in nearly three decades.
A majority of the court's conservative justices suggested they were prepared to discard the court's previous standard that prevented states from banning abortion before a fetus becomes viable, which is generally considered to be at about 24 weeks into a pregnancy.
It was unclear after Wednesday's argument whether the court would take the additional step of explicitly overturning its abortion precedents, including Roe v. Wade.
The three more liberal justices warned that the court would appear to be a political body if it tossed out abortion rulings that the country has relied on for decades.
"It is particularly important to show that what we do in overturning a case is grounded in principle and not social pressure," Justice Stephen Breyer warned.
Justice Sonia Sotomayor asked, "Will this institution survive the stench that this creates in the public perception that the Constitution and its reading are just political acts? I don't see how it's possible."
And Justice Elena Kagan said the court must not act in a way that would cause people to think it is "a political institution that will go back and forth, depending on what part of the public yells the loudest or changes to the court's membership."
At least four of the court's conservatives, Justices Clarence Thomas, Samuel Alito, Neil Gorsuch and Brett Kavanaugh, suggested they were prepared to overturn Roe on the grounds that it was wrongly decided, despite the public's decades of reliance on it.
"Can't a decision be overruled because it was wrong when it was decided?" Alito asked.
Kavanaugh listed several past decisions, on segregation and gay marriage, that resulted from the court overruling long-standing precedents.
Chief Justice John Roberts suggested he would be willing to uphold the Mississippi law without overturning Roe, but it was unclear whether any other members of the court would be with him.
The showdown, which centers on whether the Constitution provides a right to seek an abortion, focuses on a 2018 Mississippi law, blocked by lower federal courts, that would ban most abortions after 15 weeks of pregnancy, allowing them only in medical emergencies or cases of severe fetal abnormality.
Those who seek to outlaw abortion entirely or drastically reduce availability have remained hopeful that the conservative-controlled Supreme Court will deliver them a victory decades after suffering a defeat in Roe v. Wade.
Supporters argue that the law is intended to regulate "inhumane procedures" and that a fetus is capable of detecting and responding to pain by that point in a pregnancy. Opponents contend that the Supreme Court has repeatedly ruled that the Constitution protects abortion.
"The Constitution places trust in the people, on hard issue after hard issue, the people make this country where abortion is a hard issue," Mississippi Solicitor General Scott Stewart said during oral arguments. "It demands the best from all of us, not a judgment by just a few of us."
Sotomayor pressed Stewart on the broad implications of the case.
She further questioned him on the science behind the viability of a fetus before 23 to 24 weeks, to which Stewart replied, "The fundamental problem with viability, it's not really something that rests with science so much, it's viability — not tethered to anything in the Constitution, in history or tradition — it's a quintessentially legislative line."
Sotomayor came back to say, "there is not anything in the Constitution the Supreme Court is the last word on what the Constitution means."
The Mississippi law takes aim at the court's landmark 1973 Roe v. Wade ruling, as well as the 1992 decision in Planned Parenthood v. Casey. The court has held that states can impose some restrictions on abortion as long as they do not present an "undue burden" and that the procedure cannot be prohibited before fetal viability.
The Centers for Disease Control and Prevention estimated last month that among the 47 states that reported abortion data for 2018 and 2019, the number of procedures increased by 1.7 percent. The CDC report estimated that 95 percent of abortions take place by the 15-week mark.
"Mississippi's ban on abortion, two months before viability, is flatly unconstitutional under decades of precedent," Center for Reproductive Rights Senior Director Julie Rikelman said during oral arguments. "Two generations have now relied on this right, and 1 out of every 4 women makes a decision to end a pregnancy."
Justice Amy Coney Barrett pressed Rikelman on safe haven laws, which allow mothers of newborns in crisis to safely relinquish their babies at designated locations. Barrett argued that the concerns raised in Roe about the challenges of parenting were eliminated by these safe haven laws because now a mother could simply relinquish their child. The first safe haven law was passed in Texas in 1999.
Rikelman replied to Barrett by arguing that, "we don't just focus on the burdens of parenting." She argued that pregnancy comes with health risks, and "in fact has impact on all of their lives and their ability to care for other children, other family members, on their ability to work."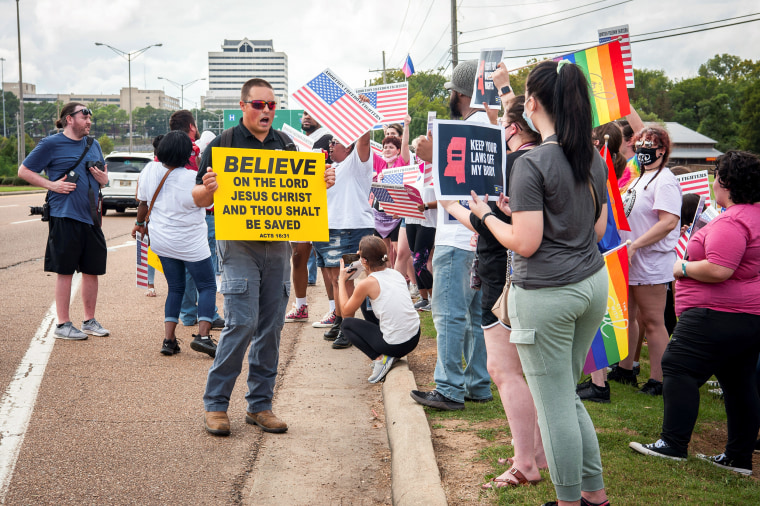 The most recent NBC News poll, released in August, found that 54 percent of Americans believe that abortion should be legal in all or most cases. Much of the country appears to be in the middle, with the poll finding that 23 percent of respondents said abortion should be legal "most of the time" and that 34 percent said it should be illegal "with exceptions."
Abortion rights supporters were seen outside the Supreme Court on Wednesday dressed in bright teal, with signs reading "liberate abortion" and "abortion is essential," chanting in support of abortion access.
The rally also attracted Democratic lawmakers such as Reps. Pramila Jayapal of Washington and Barbara Lee of California, and Sen. Richard Blumenthal of Connecticut.
"We are here once again to protect abortion and we aren't going to let anti-choice legislators take away our right," Lee said. "This is about the freedom to make your own decision over your own body. The right to an abortion isn't real if only some people can't access it."
Lauren Marlowe, 22, an abortion rights opponent demonstrating outside the Supreme Court on Wednesday, said she is "very excited" by the possibility of Roe v. Wade being reversed or chipped away.
"I want to see abortion abolished, and one of the first steps is returning the rights to the states to make those decisions for themselves," she said.
The Supreme Court, with its 6-3 conservative majority, has yet to rule on the Texas law known as S.B. 8, which bans abortion after about the sixth week of pregnancy. The justices must decide whether two lawsuits challenging the unique structure of the law, which delegates enforcement to private lawsuits, can proceed.
The issue of whether the Constitution provides a right to seek an abortion is not before the court in the Texas challenges, but it is directly present in the Mississippi case.
CORRECTION (Dec. 1, 2021, 2:10 p.m. ET): A previous version of this article misspelled the first name of a Supreme Court justice. He is Neil Gorsuch, not Neal.