WASHINGTON — The U.S. Supreme Court declined Monday to get involved in a Texas legal battle over spousal benefits for gay and lesbian public employees.
Without comment, the court said it would not review a ruling by the Texas Supreme Court, which held that same-sex spouses of city employees may not be entitled to workplace benefits.
The state court ruling came in the early stages of a lawsuit challenging a decision by former Houston Mayor Annise Parker to provide marital benefits to the spouses of all employees, in both opposite-sex and same-sex marriages. The city said it was conforming to the U.S. Supreme Court's 2015 ruling that legalized same-sex marriage nationwide.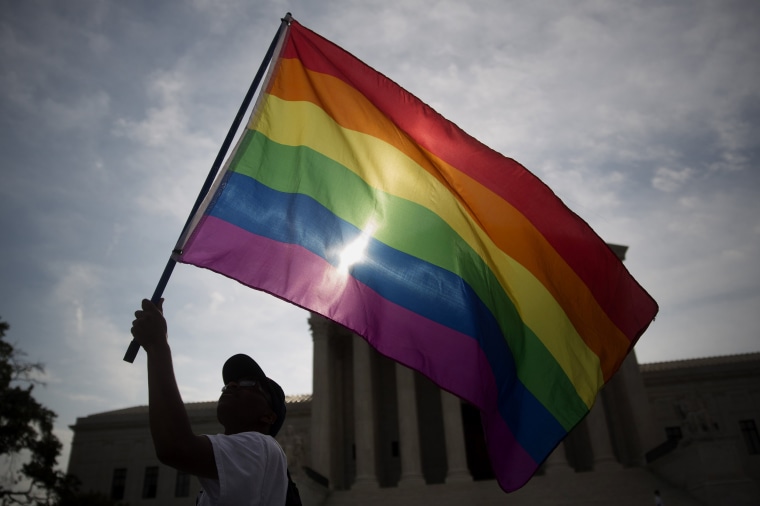 After two city residents, Jack Pidgeon and Larry Hicks, sued to challenge the city's decision, a lower court ruled in favor of the city. But the Texas Supreme Court said while the 2015 ruling required states to license same-sex marriages, it didn't require states to provide the same benefits to all married people.
On Monday, the U.S. Supreme Court declined to take up Houston's appeal, which keeps the lawsuit alive in a state trial court.
Jonathan Sanenz, a lawyer for Pidgeon and Hicks, called Monday's development "an incredible early Christmas present." He said his clients "intend to hold the city accountable for Parker's lawless actions and her unauthorized expenditures of taxpayer money."
Some lawyers for gay rights groups said it would have been unusual for the U.S. Supreme Court to get involved in the early stages of the lawsuit. "This case is not over," said a joint statement of GLBTQ Legal Advocates & Defenders and the National Center for Lesbian Rights.
But Sarah Kate Ellis, president of the gay rights group GLAAD, said the U.S. Supreme Court has let "an alarming ruling by the Texas Supreme Court stand which plainly undercuts the rights of married same-sex couples" and "opens the door for an onslaught of challenges to the rights of LGBTQ people at every step."
The Texas Supreme Court initially refused to hear the case after the nationwide ruling on same-sex marriage. But three top Republican officials — Gov. Greg Abbott, Lt. Gov. Dan Patrick, and Attorney General Ken Paxton — joined dozens of conservative groups in urging it to reconsider.
Houston has so far been paying the spousal benefits to same-sex couples throughout the litigation.